This week, #FCMarketInsights looked into the popularity of technology funds among UK retail investors since the start of the pandemic:
Investors in the so-called "Big Five"; Alphabet, Amazon, Apple, Meta, and Microsoft, have not started the new year in the way they would have hoped. Each of the Big Tech companies has seen their stock prices fall considerably since the start of 2022 and this trend has been felt throughout the tech sector. Consequently, technology funds have performed poorly in the first few weeks of the year, a big contrast to the fund sector's performances over the previous two years.
In 2020, tech stocks and, by extension, tech funds were some of the best performers in the market. The tech-heavy Nasdaq Composite index set records in 2020 as it increased by 43% throughout the year. Retail investors in the UK rewarded this strong performance by moving £387m in net sales to IA Technology & Technology Innovations in 2020. This is despite investors pulling an aggregate £29m from tech funds in the first quarter of the year, mostly during March's market sell-off. Spurred by the Covid-19 vaccine announcements in November 2020, momentum shifted to cyclical value stocks that would benefit from the economy reopening. Even in the changing economic landscape, Tech stocks performed strongly. The Nasdaq Composite index increased by 21.4% in 2021, significantly above its historical average.
From the start of 2020 to June that year, investors moved roughly an equal amount of money into passive and active funds within IA Technology & Technology Innovations. From July 2020 to November 2021 however, there was a noticeable rift. Whereas passive funds within the sector brought in over £250m in net flows, aggregate flows to active funds moved into negative territory over the period.
After several years of Big Tech's outperformance, are we now seeing the market correction that so many have predicted? High inflation and expected interest rate hikes have hurt a lot of technology companies that derive their value from future expected returns. We'll be watching closely to see how these developments affect the appetite for tech funds among UK retail investors.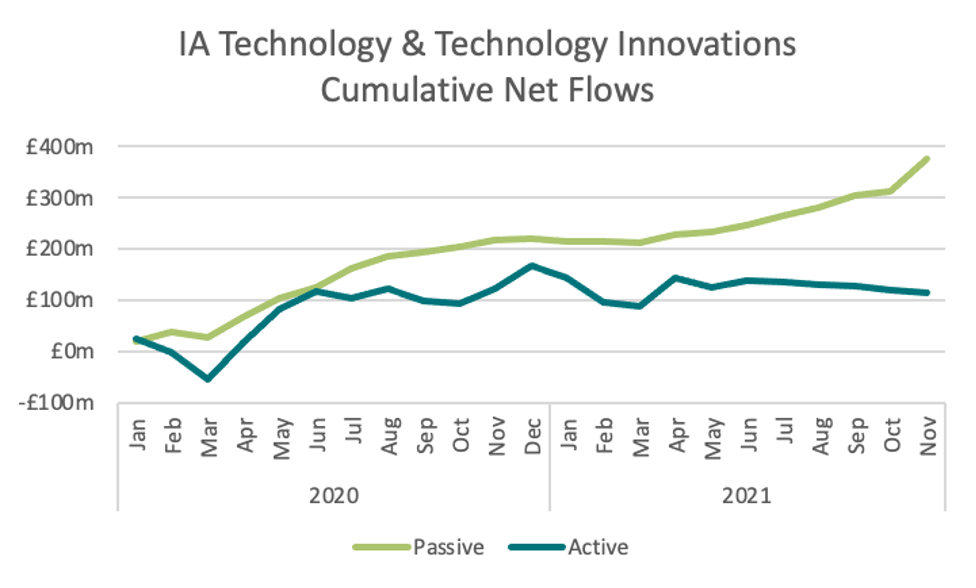 For More Information Contact: ISS MI Financial Clarity at sales@financial-clarity.com
---
By ISS MI Financial Clarity Team