Below is an excerpt from ISS ESG's recently released paper "Investing for the Future: What Does 2022 Have in Store for Finance Professionals?". The full paper is available for download from the Institutional Shareholder Services (ISS) online library.
No area of the financial market is delivering change as quickly and with such potential transformational impact as that of ESG, the consideration of environmental issues, social issues, and good corporate governance. Dr. Maximilian Horster, Head of ISS ESG, looks ahead to the next 12 months and ventures a forecast on those topics that will be occupying the minds of finance professionals.
KEY TAKEAWAYS
2022 will be marked by far-reaching regulatory developments and voluntary commitments in the finance sector.
The current focus on Net Zero commitments will extend to include consideration of biodiversity risks.
The market will see an ever-widening range of new ESG strategies and approaches, will broaden geographically and thematically, and see new participants helping to shape the ESG discourse.
The banking sector's role in financing solutions to climate change will be extended to ensuring that their loan books stand up to climate stress testing.
Transparency will be key as more investors become active owners, both in the passive and actively managed space.
Latin American and Asian markets will play an increasingly influential role in global responsible investment.
ESG data and service providers will be more heavily scrutinized, and be called on to serve an increasingly diverse client base of financial market participants worldwide.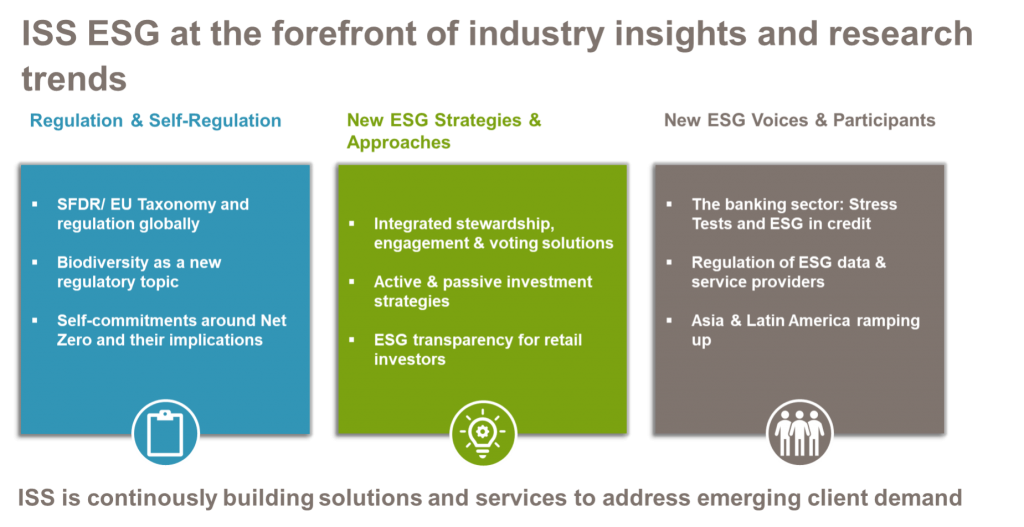 Explore ISS ESG solutions mentioned in this report:
---
By Maximilian Horster, Head of ISS ESG