With oil prices surging, accusations of "greenwashing" proliferating, and louder criticism of the activist approaches of corporate leaders like BlackRock CEO Larry Fink, environmental, social, and governance (ESG) investing has come under fire lately. These criticisms come amid widespread embrace of ESG strategies, including by advisors.
Over the past year, advisors report significant growth in clients' ESG assets. In a May 2022 ISS MI survey of 695 advisors, nearly 60% of respondents said they had invested client dollars in ESG funds, up from 45% in 2021.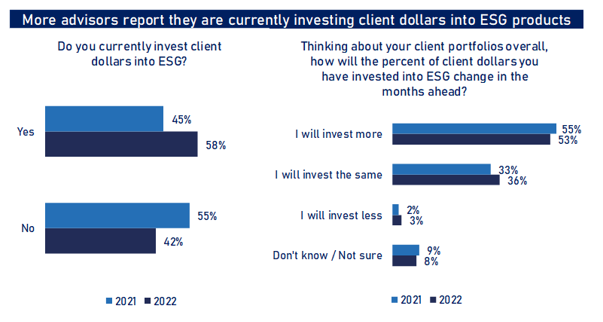 Few advisors anticipate the share of ESG client assets will fall in the months ahead. Rather, most (55%) expect it will rise or stay the same (36%). This survey was taken amid a tough patch in performance for most ESG funds, which like the broader fund universe, have experienced recent outflows. These results, however, are a hopeful sign of the durability of client interest in the space.
That said, the survey contained some warning signs for ESG fund providers. If a more prolonged downturn sours investor interest in ESG, they should not expect advisors to stop clients from jumping ship. Clients, not advisors, drive the decision to adopt ESG approaches; more than 80% of advisors listed client interest as the primary rationale for investing in ESG. It stands to reason advisors would as easily respond to client disinterest by swapping ESG strategies for conventional ones.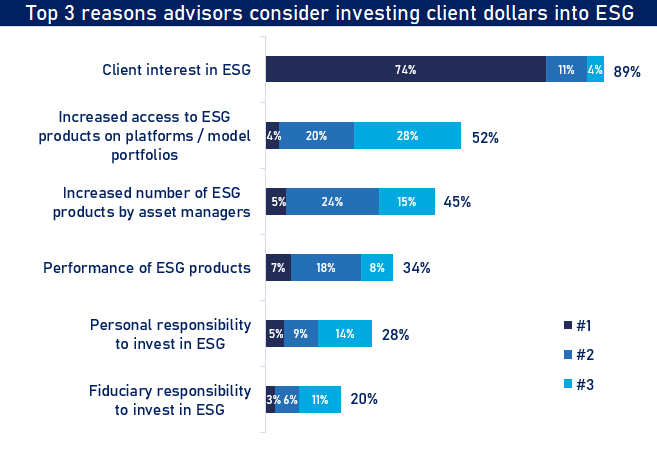 Absent a push from clients, few advisors are likely to recommend ESG funds on their own. On a scale of 0 (most unlikely) to 10 (most likely), 60% of advisors surveyed ranked the likelihood of recommending one at 6 or below. Advisors most apt to recommend ESG funds—that is, those that scored the likelihood of recommendation with a 9 or 10—represented just 13% of survey respondents.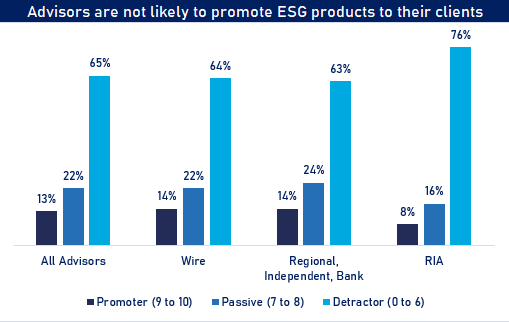 With markets under pressure—and resistance to ESG investing unlikely to dissipate—the coming months may tell us just how much the ESG boom is cyclical or the beginning of a long-term trend. For fund managers hoping to move advisors from mere enablers to prime drivers of ESG demand, our survey suggests there is a long road ahead.
To learn more about ISS MI's offerings, visit https://www.issgovernance.com/market-intelligence/market-metrics-advisory-research/
---
By: Christopher Davis, Head of U.S. Fund Research, ISS Market Intelligence. Alan Hess, Associate Vice President, U.S. Fund Research, ISS Market Intelligence.