Introduction
Palm oil is one of the most important raw materials for today's global economy. Native to Africa, the plant was brought to Southeast Asia over a century ago. Palm oil has become an important source of vegetable oil in large parts of Asia and is a significant economic driver for Indonesia and Malaysia in particular. These two countries account for over 90% of global production, while the main consumers are India, China, Indonesia, and Europe.
The United States Department of Agriculture (USDA) reports that global palm oil production reached more than 76 million metric tons (MT) in 2021 and is expected to reach more than 79 million MT in 2022. According to the Food and Agriculture Organization of the United Nations (FAO), over 28 million hectares are dedicated to the cultivation of palm oil. The success of palm oil globally is attributable to its high yield, with palm oil producing four to ten times more oil than other vegetable crops per unit of cultivated land.
Global dependence on palm oil has been increasing due to various supply chain issues, and more recently due to significant macro-economic influences. Russia and Ukraine are two significant producers of sunflower oil, which is also a major source of vegetable oil, and the conflict between those countries has disrupted sunflower oil supplies. Alternative flex crops such as soy and rapeseed have seen lower yields in their respective production hubs of South America and Europe in recent years. Thus, the continuous increase in demand for palm oil has been heightened in the past year.
This has put a spotlight on how the palm oil supply chain is performing in sustainability-related areas such as deforestation and its impact on biodiversity.
The Versatile Crop
Palm oil is used by various industries, primarily to produce goods such as confectionery, baked goods, and cooking oils, followed by various personal care and industrial goods such as soaps, detergents, cosmetics, and cleaning agents. The use of palm oil in the biofuel and energy end-use segment is also projected to grow in the coming years.
The graph below presents, by industry, the distribution of companies covered by ISS ESG analysis that buy palm oil and its derivates. The variety of industries involved reflects the high versatility of the resource, although a significant share of palm oil purchases is by the food, beverage, and tobacco industry.
Figure 1: Distribution of Companies That Purchase Palm Oil, by Industry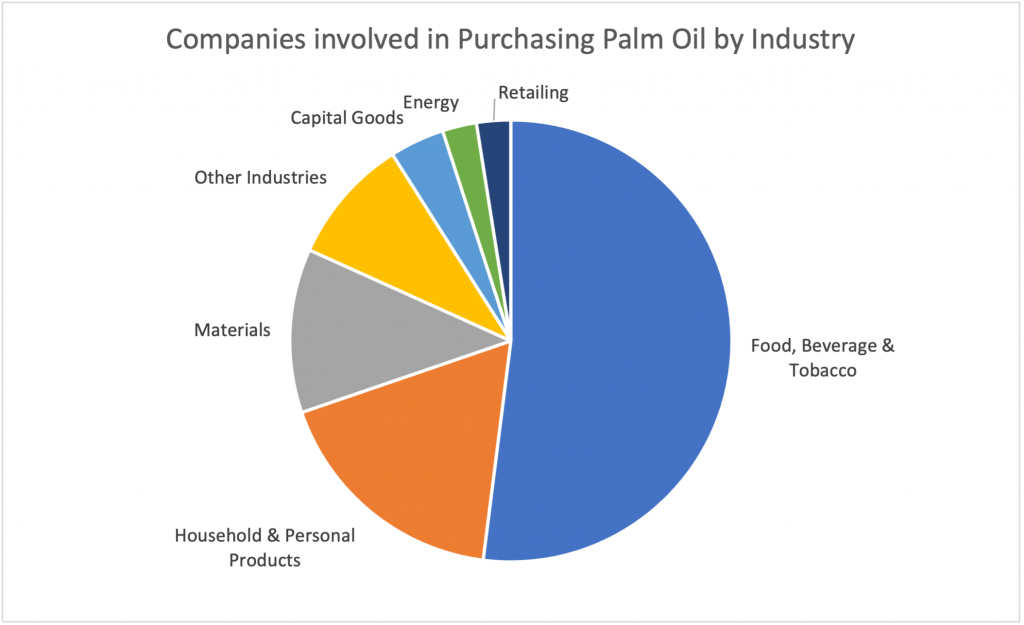 Source: ISS ESG
ISS ESG's Sector-Based Screening data groups palm oil involvement into four categories: Grower; Processor; User; and Distribution. 'Growers' and 'Processors' are often the same entity, as plantations frequently run mills as well. 'User' covers companies that process palm oil and its derivates into finished products such as food products as well as personal care products. 'Distribution' includes companies trading crude and refined palm oil products, specifically those companies with a focus on palm oil.
Controversies: From Deforestation to Exploitation
The many uses of palm oil, as well as increasing global consumption and the subsequent rapid expansion of production, have contributed to various social and environmental issues, most prominently in the Southeast Asian production hubs. SPOTT, a project of the Zoological Society of London, identifies a range of social issues, from the displacement of local communities to breaches of labor rights, that the palm oil industry faces. In 2020, the world's largest palm oil company (based on area of land cultivated) was banned from importing into the United States due to allegations of forced labor.
Deforestation and subsequent losses of biodiverse ecosystems have been at the forefront of criticism of the palm oil industry. Although deforestation rates have decreased in the past few years, likely due to increased regulation of palm oil cultivation and processing, deforestation continues to be a key issue in the sector. Despite the progress, controversies persist in the sector.
Figure 2: Number of Norm-Based Research Controversies in the Palm Oil Industry, by Norm Area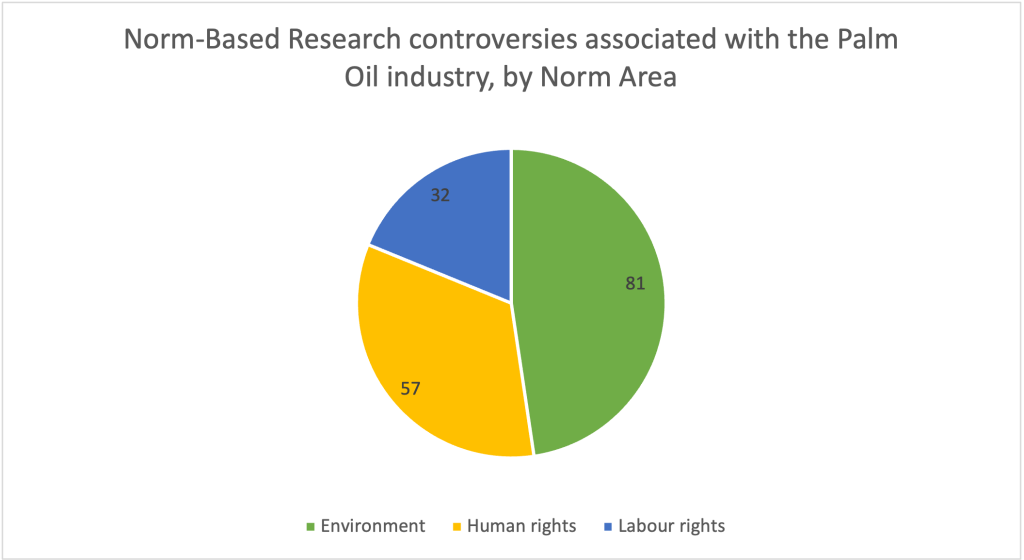 Source: ISS ESG
According to ISS ESG's Norm-Based Research (NBR), environmental controversies account for the largest number of cases. While environmental issues are almost always related to deforestation, issues surrounding human rights are more varied.
Controversies surrounding indigenous rights (which are linked to deforestation's impacts) account for most human rights cases. Human rights controversies over living standards also have been noted. Lastly, controversies relating to labor rights fall into two categories: labor rights violations; and working conditions.
The real-world impact of deforestation is readily apparent, with Indonesia and Malaysia ranking among the top 10 countries with greatest rainforest loss in from 2001-2021, holding the fifth and ninth positions, respectively. The clearing of forests to expand land for cultivation has continued despite advances in regulation and monitoring. The palm oil sector has in many cases been connected specifically to the slash-and-burn technique, which not only impacts the surrounding wildlife and fauna but also has been linked to annual forest fires as well as air pollution in the region.
Criticism of the Indonesian and Malaysian palm oil industry has centered around developments in recent decades on the island of Borneo. With its highly diverse ecosystem acting as a habitat for many endangered wildlife species, including wild boar, orangutans, and pygmy elephants, Borneo was significantly affected by the expansion of palm oil plantations in parts of the island under Malaysian and Indonesian jurisdiction.
From 2004 to 2017, an estimated 5.9 million hectares of forest were lost on Borneo alone. These developments have prompted calls for increased regulation and implementation of standards and practices to protect vulnerable ecosystems.
Sustainable Palm Oil and the RSPO
Governmental and nongovernmental bodies are trying to implement standards for more sustainable practices in the palm oil sector. The Swiss-Malaysian non-profit membership organization Roundtable on Sustainable Palm Oil (RSPO) has become the most prominent international body overseeing the palm oil industry, certifying around 20 percent of global palm oil production. Members include palm oil producers, processors, and traders; consumer goods manufacturers; retailers; banks/investors; and environmentally- and socially-focused nongovernmental organizations (NGOs).
Membership in the RSPO carries varying expectations for different stakeholders in the palm oil sector. Producers of palm oil products, including plantations and mills, commit to the RSPO Principles & Criteria (P&C) that include various policies covering social, environmental, and governance standards.
Traders and industrial and consumer goods manufacturers can obtain palm oil and its derivates through four supply chain models: Identity Preserved; Segregated; Mass Balance; and the Book & Claim model. The first two models include only RSPO-certified palm oil products, while the latter two include ordinary non-certified palm oil. Which supply chain model a company uses is heavily dependent on the company's policies, starting with whether the company already procures or aims to procure certified palm oil.
The RSPO is currently undertaking its cyclical standards review of the 2018 RSPO P&C and reviewing the 2019 RSPO Independent Smallholder Standards. The last review of these standards in 2019 included making it mandatory for plantations and mills to adopt stricter labor and human rights standards; to commit to no deforestation; and to refrain from converting lands with high conservation values.
The current review will also aim to improve the industry's approach to Shared Responsibility, a set of responsibilities adopted by RSPO supply chain members to achieve RSPO's vision "to transform markets to make sustainable palm oil the norm" and to promote certified palm oil. Improving these responsibilities may increase the demand for more sustainable palm oil from companies using the oil, as well as improve end-consumers' knowledge and awareness of certified palm oil.
Figure 3: Number of Palm Oil-Using Companies with Supply Chain-Related Policies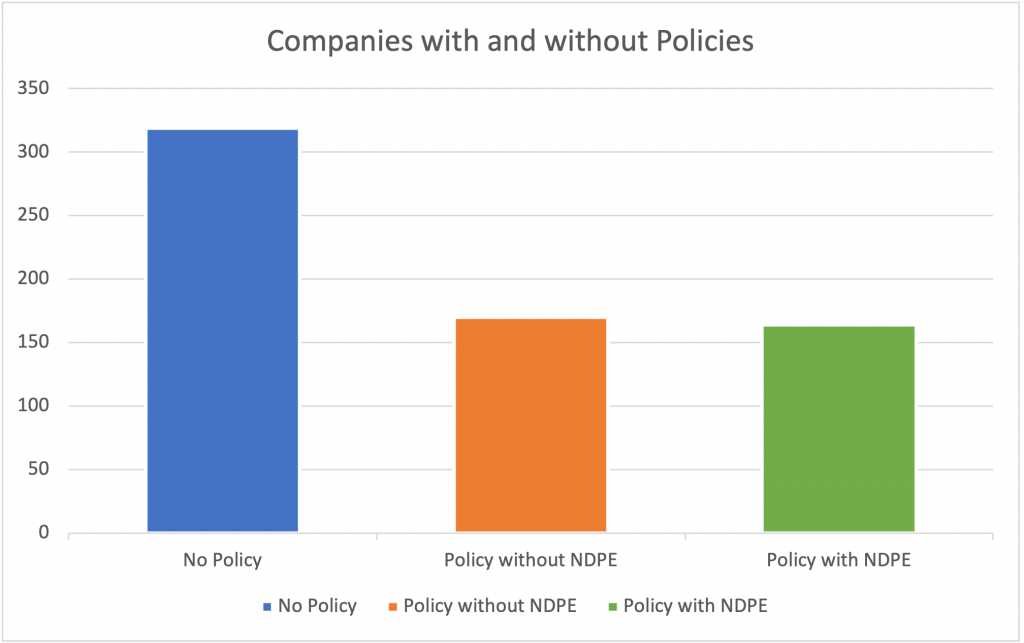 Source: ISS ESG
These various principles and commitments are expressed through policies on deforestation, labor rights, and other procurement guidelines published by companies. Among the palm oil-using companies covered by ISS ESG's Sector-Based Screening, more than 50% have publicly available policies that include supply chain-related topics. In the past few years, some companies have adopted policies that include the No Deforestation, No Development on Peat, and No Exploitation (NDPE) principles, while others have formulated more general sustainability policies.
Corporate Engagement on Palm Oil-Related Risks
Through its Norm-Based Engagement Solution, ISS ESG has facilitated engagement with agribusiness and palm oil companies that operate in Asia and Africa, to help investor clients understand how companies address environmental and social risks associated with the palm oil industry. Engagement with these companies has focused on controversies identified by ISS ESG's Norm-Based Research, including deforestation, the depletion of biodiversity, poor labor standards, and violations of indigenous rights.
Engagement with palm oil industry companies can be challenging due to complex ownership structures and disjointed supply chains. Nevertheless, engagement dialogues have sought to achieve objectives including:
increased use of sustainable palm oil certification schemes such as the RSPO;
enacting a Sustainable Palm Oil Policy with a commitment to NDPE;
implementing measures to restore High Conservation Value areas;
obtaining Free, Prior, and Informed Consent for indigenous communities; and
implementing remedial measures to address labor rights abuses.
The Thematic Biodiversity Engagement similarly includes a focus on palm oil, with ISS ESG facilitating dialogue with companies in the Food Products industry on behalf of investor clients who aim to improve these companies' transparency around biodiversity impact and strategies. The Biodiversity Engagement also includes key performance indicators related to sustainable palm oil.
Conclusion
The increased production and use of palm oil in various sectors has brought greater attention to the issues surrounding the sector in the past decade. Monitoring and regulation have improved substantially.
Demand for certified and sustainable palm oil remains low, however. This low demand is reflected in the limited approach companies are taking. While many companies have committed to address key issues within the palm oil sector, these commitments cover only a small part of the palm oil supply chain.
Bodies such as the RSPO have imposed broader, more stringent policies in recent years, specifically for growers and mills. The RSPO reports that around 20 percent of the world's production is covered by the organization. Nevertheless, many companies using palm oil and its derivates generally purchase, depending on their industry and geographic location, conventional palm oil.
With the current strains on supply chains and continuing growth of palm oil production, there is pressure to ensure a more environmentally and socially sustainable supply chain. This can be achieved only through a vertical integration of commitments and policies into the supply chain to ensure continuous improvements and broader coverage of the sectors involved.
For investors, companies' often inconsistent and non-transparent approaches to palm oil procurement make it difficult to develop an approach to the topic. There are several factors investors can consider when dealing with companies engaged in the palm oil sector, however:
Does the company use palm oil?
Does the company have a publicly available policy regarding its procurement of palm oil?
What principles and/or commitments does the policy include?
Based on the company's policy, does the company plan to purchase or already purchase certified palm oil? Which supply chain models does the company use for its certified palm oil?
What goals has the company identified to transition to more sustainable sourcing of palm oil?
ISS ESG products such as Norm-Based Research, Sector-Based Screening, Norm-Based Engagement, and Biodiversity Engagement can help investors answer these questions and make decisions about the biodiversity implications of investment in companies involved in the palm oil supply chain.
Explore ISS ESG solutions mentioned in this report:
---
By: Mirko Lukas Knisel, Sector Based Screening Analyst, ISS ESG
Amalia Monari, Engagement Manager, Stewardship & Engagement, ISS ESG