In the face of the COVID-19 induced market volatility, 2020 was one of the most turbulent periods for stock exchanges around the world. Nevertheless, the year has set more than a decade-long high for initial public offerings on Israel's Stock Exchange. Twenty-seven new companies went public in 2020, the most since 2007, according to the Tel Aviv Stock Exchange (TASE). In comparison to 2019, this reflects a nearly four-fold rise in the number of IPOs.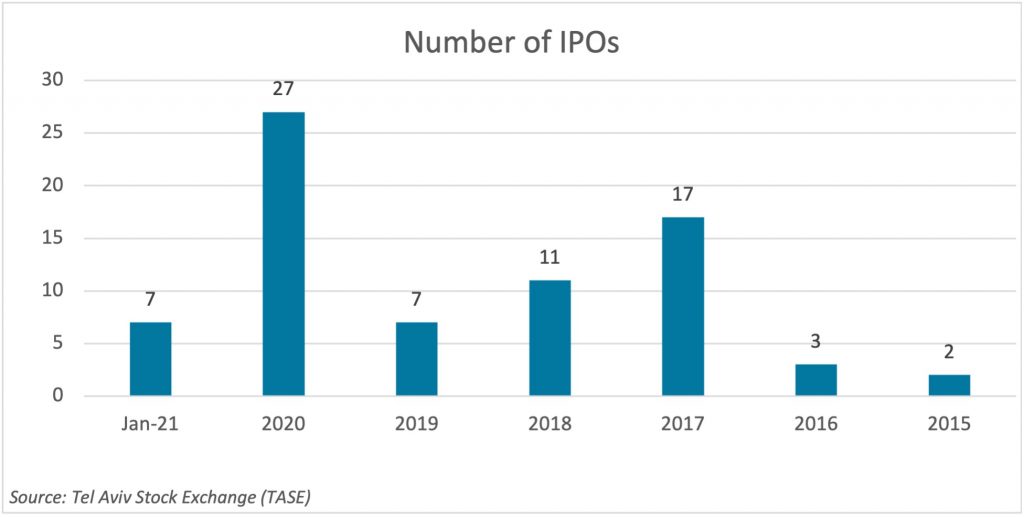 The combined amount raised through IPOs in 2020 was nearly $1.4 billion (USD) as compared to $902 million in 2019, which represents an increase of 52 percent. The upward trend in IPOs is anticipated to continue in 2021, with seven companies having already completed their IPOs as of January 21, 2021, raising a total of $163 million. While the number of new companies that went public as of January 21, 2021 is already equal to the number in all of 2019, the aggregate amount raised in 2019 stood at $902 million, a significantly higher amount as compared to the seven new IPOs as of January 2021. This was primarily attributable to the 2019 IPO of Isracard with a whopping $492 million raised.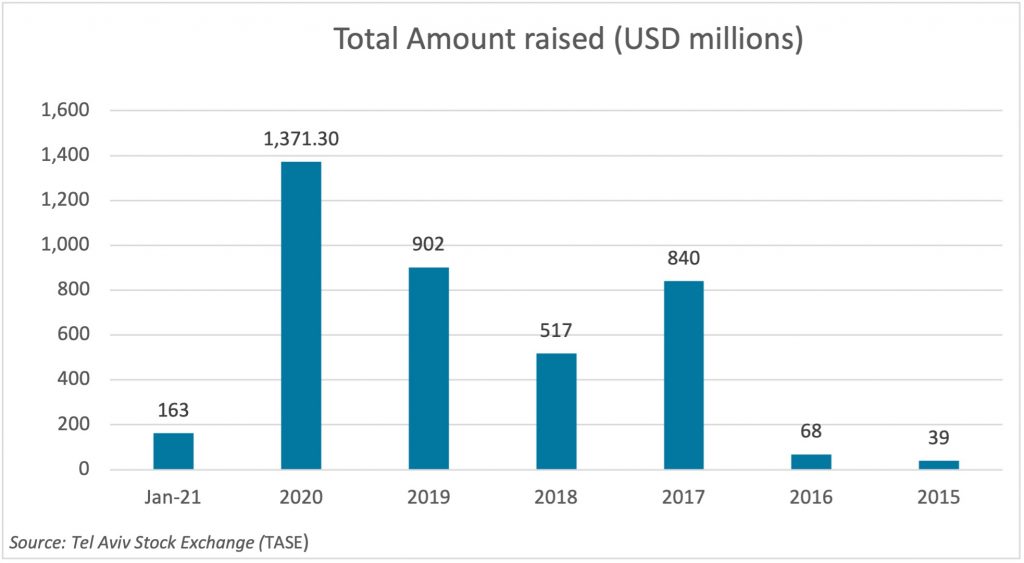 2020 also marked a watershed moment in TASE's relationship with the local high-tech sector, as a record number of new technology firms listed on the exchange, with an expectation of more to come. The technology sector gained significant traction in 2020, with 14 companies carrying out IPOs, accounting for roughly half of all IPOs last year. Another sign of the technology sector's rising importance, according to TASE, is the addition of six high-tech companies to the TA-35 flagship index. Furthermore, the TA Tech-Elite and TA-Technology indices were up by 35% and 31%, respectively, closely tracking the rise in the Nasdaq index (42%). These indices have also taken the lead in the five-year period from 2016 to 2020, with increases of 123% and 195%, respectively.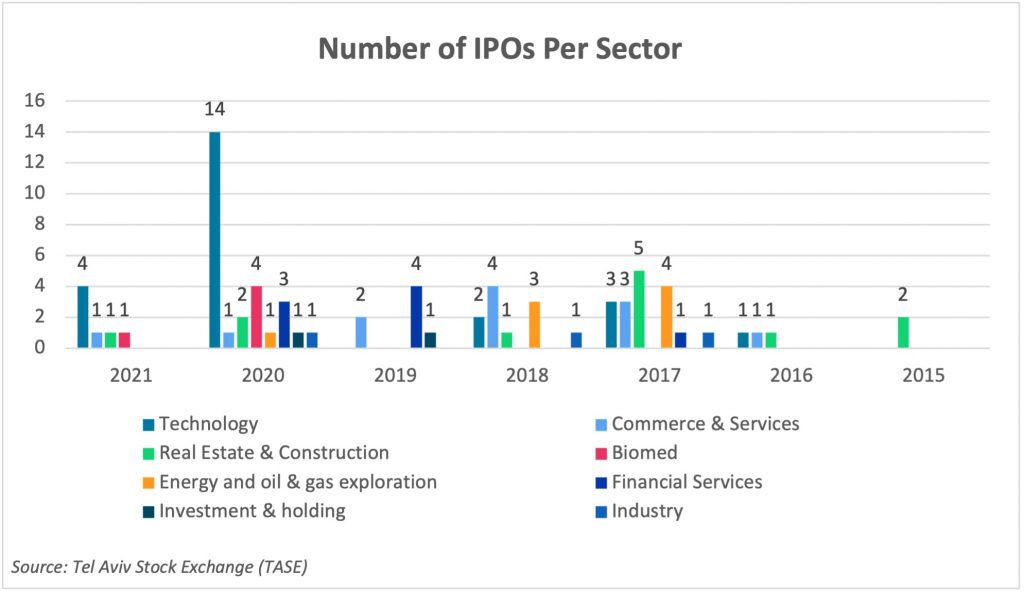 In August 2020, the Israel Securities Authority (ISA) authorized TASE to launch a new funding platform ("TASE-UP") that significantly simplifies capital raising for private companies in the technology, biomed and real estate sectors from institutional investors, including venture capital and private equity funds by exempting them from the prospectus requirement. This enables companies to raise capital or debt through a separate trading platform for accredited investors, allowing such investors to trade in these securities. This program has the potential to open-up a new entry way to the public capital market, through a platform which might be reached at a lower cost and with reduced regulations. This initiative may have contributed to the rise in the number of new IPOs in the technology sector.
Another significant program was approved in 2020 with the aim of increasing institutional investor participation in Israel's high-tech industry and supporting tech companies during the COVID-19 crisis. This measure provides state guarantees to institutional investors for direct investment in the high-tech sector, through the launch of the Israel Innovation Authority's "Incentive Program 43". The program authorizes selected institutional investors to receive 40 percent cover protection on their nominal investments in a portfolio of Israeli high-tech companies in their early growth and sales stages, and is expected to facilitate the flow of up to NIS 2 billion into the Israeli high-tech sector.
Lastly, merging with a Special Purpose Acquisition Company (SPAC) might become another common alternative to the rigorous requirements of an IPO as it may provide a fast and lucrative way to secure investments. The SPAC trend has already attracted several Israeli companies. Innoviz Technology, an Israeli smart-car company, announced in December 2020 that it will merge with a SPAC to become a Nasdaq-listed company. Furthermore, Taboola, a content recommendation company, announced in January 2021 that it plans to go public in the second quarter of 2021 by combining with a SPAC at a $2.6 billion valuation.
In light of, among other items, the launch of a new funding platform, the state guarantees to institutional investors and the growing popularity of SPACs, we expect a busy IPO market in 2021.
---
By:
Elie Zenou, Senior Analyst, Israeli Research, ISS Governance