Each month ISS ESG's team of specialist analysts releases an update on the ESG risks associated with a specific industry sector. The InFocus reports focus on the ISS ESG Corporate Rating for companies within each sector, and also provides headline results from other ISS ESG product lines. This month, the InFocus is on: Media & Telecommunications
KEY TAKEAWAYS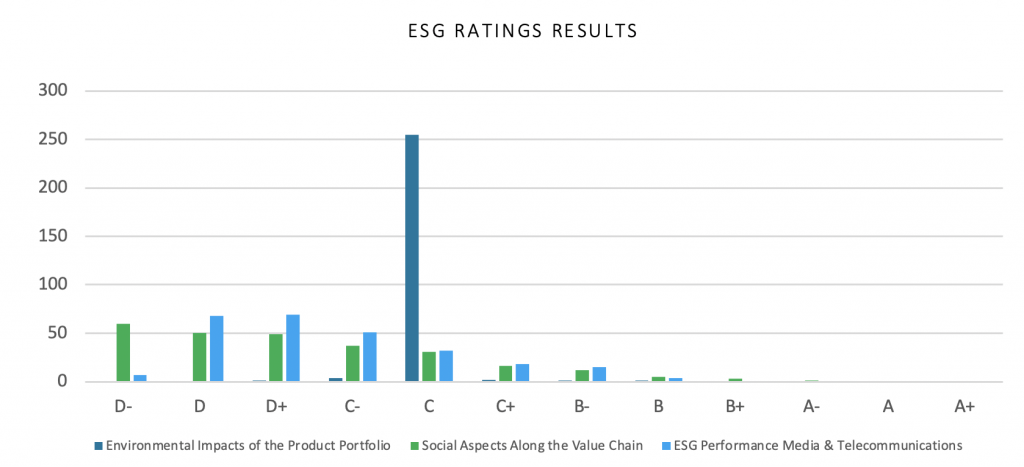 Media and Telecommunications companies have a relatively low environmental impact but lack credible approaches to addressing social challenges. Despite the comparatively low sustainability-related risk exposure of the Media and Telecommunications industries, they demonstrate relatively poor ESG performance.
The rise of disinformation creates reputational risks for Media companies – investors are encouraged to assess commitments to editorial responsibility.
The shift from traditional to digital media creates both environmental opportunities and risks. In 2020, the number of video streaming subscriptions rose by 26% from the prior year. Continued energy efficiency gains will be necessary to limit the environmental impact of this trend in media consumption.
The occurrence of corruption and human and labor rights controversies in the Media and Telecommunications industries reveal its exposure to potentially deceptive and fraudulent practices, as well as failures to respect the right to just working conditions and to ensure ethical business conduct.
The bulk of companies in the Media and Telecommunications industries offer a limited positive impact on the UN-backed Sustainable Development Goals (SDGs), primarily in the areas of delivering education and providing basic services. Media companies may also play a non-negligible role in raising awareness of environmental issues.
Approximately 12% of companies in the Media and Telecommunications industries achieve the ISS ESG Prime rating, slightly lower than the percentage of Prime-rated companies in the broader ISS ESG Ratings universe.
Explore ISS ESG solutions mentioned in this report:
---
By Muriel Dossin, Analyst, ISS ESG Gabrielle Branco, Analyst, ISS ESG Krzysztof Kowalczyk, Senior Associate, ISS ESG Joseph Arns, Associate Director, ISS ESG.