Each month ISS ESG's team of specialist analysts releases an update on the ESG risks associated with a specific industry. The InFocus reports focus on the ISS ESG Corporate Rating for companies within each sector, and also provides headline results from other ISS ESG product lines. This month, the InFocus is on: Textiles, Apparel, and Furnishings
KEY TAKEAWAYS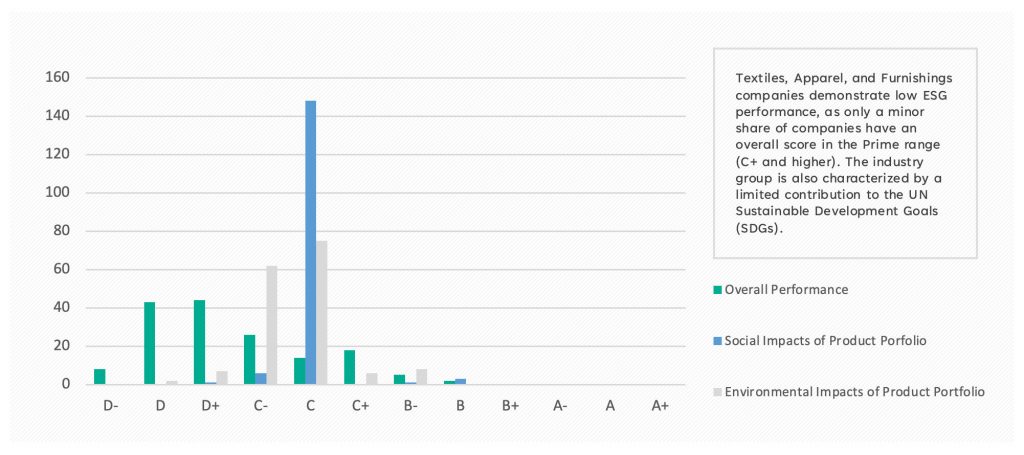 Textiles, Apparel, and Furnishings companies demonstrate low ESG performance, as only a minor share of companies have an overall score in the Prime range (C+ and higher). The industry group is also characterized by a limited contribution to the UN Sustainable Development Goals (SDGs).
The Textiles, Apparel, and Furnishings industry group comprises companies from the Textiles & Apparel (T&A) and Furniture & Fittings (F&F) industries. These industries engage in the production, design, manufacturing, and distribution of yarn; cloth; textile and clothing products; furniture products; furniture components; and interior fixtures.
The industries are linked by the importance of ensuring labour standards in both their own operations and the supply chain and by potential impacts the production processes can have on the environment.
Textiles, Apparel, and Furnishings companies are less likely to support the achievement of the UN Sustainable Development Goals, due to the limited positive impacts of company products, generally poor ESG performance, and a high number of controversies taking place mostly in the T&A industry.
15.6% of Textiles, Apparel, and Furnishings companies are ISS-ESG Prime rated, in line with the average rate in the ISS ESG rating universe (15.0% as of February 2022).
The bulk of controversies recorded for the industry group are associated with T&A companies and relate to the areas of labour rights and human rights. The major share of controversies take place in the supply chain, as T&A companies usually operate large-scale and complex supply chain networks.
Explore ISS ESG solutions mentioned in this report:
---
By: Lisa Häuser, Vice President, ISS ESG. Phuong Anh Nguyen, ESG Analyst, ISS ESG. Andres Del Gallego, ESG Ratings Associate, ISS ESG. Prachi Pandey, Analyst – Sector Based Screening, ISS ESG.
Gavin Thomson, Head of Integrated Portfolio Management, ISS ESG.