The following is an excerpt from a recently published ISS Securities Class Action Services report. Click here to download and read the full report.
Since its inception, ISS Securities Class Action Services LLC ("ISS SCAS") has tracked more than 13,000 shareholder class actions across the world, including 12,000+ cases within the United States. In this report, ISS SCAS closely examines the largest securities class action settlements by U.S. state, as well as the District of Columbia.
In the first edition of this report, published in 2018, ISS SCAS identified 48 cases as the largest securities class action settlements, by total settlement amount and by state. In this updated version, ISS SCAS provides a refresh of the data, including recently settled cases that now meet the high bar of the largest settlement by state. Additionally, ancillary charts are included to provide greater insight into the firms involved within securities litigation.
Of the largest cases by state, key highlights include:
The 49 settlements[1] total $32.5 billion (or an average of $663.4 million);
Seven (7) states had settlements valued at $1 billion or higher;
Only one (1) state had its largest settlement valued at less than $10 million;
Three (3) states – Alaska, Hawaii, and Wyoming – have yet to experience a class action settlement within their Federal court dockets;
2016 saw the largest quantity of settlements.
The most active lead plaintiff law firms from the 49 listed settlements include Robbins Geller Rudman & Dowd[2] with 19 cases worth a total of $13.18 billion, and Bernstein Litowitz Berger & Grossmann with 13 cases worth a total of $12.96 billion. The notation of these two firms at the top of the list is not surprising, Robbins Geller and Bernstein Litowitz often rank in the top of ISS SCAS' "The Top 50" annual report of lead plaintiff firms.
In terms of managing investor claims and disbursing funds from these 49 settlements, the most active Claims Administrator is Gilardi & Co. with 20 cases, including two billion-dollar settlements (Enron in Texas and Household International in Illinois). The second leading Claims Administrator is Epiq Systems[3] with 12 cases, including three billion-dollar settlements (WorldCom in New York, Tyco International in New Hampshire, and Royal Ahold in Maryland).
[1] The 49 settlements come from 47 states and the District of Columbia (Wisconsin has two settlements listed within this report – due to a tie)
2 Includes predecessor firms Lerach Coughlin Stoia Geller Rudman & Robbins and Coughlin Stoia Geller Rudman & Robbins
3 Includes Garden City Group, which Epiq acquired in June 2018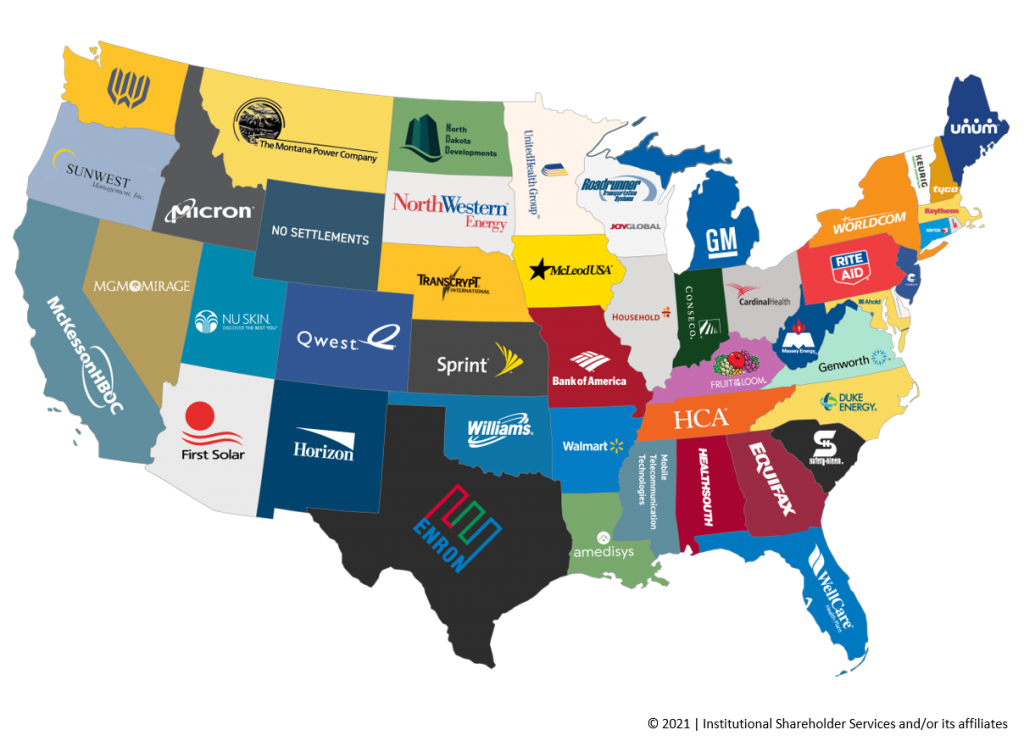 ---
By Jeff Lubitz, Executive Director, and Grace Meyer, Research Analyst, ISS Securities Class Action Services