Below is an excerpt from ISS ESG's thought leadership paper: Cannabis in 2022: Blazing On or Up in Smoke? The full paper is available for download from the Institutional Shareholder Services (ISS) online library.
KEY TAKEAWAYS
Four years after cannabis legalization in Canada, a review of the policy change's early successes and failures is now possible.
The United Nations and United States have taken largely symbolic steps toward greater openness to medicinal and recreational uses of cannabis.
Cannabis presents both potential medical benefits and health risks, but research in these areas is lacking.
The international cannabis market continues to expand, and investors can respond in several possible ways. ISS ESG Sector-Based Screening can support investors as they determine their approach.
The full legalization of cannabis in Canada four years ago marked a significant shift in political positions, legal stances, and public attitudes surrounding the drug globally. Since then, an increasing number of countries and even international lawmakers have taken steps to relax legislation surrounding cannabis or to outright legalize its use. Cannabis has primarily been legalized for medical purposes, but some jurisdictions have tentatively allowed for its recreational use.
At the core of these changes lies an oft-stated desire to protect public health and welfare and a dissatisfaction with the current means of doing so. The main concerns specifically regarding cannabis and public health are twofold: how to responsibly administer the purported medical benefits of cannabis at the same time as combatting the harm incurred from illicit markets and trafficking arising from the permitting of legal adult use.
The continuing emergence of a highly lucrative new market presents considerable investment opportunities, yet responsible investors are presented with a similar question to that facing policymakers and the industry: how to best ensure public interests whilst managing risks? What becomes apparent when examining the early successes and failures of alternative approaches beyond a drug control regime built around enforcement is that there is no clear one-size-fits-all approach. ISS ESG continues to monitor the evolving cannabis market and the implications for investors.
Figure 1: Global Cannabis Legality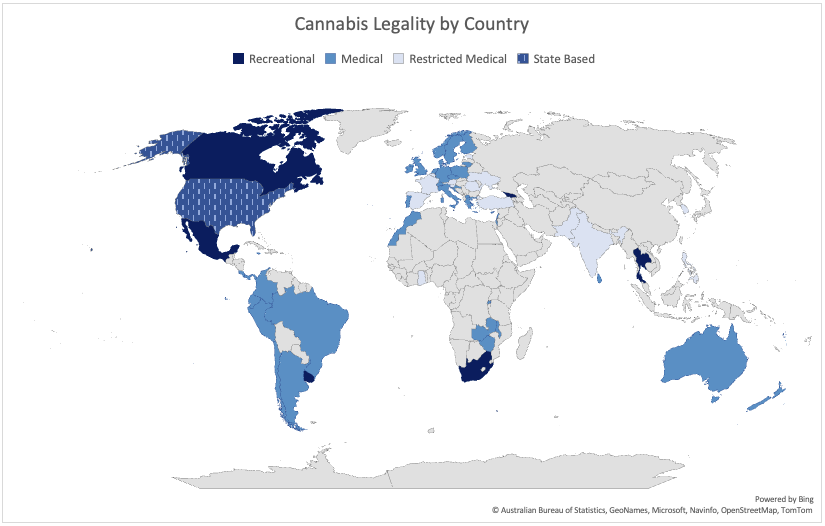 Source: ISS ESG
Explore ISS ESG solutions mentioned in this report:
Use ISS ESG Sector-Based Screening to assess companies' involvement in a wide range of products and services such as alcohol, animal welfare, cannabis, for-profit correctional facilities, gambling, pornography, tobacco and more.
---
By: Jay Simpson, Associate Vice President, ISS ESG
Maura Mercedes Santos, Analyst, ISS ESG