Investors have secured a $450 million tentative settlement arising out of the 2015 merger that created the Kraft Heinz Company, one of the largest food companies in the world. For many shareholders, the merger has been viewed as a "mess," demonstrating that ketchup and mac & cheese do not mix. Anguish over the merger has even come from co-owner Berkshire Hathaway's Warren Buffet, who later admitted to overpaying for the food and beverage company.
In February 2019, Kraft Heinz took a record-breaking $15.4 billion write-down and its stock fell 27% the following day, and more than 50% from November 2015 to August 2019. The mega-settlement though will provide investors that file claims the opportunity to recoup some of their losses.
The 2015 merger between Kraft Foods Group, Inc. and The H.J. Heinz Company was allegedly orchestrated by prominent buyout firm 3G Capital Partners with a plan to extract $1.5 billion in cost savings. 3G and Kraft purportedly touted these "synergies" to the market for years following the merger. In reality, however, there allegedly were fewer savings to be had, and Kraft Heinz had instead implemented extreme cost-cutting measures that decimated its supply chain and innovation.
According to the lawsuit, the undisclosed cost cuts ultimately led to a massive $15.4 billion impairment write-down of the value of Kraft and Oscar Mayer in February 2019 — the largest in the U.S. consumer staples industry in a decade. Kraft Heinz also disclosed that it received a subpoena from the SEC and subsequently issued a restatement of its financial statements since 2016. The bad news led to a drastic decline in Kraft Heinz's stock price from $56.20 in November 2015 to $26.50 in August 2019, wiping out about $36 billion in market capitalization.
The complaint specifically alleges:
After the merger of Kraft and Heinz in 2015, the company's newly-hired Chief Executive Officer Bernardo Hees and his hand-picked 3G Capital management team announced a plan to eliminate over a billion dollars in cost-savings by creating synergies and eliminating redundancies.
Defendants then told investors for years that their efforts were a success, Kraft Heinz was using the savings to promote innovation and brand growth, and that this was not "merely a cost-cutting exercise."
In actuality, however, 3G Capital and the other executives implemented an "across the board" cost-cutting program that "gutted" innovation and supply-chain capabilities. The drastic measures led the food and beverage company to internally cut its cost-saving and revenue targets, despite projecting more cost-savings and greater revenue to the market.
Behind the scenes, the SEC also began investigating the company's accounting practices. With the inside knowledge of the SEC investigation and Kraft Heinz's precarious financial condition, 3G Capital sold over $1 billion in Kraft Heinz stock.
In February 2019, the company was forced to disclose a $15.4 billion write-down in the value of Kraft and Oscar Mayer and other intangible assets and that an SEC subpoena triggered an internal investigation.
In May 2019, the company disclosed misconduct in its procurement department that would force it to restate $208 million of revenue since 2016. In August 2019, Kraft Heinz admitted that virtually all the "savings" it touted would need to be reinvested back into the company to revive its "ravaged" infrastructure.
The settlement comes following the denial of the defendants' motions to dismiss in their entirety and extensive discovery. Based upon its review of the settlement stipulation, the D&O Diary concludes that insurance is funding only some of the settlement, but it is not clear how much.
Once legally resolved, this shareholder class action will become one of the Top 100 U.S. class actions of all time, specifically placing it around the 43rd largest settlement. The tentative settlement is also the second largest to be announced in 2023 so far – behind the recently announced Wells Fargo settlement of $1 billion.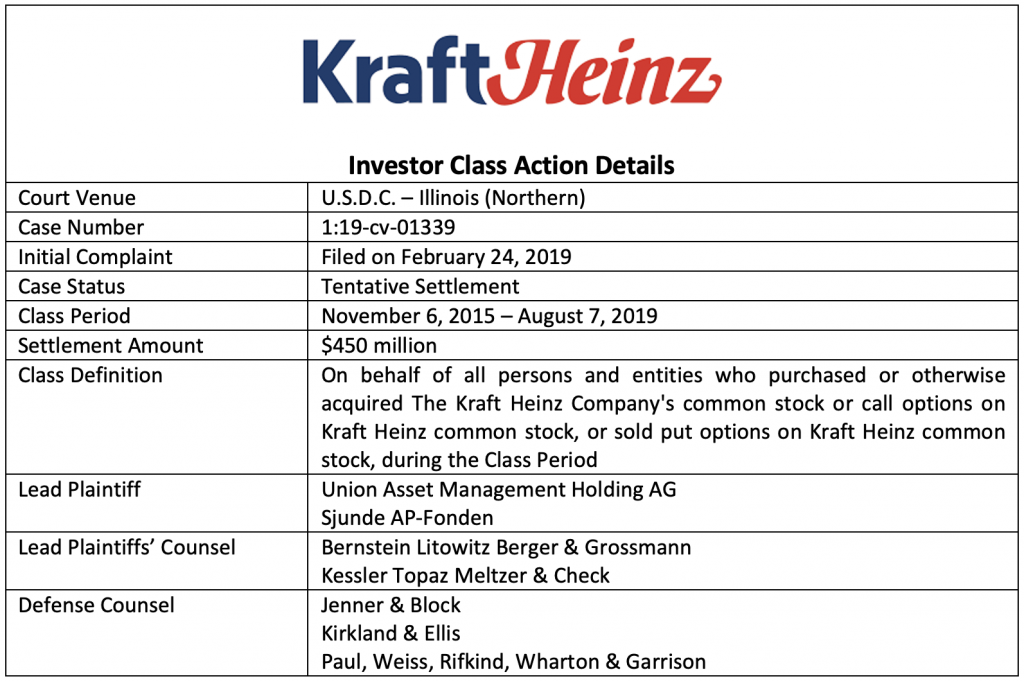 Kraft Heinz also settled similar SEC-related allegations by paying $62.3 million in a fair fund for the benefit of investors. The SEC specifically accused Kraft Heinz of engaging in various types of accounting misconduct, including recognizing unearned discounts and maintaining false and misleading supplier contracts, which allegedly achieved "cost savings."
The deadline for investors to submit claims in the Kraft Heinz SEC fair fund is June 21, 2023.
ISS Securities Class Action Services will continue to closely monitor this high-profile class action as well as the SEC fair fund, communicate updates to its clients and the investment community, and file claims for its institutional investor clients, as those opportunities occur.
---
Authored by:
Jarett Sena, Esq., Director of Litigation Analysis, ISS Securities Class Action Services