In Australia, over 3000 entities are required to publish public corporate statements detailing their actions to assess and address modern slavery risks under the Modern Slavery Act 2018. Mandatory reporting legislation often lacks the enforcement mechanisms needed to produce consistent corporate practice in eliminating modern slavery, however. Recent research has found that six years on from the introduction of similar legislation in the UK, their Act has failed to result in meaningful disclosure beyond vague policy commitments, with persistent non-compliance by two in every five companies.
While the Australian legislation does require companies to describe the actions they have taken to address modern slavery risks and provides greater opportunities for investors to scrutinise companies' performance on human rights, mandatory disclosure alone will not eliminate modern slavery. To address this issue, a coalition of 29 investment firms representing AU$5.9 trillion under management, Investors Against Slavery and Trafficking, is urging Australian companies to go beyond simply ticking the box and use their obligations under the Act to proactively protect the rights of workers.
If investors intend to take their mandatory disclosure requirements under the Act seriously, they may need to enhance their approach to due diligence, risk assessment, and management. For example, in regions where traditional approaches to human rights management (such as relying solely on third party audits) are challenged by government controls, it is particularly important to adopt forward-looking solutions and consider an industry's exposure to modern slavery risks.
Consider the example of the XUAR (Xinjiang Uyghur Autonomous Region) in China, which has long been considered an area of concern for modern slavery risks. Allegations of ongoing human rights abuses of minorities in Xinjiang, such as the Uyghur population, are well documented by respected institutions such as The Centre for Strategic & International Studies, as well as being recognised by the Australian Foreign Affairs, Defence and Trade Legislation Committee. The allegations have resulted in increased media and regulatory scrutiny of investors and companies' relationships to the region, such as we have seen in the case of popular clothing brands, or rail infrastructure in Victoria. While there is research that explores the relationship between large companies and the region, the connections to Australian products and industries are less well understood.
Over the last five years, the Chinese Communist Party (CCP) ramped up a XUAR 'pairing assistance program' which has sought to increase development through the support of other regions. Under the XUAR Action Plan, the CCP seeks to move businesses in key sectors from other parts of China to the XUAR, and double manufacturing capacity in the region by 2025. The plan seems to be working, as in 2019 the XUAR reported that it saw a 57.9% Year on Year (YoY) increase in import value, and a 18.5% YoY increase in export value. While Australia makes up less than 1% of total direct exports from the Xinjiang region (as of 2018), it is one of China's top 15 trading partners by export value (as of 2020).
Australia is heavily dependent on imports from China, which is the country's largest trading partner by far. For this reason, investors should be alert to the possibility that they are exposed to modern slavery related risks through imports coming from XUAR Action Plan priority areas. Some of the products identified by the plan include agricultural products, industrial equipment, textiles, and electronics. To demonstrate the significance that these products pose to Australian investors, ISS ESG has mapped key product areas against imports from China, as shown in the table below.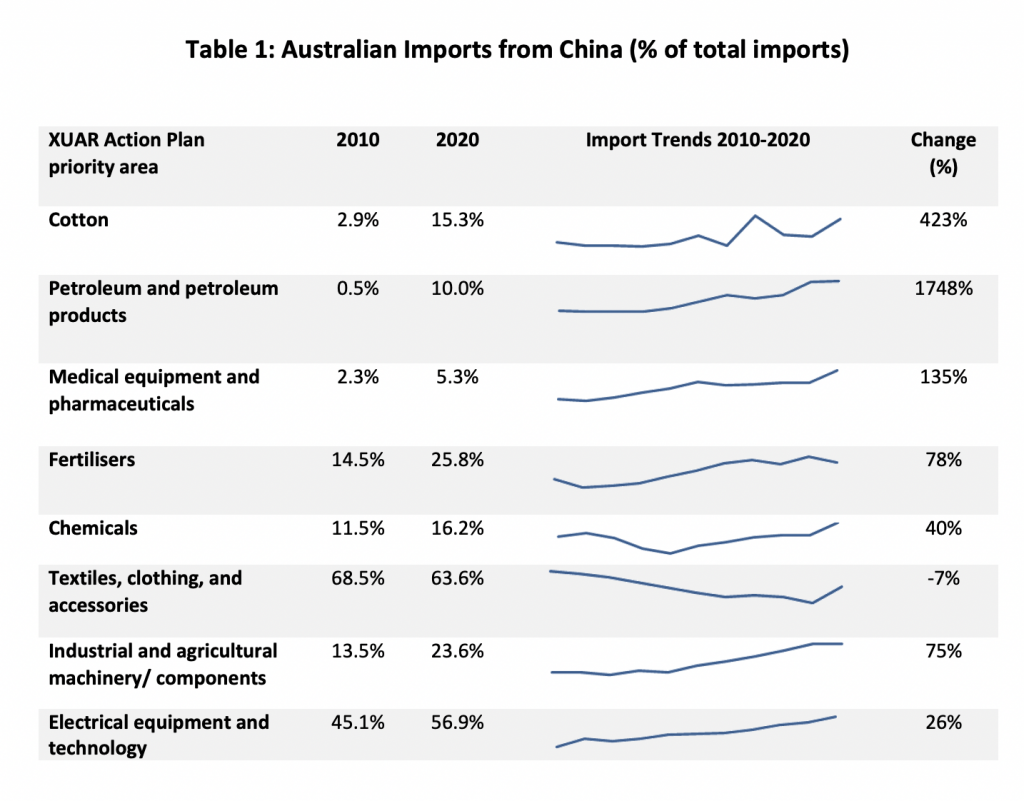 Source: DFAT (Department of Foreign Affairs and Trade) Trade Statistics
As the CCP ramps up production in the XUAR in the areas identified above, Australian companies sourcing these products from China must be mindful of their potential connection to forced labour in Xinjiang. The same is true for investors. If an investor holds equities that are connected to activities identified by the XUAR Action Plan, they may find themselves exposed to significant modern slavery risks.
Beyond the potential regulatory and reputational impacts of association with forced labour in the XUAR, the United Nations Guiding Principles on Business and Human Rights place an obligation on investors to actively manage their modern slavery risks. Principle 13 states that companies should prevent or mitigate human rights impacts that are linked to their operations, products, or services, even if they have not contributed to those impacts.
Active investor engagement in the Australian market is urgently needed. ISS ESG has recently launched the Modern Slavery Scorecard, a research solution that helps investors identify, evaluate and act on modern slavery risks. Of the 77 S&P/ASX 200 companies in sectors most relevant to the XUAR Action Plan, 55% are assessed as being laggards on Modern Slavery risk disclosure and management. If investors wish to see improvement in these results, research by ISS ESG has shown that while companies are often willing to address forced labour in their supply chains, action is generally prompted by stakeholder pressure and, crucially, investor engagement.
The connection between XUAR manufacturing activities, forced labour, and Australian imports, means that investor decisions can play a significant role in financing, or preventing, modern slavery. If you want to learn more about how investors can have a positive impact on this emerging ESG topic, please see ISS ESG's thought leadership papers titled Investor Handbook on Modern Slavery, and Investor Due Diligence On Modern Slavery, or contact ISS ESG for more information on the solutions we have available.
Explore ISS ESG solutions mentioned in this report:
Assess companies' adherence to international norms on human rights, labor standards, environmental protection and anti-corruption using ISS ESG Norm-Based Research.
Develop engagement strategies, define achievable engagement objectives and manage your engagement process with the ISS ESG Engagement Service.
---
By Daniel Parris, ESG Analyst, ISS ESG