Drastic movements in employment rates and public market returns have created massive cascades for the American economy and, by extension, the defined contribution market. As detailed in ISS MI's State of the Market – Defined Contribution 2022 report, DC plans faced record highs and lows over the course of 2020. While total assets and gross contributions reached their highest levels, so too did gross redemptions. Alongside that, metrics like number of plans and active participants recorded their first declines in years.
The rebounding labor market, however, points to new opportunities for asset managers to win market share. Substantial increases in resignations and new hires have occurred as retirement plans remain one of the most highly ranked benefits for new workers. Higher rollovers and pressure on employers to offer more generous packages give managers chances to benefit from savers transitioning their retirement funds to new firms.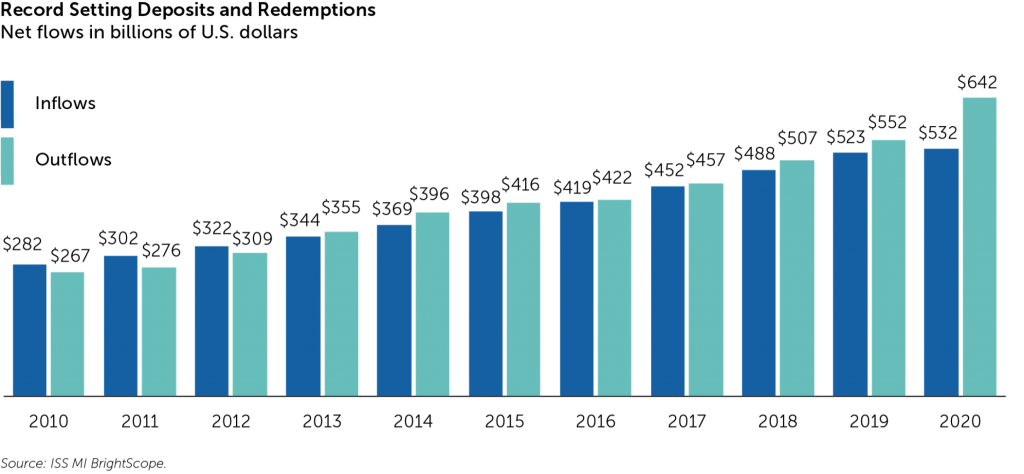 Significant concerns loom on the horizon. Expanding retirement access within the small plan market remains a hurdle. Surveys from ISS MI Market Metrics recorded only 13% of advisors offering new Pooled Employer Plans that can combine employers from unrelated industries. In a lower expected return future, managers will need to rely more on flows for future growth. The increasing retirement of baby boomers and declines in the labor force participation rate will weigh particularly heavily on net demand in the DC channel. The changing composition of the workforce and generational asset transfers will provide some balance to this wave of retirements. The total labor force is expected to grow at a healthy rate, with the largest absolute growth in high-paying sectors with extensive access to retirement benefits.
The full report is available to Simfund Enterprise subscribers for access on the Simfund research portal. For more information about this report, or any of ISS MI's research offerings, please contact us.
---
By: Alan Hess, Associate Vice President, U.S. Fund Research, ISS Market Intelligence