In recent years, awareness of the significance of ESG (environment, social and governance) issues to businesses and investors have been on the rise globally. According to Morningstar's Sustainable Funds U.S Landscape report, the number of sustainable open-end and exchange-traded funds available to U.S. investors increased to 392 in 2020, an increase of 30% from 2019. Furthermore, sustainable funds attracted a record $51.1 billion in net inflows in 2020, more than double the previous record set in 2019.
In Israel, the legal framework with regards to company reporting and other responsibilities relating to ESG factors is still in its infancy, there have not previously been any meaningful company reporting obligations regarding ESG impacts, and it does not affect most companies' regulatory status or tax rates. One of the few requirements regarding ESG reporting obligates institutional investors to disclose how they take ESG considerations into account when approving their investment policy. However, the disclosures many institutional investors provide have been mostly brief and technical in nature.
Nevertheless, as ESG gains more prominence, many Israeli companies and local institutional investors are becoming increasingly aware of good ESG practices and their importance. Some of the demands for improved ESG reporting in Israel have been fulfilled by private organizations, the most prominent of which is the "Maala" network which compiles an index of Israel-based companies based on ESG indicators set by a transparent public committee. Despite a slight drop of approximately 5 percent in 2020 compared to 2019, the increasing number of companies voluntarily entering the "Maala" index over the years indicates the rising importance of ESG to Israel-based companies and their investors.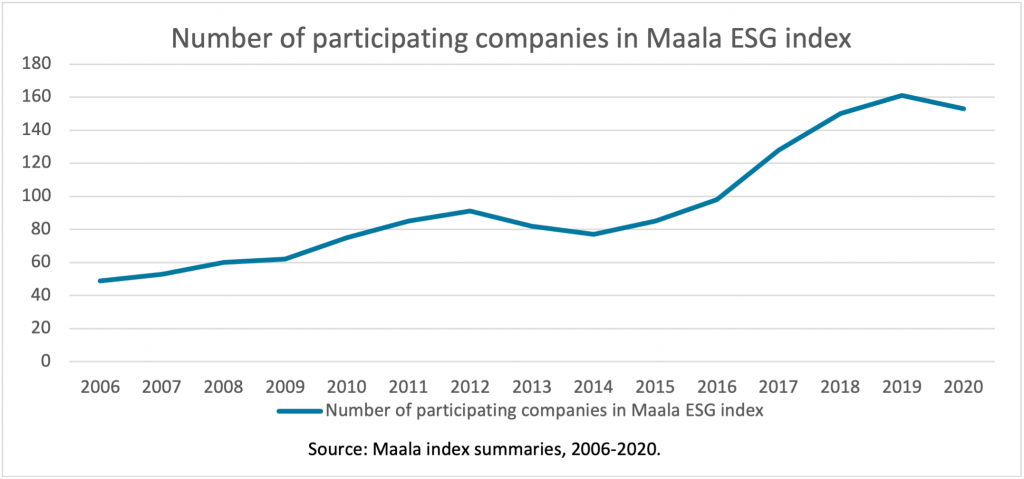 Responding to ESG trends at the local and global levels, Israeli regulators and governmental authorities have been assessing their impacts on trading markets. A research study commissioned by the Israeli Securities Authority (ISA) in 2019 revealed significant correlation between a company scoring high on most ESG indicators and being a recipient of international institutional investments.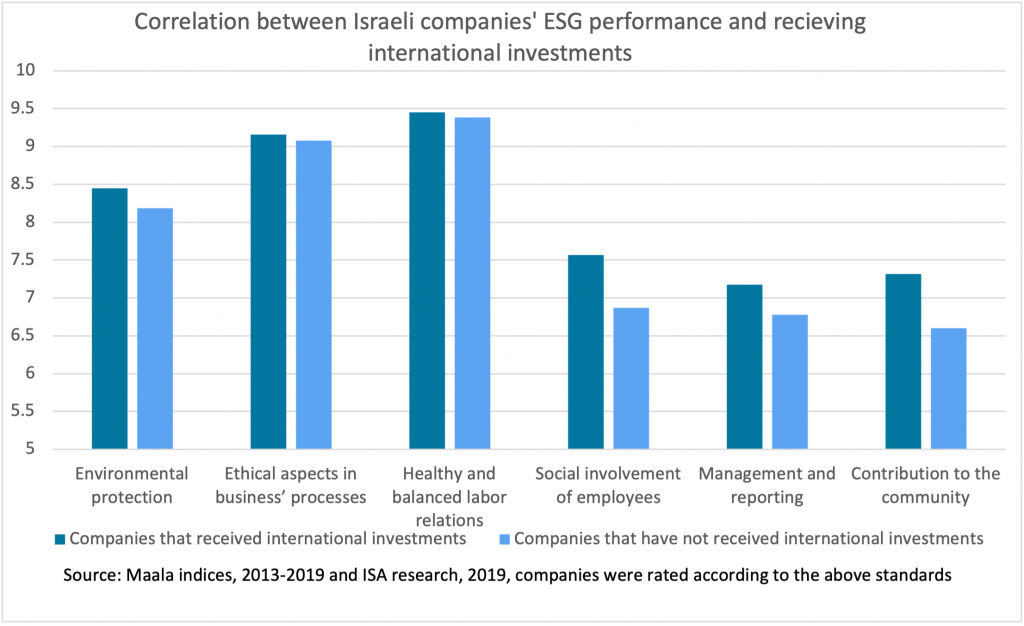 In April 2021, the ISA released its recommendations regarding ESG reporting. Specifically, the recommendations call for all public companies in Israel to publish a yearly ESG report based on international standards such as those established by the Global Reporting Initiative (GRI) or Sustainability Accounting Standards Board (SASB) in tandem with their annual reports. The ISA also clarified that it will provide workshops and professional training on ESG to support such reporting. Furthermore, in February 2021, the Israeli Capital, Insurance and Saving authority released draft amendments to the reporting requirements on ESG for institutional investors in Israel. The amendments set forth a requirement for such investors to have a policy regarding ESG issues and disclose it publicly.
Finally, the Israeli Ministry of Strategic Affairs and Public Diplomacy, collaborating with the ISA, has initiated the "Impact Nation" program, which includes grants of up to NIS 100,000 ($29,952) for companies that include an ESG report in their annual reports. The first round of the program ended with 17 companies successfully publishing such reports, and the second round aims to expand on that success.
These initiatives show that global trends and rising awareness of the significance of ESG factors and sustainability concerns when investing in public companies are not being overlooked in Israel. Governmental and regulatory response coupled with companies' increased participation and investor attention will continue to drive expanded ESG reporting and practices in the Israeli Market.
---
By Dvir Aviam Ezra, Associate, Israeli Research, ISS Governance