Russia's invasion of Ukraine and the subsequent sweeping sanctions imposed on the country are shaking up the global agricultural sector. The impacts on food supply chains are increasingly visible, with fertilizer prices surging to record highs and potential shortages of key crop nutrients. As a result, global food security is at risk not only because of the loss of the major crop-producing markets of Ukraine and Russia, but also due to bottlenecks in operating resources such as diesel and fertilizer.
Russia is a leading exporter of fertilizer, with significant raw material reserves such as phosphate rock deposits, as well as the energy sources to manufacture fertilizer end products. Modern fertilizer production not only relies on resources such as ore rich in phosphate or potassium, it is equally dependent on massive energy inputs, usually in the form of natural gas. The main reason for this lies in the nitrogen component of mineral fertilizers. Getting atmospheric nitrogen into a form that can be used by plants is one of the world's most energy-intensive industrial processes.
Circular Economy Solutions in the Fertilizer Sector
While the need to find alternative suppliers for crucial crop nutrients appears to dominate the public debate, one approach is receiving far less attention than it deserves: efficiency. As in all linear material loops, a potential solution to reduce reliance on steady inputs is to use resources as efficiently as possible, ultimately closing the loop.
Circular-economy or recycling concepts are not new to the fertilizer industry, with the topic receiving significant attention well before Russia's war in Ukraine. Raw materials such as phosphate rock—particularly deposits with low heavy metal content—are finite resources.
Geo-political dependency concerns are also not new, given the world's main phosphate reserves are located in the Western Sahara, where ore exploitation has been connected to human rights abuses.
From an environmental perspective, a relatively small proportion of fertilizers applied to crops are taken up by the plants. Nitrogen and phosphorus flows from agriculture to the biosphere and oceans and are regarded as a major source of pollution that threatens whole ecosystems. According to the International Water Association: "The annual costs of pollution by reactive nitrogen from agriculture have been estimated as $210 billion and €320 billion for the US and the EU, respectively."
But despite a considerable amount of academic groundwork, government funding for pilot projects, and the European Commission's previous attempts to boost circularity in the fertilizer sector, industry implementation remains modest so far.
Use of Alternative Raw Materials as an Indicator for Circular Economy Technologies
The ISS ESG Corporate Rating incorporates measures of company commitment to a circular economy, where relevant. One example of the acceptance of circularity concepts is the use of alternative raw materials by specialized players in the fertilizer market—a sub-industry within the chemicals industry as classified by ISS ESG. As of March 10, 2022, only 2 out of the 15 companies in the sub-industry have meaningful strategies and measures in place that could be rated with a C- (A being the top and D the lowest score).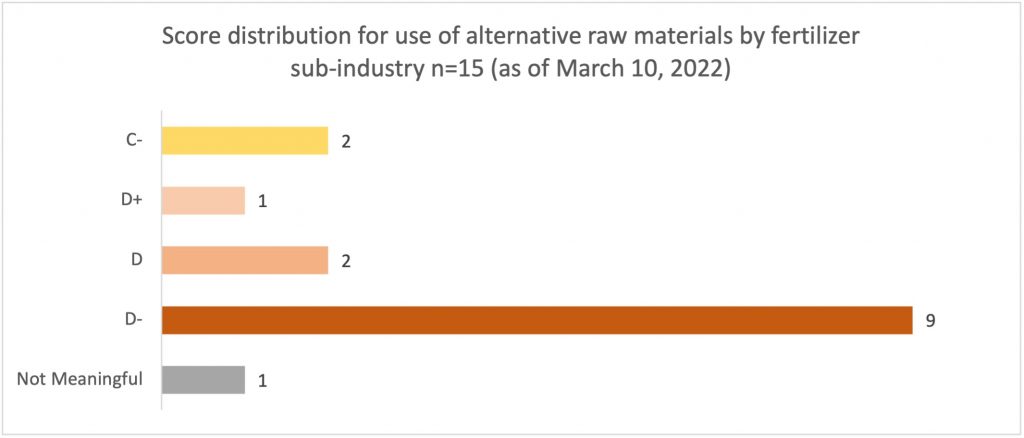 Source: ISS ESG Corporate Rating research
One company that performs comparatively well according to this measure is ICL Group Ltd. Although ICL processes primary phosphate rock, it has taken initial steps to recover and recycle phosphates from other sources such as human sewage, animal manure, and waste ash. For its European fertilizer branch, it has set the goal of replacing phosphate rock with secondary phosphates, and it has a plant in the Netherlands already using them at a commercial scale. According to the company, using secondary sources can also lead to a significant reduction of its products' carbon footprint.
ICL offers some innovative fertilizer products made from recycled resources. However, these products represent only a minor share of its net sales and do not appear to include the energy-intensive nitrogen component. While nitrogen (ammonia) recovery from wastewater is considered under the EU Taxonomy, tentative industry approaches attempting to close the fertilizer loop are usually not yet covering the nitrogen component.
Can Soaring Prices Be a Shock Therapy for Innovation?
The niche status of circular economy concepts in the industry can be explained by the fact that recovery technologies could not, at least until now, compete with conventional alternatives benefitting from comparatively cheap feedstock and energy prices. The question is to what extent the current trade disruptions and soaring prices in the crop-nutrient commodity market act as a shock therapy that encourages a more efficient and resilient use of the basic resources required for food production.
2022 could be a turning point for the industry. While China has temporarily restricted fertilizer exports, European plants are already curtailing their nitrogen fertilizer production due to the surge in natural gas prices. This is no surprise considering the European Union's reliance on Russian gas. Russia accounts for around 40% of the European Union's total gas consumption. All this suggests that 'cheap' resources may no longer be an argument for dismissing circular economy concepts as economically unviable. From a food security perspective, regions around the world depending heavily on fertilizer imports are the most vulnerable.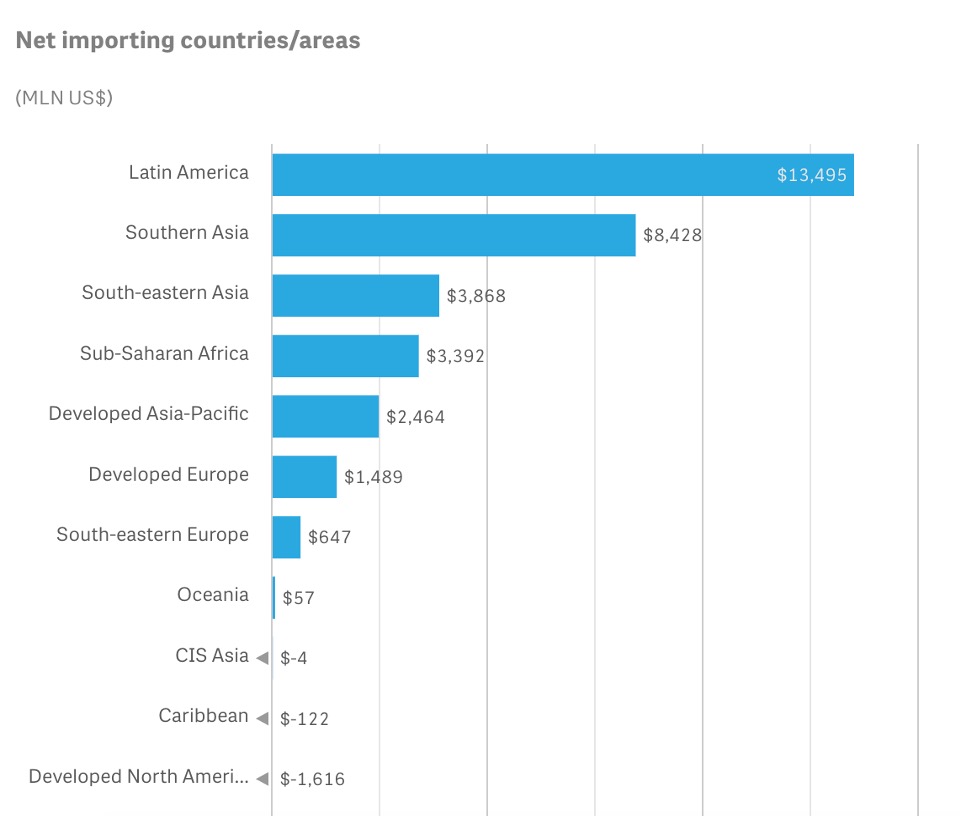 Source: UN Comtrade: Fertilizer importing countries/areas in 2020
It remains to be seen to what extent recent developments will shape legislation and the European Union's upcoming action plan on better nutrient management. Those companies open to disruptive innovation and re-thinking production processes and supply chains will likely be the best prepared for the challenges ahead.
The Russian invasion of Ukraine poses a range of immediate impacts that investors need to address, such as how to respond to sanctions regimes, and what the implications are likely to be for sovereign bond investments. The ISS ESG Corporate Rating and its forward-looking assessment framework offers clients a tool to delve deeper into the conflict's implications at an equity level. As illustrated in the case study above regarding the food production supply chain, a close analysis of the data that lies behind ESG ratings can offer actionable insights that aid in the identification of opportunities as well as risks associated with the ongoing tragedy in Ukraine.
Explore ISS ESG solutions mentioned in this report:
---
By Daniela Knodt, Sector Lead Healthcare, ESG Ratings, ISS ESG.