As firearms and their regulation continue to generate heated public debate in the United States, similar concerns have prompted new legislation in Canada. This legislation and related concerns about firearms may be relevant to investors, who can draw on resources such as ISS ESG's Sector-Based Screening in making their investment decisions.
Wide-Ranging Gun Control Legislation
Canadian Prime Minister Justin Trudeau recently introduced a new proposal for wide-ranging gun control legislation, referred to as Bill C-21. At a May 30 press conference the prime minister announced: "Today, we're proposing some of the strongest measures in Canadian history to keep guns out of our communities and build a safer future for everyone." If passed, Bill C-21 would amend the Canadian Criminal Code and the Firearms Act to reduce the number of privately owned firearms in the country and impose significant new restrictions on certain firearm types.
According to the Office of the Canadian Prime Minister, the proposed bill intends to implement "a national freeze on handguns to prevent individuals from bringing newly acquired handguns into Canada and from buying, selling, and transferring handguns within the country." The announcement further states: "These regulations will help stop the growth of personally owned handguns in Canada and are expected to come into force in Fall 2022."
Statistics Canada recently reported that in 2020, as in previous years, "the majority (59%) of firearm-related violent crimes in Canada involved a handgun." 'Handguns' usually refer to pistols and revolvers and are defined by the Canadian Criminal Code as "a firearm that is designed, altered or intended to be aimed and fired by the action of one hand, whether or not it has been redesigned or subsequently altered to be aimed and fired by the action of both hands."
In addition to handgun regulation, Bill C-21 would build on firearms restrictions introduced in May 2020 following Canada's deadliest mass shooting, which killed 22 people in the province of Nova Scotia. These restrictions banned over 1,500 models and variants of 'military-style assault weapons.'
While prohibiting the sale of new firearms covered by the restricted list, the May 2020 restrictions did not make it mandatory for existing owners to turn over their weapons. The new legislation would close this loophole by requiring owners of restricted weapons to participate in a government buyback program. Moreover, according to the Prime Ministers' Office, the new legislation aims to "ensure military-style assault weapons are automatically prohibited when they enter the market" and that "any new weapons that fit the definition of assault-style weapon are captured."
It is important to note in this context that the term 'assault weapon' does not have a fixed definition. It is rather a collective term used to describe a type of firearm, usually an automatic or semi-automatic rifle, that possesses certain features. These features can include:
a detachable magazine (a magazine is the device that holds ammunition and feeds it into the gun);
a pistol grip; and/or
threaded barrels which can be fitted with flash suppressors or silencers.
Acknowledging the term's lack of conceptual clarity, Prime Minister Trudeau stated that the government would seek to provide a definition that could not be easily circumvented by firearms producers.
In addition to the newly proposed legislation the government will also require "long-gun magazines to be permanently altered so they can never hold more than five rounds" and "ban the sale and transfer of large capacity magazines under the Criminal Code." Large-capacity, or high-capacity, magazines usually refer to magazines capable of holding more than 10 rounds of ammunition. High-capacity magazines have been used in a number of mass shooting incidents in North America and are already heavily restricted in Canada.
Further provisions of the announced legislation would also prevent individuals who have engaged in criminal acts, such as domestic abuse and stalking, from keeping or obtaining a firearms license.
National and International Concerns
Many elements of the newly proposed legislation were featured in a gun-control bill that was introduced last year but did not pass the Canadian parliament before a federal election in August. The new legislative initiative comes in the wake of two deadly mass shootings in Buffalo, New York, and Uvalde, Texas, across the border in the United States. In reference to these recent events Prime Minister Trudeau told reporters at a press conference announcing the measures: "We need only look south of the border to know that if we do not take action, firmly and rapidly, it gets worse and worse and more difficult to counter."
Domestic factors have also placed the issue of gun control solidly on the Prime Minister's legislative agenda. According to Statistics Canada, firearm-related homicides have risen steadily in the country since 2013, dipping only once in 2018. Firearm-related violent crime was found to have risen by 20% between 2015 and 2020 when compared to the previous six years. In line with these statistics, a majority of Canadians (60%) surveyed by the Angus Reid Institute, a Canadian non-profit research organization, also perceive gun violence to be rising in their provinces.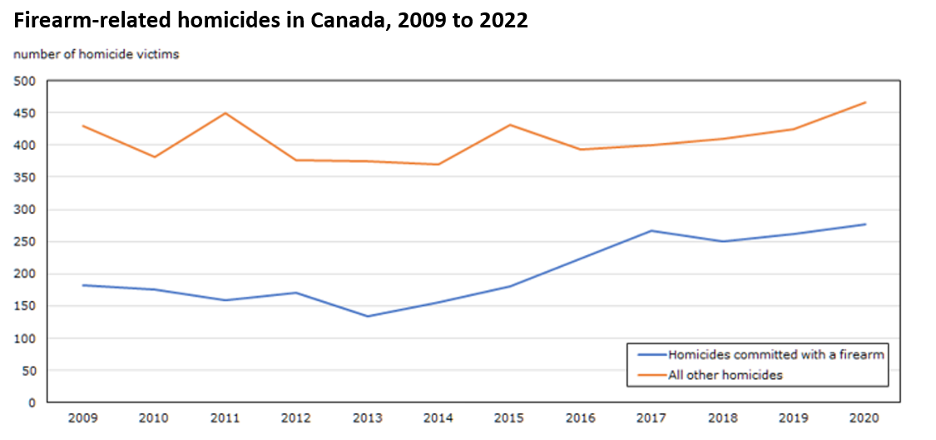 Source: Statistics Canada, Canadian Centre for Justice and Community Safer Statistics, Homicides Survey.
Note: Other Homicides include homicides committed with any other weapon (e.g., knife, club, blunt instrument), as well as homicides committed without the use of a weapon (e.g., physical force). Includes homicides where the weapon used was unknown.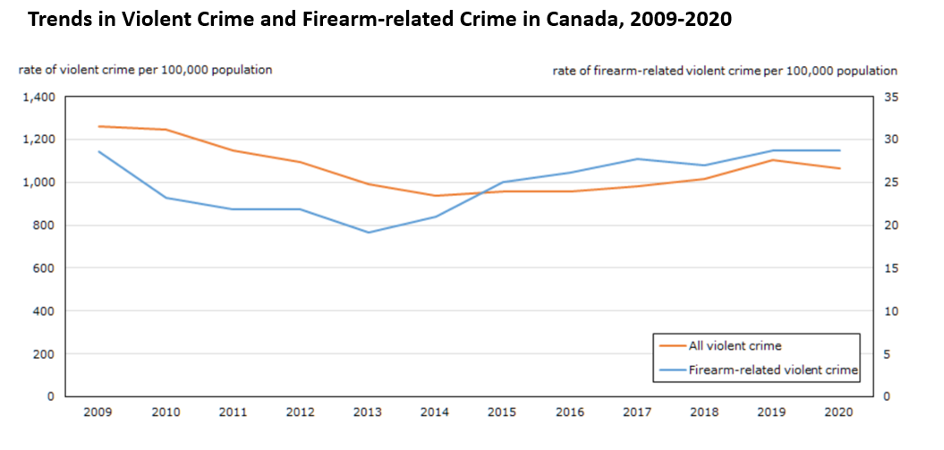 Source: Statistics Canada, Canadian Centre for Justice and Community Safer Statistics, Incident-based Uniform Crime Reporting Survey trend file.
Note: Firearm-related crime is defined as victims of violent crime reported by police in incidents where a firearm was present. Excludes Quebec due to a large proportion of cases where the most serious weapon present was reported as unknown.
Documented rising levels of gun violence and mass shootings in the United States are similarly driving calls for gun reform in that jurisdiction, although with much less hope of achieving substantive legislative success. While the issue of gun control is not such a polarizing issue in Canada, the government's proposed reforms are not universally popular. Opponents argue that the legislation punishes legal gun owners while doing little to stem the flow of illegal firearms smuggled from the US. Despite this, a majority (66%) of Canadians support the introduction of greater gun control measures, according to a survey carried out in March 2021.
Companies Involved with Firearms
According to ISS ESG's Sector-Based Screening data on civilian firearms, no publicly listed company in Canada is currently assessed to be involved in the manufacture or retail of the types of firearms affected by the proposed legislation. Notably, most Canadian firearms producers and retailers are privately owned, and many of the latter are small, dedicated gun shops. ISS ESG does identify one Canadian company involved in the distribution of high-capacity magazines that would be banned from sale in Canada under the proposed legislation, however. While these regulatory developments are unlikely to constitute a significant change in most investor portfolios, they do signal the potential for continuing firearms-related controversy to generate regulatory responses. Values-based investors have for a long time been concerned about investment in firearms, but navigating this new legislation may also raise questions for those investors most concerned about ESG risks and their potential to impact the business of weapons producers.
Explore ISS ESG solutions mentioned in this report:
Use ISS ESG Sector-Based Screening to assess companies' involvement in a wide range of products and services such as alcohol, animal welfare, cannabis, for-profit correctional facilities, gambling, pornography, tobacco and more.


---
By: Aaron Whelan, SBS Military & Civilian Firearms and Ammunition Research Lead, ISS ESG.