ISS Market Intelligence (MI) has released its latest edition of the Windows into Defined Contribution report. The Q1 2022 issue discusses the opportunities present for active managers in a concentrated DC market and also includes a recurring quantitative look at the lifecycle market.
The defined contribution market has witnessed an increasing concentration in assets among retirement plans, as plans managing over $1 billion in assets accounted for a majority of DC assets tracked by ISS MI BrightScope as of the close of 2020. This has occurred even as they represent just 31.4% of total active participants and a mere 0.1% of plans overall. However, the difference in demand trends between the largest portion and the rest of the market, as well as the vehicles and strategies employed in the various markets, point to persistent opportunities for asset managers operating on the smaller end of the market.
The intense competition among providers at the very top of the market has raised the importance of cost, elevating both the collective investment trust (CIT) structure and passive investment. CITs accounted for 51% of assets in billion-dollar DC plans, while passive shares of fund assets nearly doubled over the past decade within that segment from 23% in 2010 to 43% a decade later. Even as the share for both these segments has increased among both top-tier plans and the rest of the market, active management and the mutual fund structure remain more dominant within the smaller plan market.
The drastic increases in net redemptions across 2020 affected both large and small plans alike, but small plans have historically fared better from a gross and net sales perspective. Rather than focusing their attention on the primarily consultant-driven large plan market, asset managers may find more opportunity within the more diffuse, but higher flow-generating, advisor-sold market.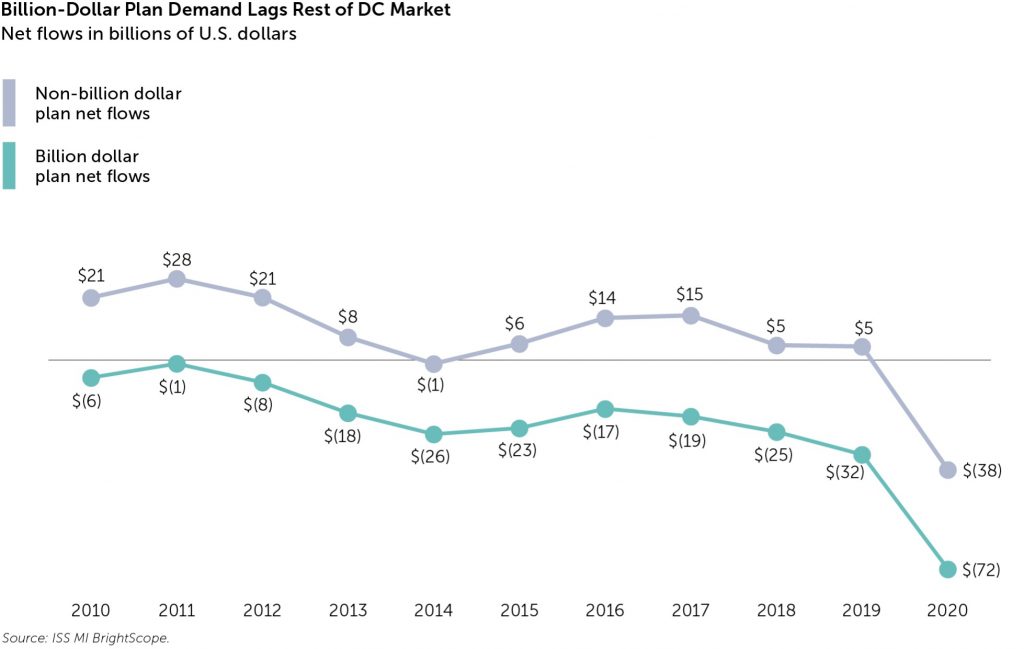 Within the broader mutual fund market, life cycle funds recorded their most severe quarterly outflows on record at $15.3 billion. Target date funds led withdrawals with their own record-setting net redemptions of $12.6 billion. Risk based funds also contributed to net outflows over the quarter, experiencing net withdrawals of $2.7 billion.
The full report is available to Simfund Enterprise subscribers for access on the Simfund research portal. For more information about this report, or any of ISS MI's research offerings, please contact us.
---
By Alan Hess, Associate Vice President, U.S. Fund Research, ISS Market Intelligence