ISS Market Intelligence (MI) has released its latest edition of the Windows into Defined Contribution report. The Q4 2021 issue pulls from the breadth of MI's proprietary offerings, including Market Metrics primary survey research, BrightScope analysis of retirement plans, and quantitative Simfund data. This edition covers the latest developments in the retirement plan advisor market, the effect of the COVID-19 pandemic on overall defined contribution sizing, and flows within the life cycle fund market.
Changes in the direct market and new structures introduced by regulators have provided a series of challenges and opportunities for advisers working with defined contribution plans. Recent polling by ISS MI found that many advisors have remained focused on their target markets and products, resisting influence from the direct market upheaval and slowly adopting new multi-employer plan structures.
Significantly heightened unemployment rates and blisteringly fast market recoveries were just some of the macroeconomic figures that pointed to the bifurcated effects 2020 had on American consumers and investors. Statistics on DC plans witnessed similarly sharp divides between those that reached record highs and those that have seen their greatest declines since 2008's financial crisis.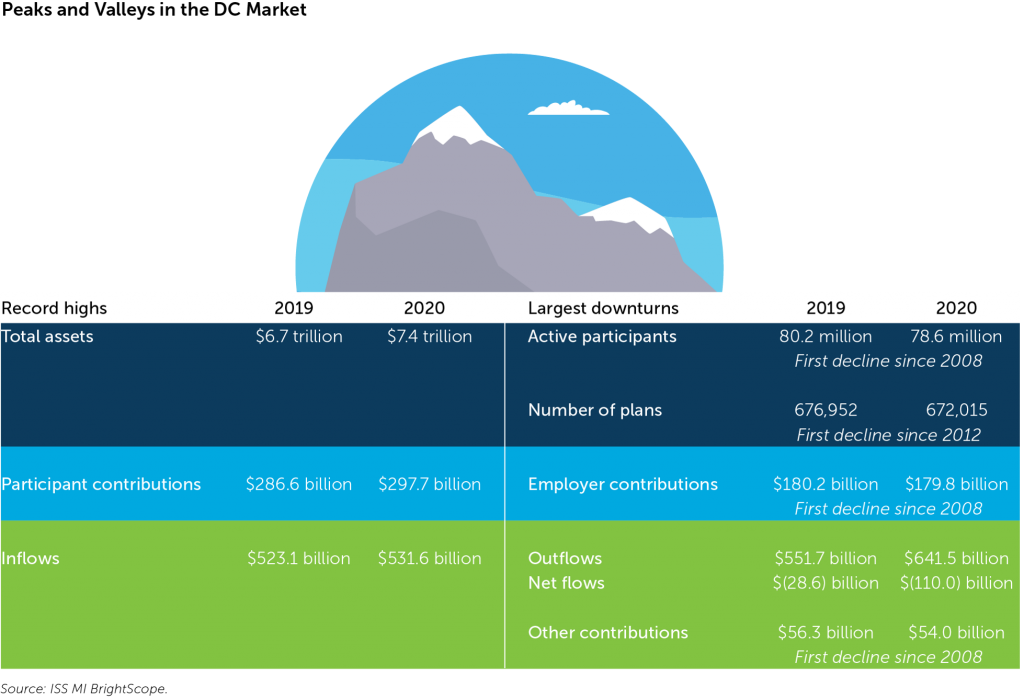 Life cycle funds ultimately experienced their deepest quarterly net redemptions of the year at $4.2 billion. In contrast to most other quarters, target date funds led this pull back with net outflows of $4.5 billion as target risk funds recorded minor positive net contributions at $271 million. For the year overall, demand served as a mirror of 2020, with net inflows of $21.6 billion in 2021 against outflows of $22.1 the prior year.
The full report is available to Simfund Enterprise subscribers for access on the Simfund research portal. For more information about this report, or any of ISS MI's research offerings, please contact us.
---
By Alan Hess, Associate Vice President, ISS Market Intelligence U.S. Fund Research.