After 8.5 years from the initially filed complaint in October 2013 – and just one day prior to jury selection within the scheduled trial – BlackBerry agreed to resolve its U.S.-based shareholder class action with a $165 million payout.
BlackBerry announced this agreement in principle on April 7, 2022.
The case stems from a six-month period in 2013 where BlackBerry is alleged to have misled investors by inflating the success and viability of its BlackBerry 10 line of smartphones. In truth – per the investor complaint – the platform was poorly received by the market. The complaint further stated BlackBerry was forced to:
Write down a nearly $1 billion charge related to unsold BlackBerry 10 devices
Lay off approximately 4,500 employees, totaling approximately 40% of its total workforce
The investor complaint further alleged BlackBerry with the following actions:
Deceiving the investing public regarding BlackBerry 10 smartphones driving the recovery and revitalization of the company
Deceiving the investing public regarding BlackBerry's business, operations, management, future business prospects, and the intrinsic value of the company's common stock
Causing members of the class to purchase BlackBerry common stock at artificially inflated prices
As a result of the foregoing disclosure, BlackBerry stock dropped from a closing price of $10.52 per share on September 19, 2013 to a close of $8.73 per share on September 20, 2013. This 17% decline was extended – on heavy trading – over the next few days as investors digested the information. The closing price on September 25, 2013 was $8.01 – a further 8% drop.
In addition to the company itself, named defendants within this class action include former Chief Executive Officer Thorsten Heins, former Chief Financial Officer Brian Bidulka, and former Chief Legal Officer Steve Zipperstein.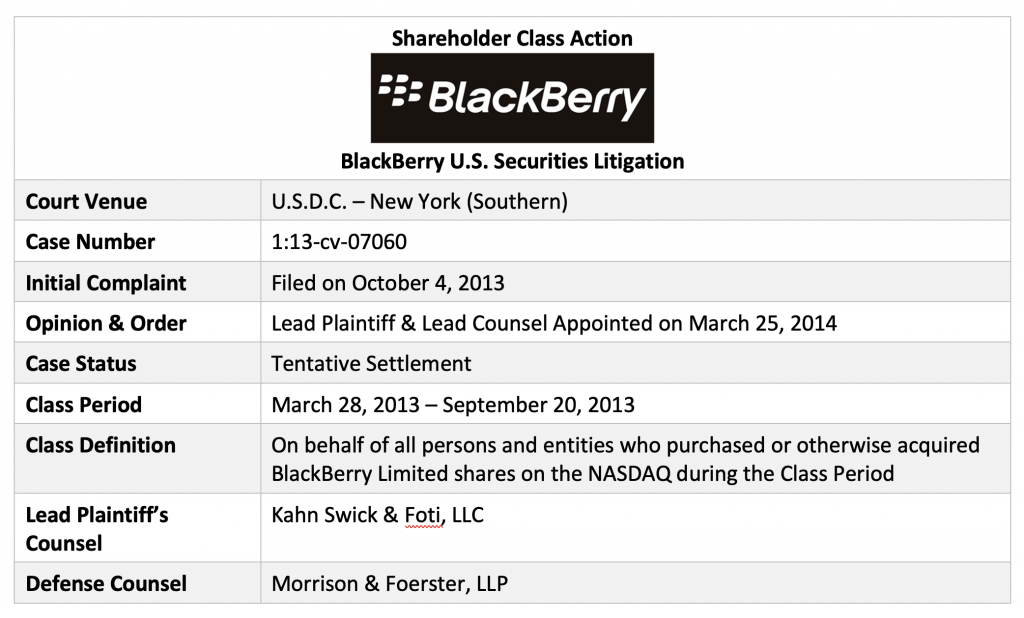 Prior to the official claims filing procedure – which will allow investors to participate within the recovery process – the $165 million tentative settlement must first b­­­e approved by U.S. District Judge Colleen McMahon. The Honorable Colleen McMahon had previously denied BlackBerry's request to dismiss the action by stating "genuine issues of material fact" were evident. Judge McMahon has a long history of presiding over shareholder litigation – she was nominated to the Southern District of New York in May 1998 and confirmed by the U.S. Senate in October 1998.
As of this moment, the announced $165 million settlement becomes the fourth largest shareholder-related settlement of 2022 (including both final and tentative settlements); the three larger class actions are:
Twitter, Inc. – $809.5 Million
Teva Pharmaceutical Industries Ltd. – $420 Million
Luckin Coffee, Inc. – $175 Million
Important Note for Investors:
A separate shareholder class action – in Canada – is also being pursued against BlackBerry. The initial complaint was filed on December 20, 2013 in the Ontario Superior Court of Justice. Allegations are similar as is the eligible class period. The investor class was certified on February 5, 2019. Shareholders are being represented by lead counsel, Siskinds LLP.
ISS Securities Class Action Services will continue to closely monitor both BlackBerry class actions – U.S. and Canada – and share updates to its clients and the investment community, as developments occur.
---
By Jeff Lubitz, Managing Director, ISS Securities Class Action Services.