India is both the fifth-largest and the fastest-growing economy in the world. The Indian Union Budget 2023 lays a foundation intended to further strengthen the country's economy. The budget is called the first of 'Amrit Kaal,' referring to the next 25 years—that is, until 2047, which will be the 100th anniversary of India's independence and the year marked for India to reach energy independence.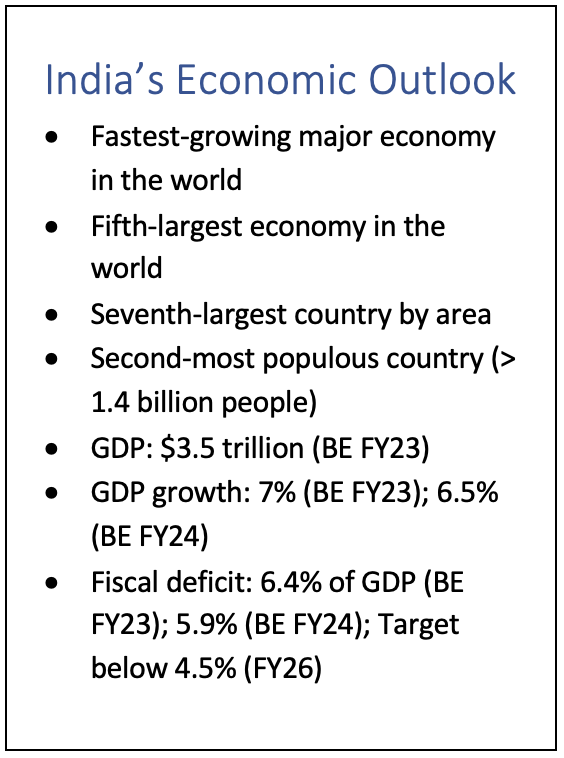 The 2023 budget proposes an outlay of INR 10 trillion ($122 billion), a 33% increase in capital investment compared to 2022. This increased outlay in capital expenditure is intended to have a multiplier effect on the country's economic development. Tax exemptions and reduced tax slabs aim to increase disposable income in the hands of the Aam Aadmi (working class people). The budget is intended to build up the momentum for India to become a $5 trillion economy by 2025.
The budget tries to provide a holistic outlook and touches upon various important facets of India's economy. Showcased are the seven budget priorities, called 'Saptarishi': inclusive development, reaching the last mile, infrastructure and investment, unleashing the potential, green growth, youth power, and the financial sector.
This post examines the Budget in light of India's sustainable development ambitions. The focus is the nation's progress in achieving environmental and social goals and empowering and mobilizing stakeholders for the shift to a more sustainable future. Increased ESG-related spending, as well as expanded corporate reporting requirements, could offer new opportunities for investors.
Environmental and Social Budget Highlights
The budget's capital investment increase of 33% to INR 10 trillion ($122 billion) has provided a strong impetus for creation of assets, including infrastructure. Such substantial targeted spending by the government may have a multiplier impact on the economy, enhance growth potential, create jobs, and attract private sector investments. The current budget also has prioritized Green Growth to build a greener and more sustainable India by allocating INR 350 billion ($4.3 billion) towards energy transition and Net Zero objectives.
The budget's allocations, according to different green and social International Capital Market Association (ICMA) categories (see Figure 1), are listed below.
Figure 1: Main Environmental and Social Goals in 2023 Indian Budget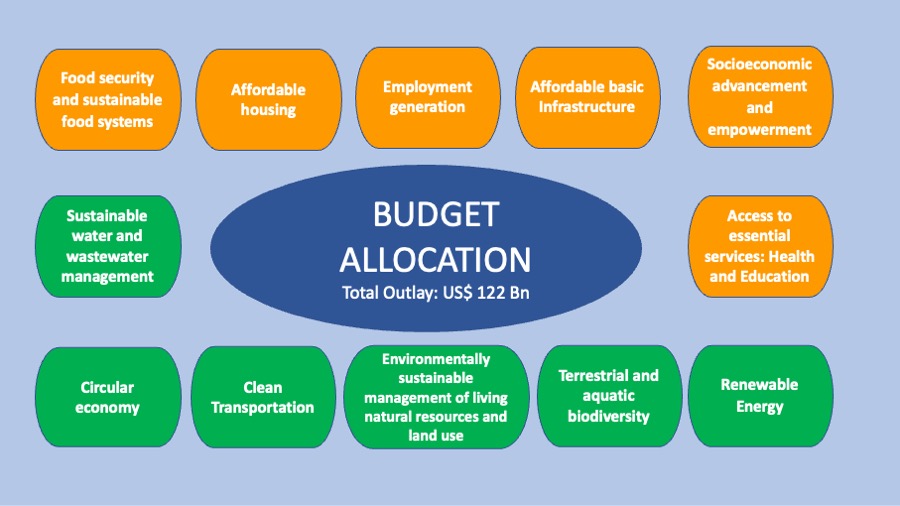 Source: ISS ESG, based on ICMA
ICMA Green Project Categories
Renewable Energy:
Transition and Net Zero: INR 350 billion ($4.3 billion) outlay provided for energy security, energy transition, and Net Zero objectives.
INR 207 billion ($2.5 billion) outlay provided for renewable energy grid integration and evacuation from Ladakh.
Green Hydrogen: This involves a budget outlay of INR 197.44 billion ($2.4 billion). The target is to reach an annual production of 5 MMT by 2030 to facilitate the economy's transition to low carbon intensity and to reduce dependence on fossil fuel imports. The project aims to meet at least 10% of the global demand for green hydrogen by 2030. The National Green Hydrogen Mission is to enable India to be energy independent by 2047.
Battery Energy Storage System: The goal is to set up capacity of 4000 MWh, supported by Viability Gap Funding. A detailed framework for Pumped Storage Projects will also be formulated.
GOBARdhan: A 5% compressed biogas mandate is to be introduced for all organizations marketing natural and biogas.
Circular Economy:
GOBARDhan: 500 new 'waste to wealth' plants will be established to promote a circular economy, at a total investment of INR 100 billion ($1.2 billion). These will include 200 compressed biogas (CBG) plants, including 75 plants in urban areas and 300 community or cluster-based plants.
Clean Transportation:
Customs duties will be exempted for imports of capital goods and machinery required to manufacture lithium-ion cells for batteries used in electric vehicles. By 2027, the market for lithium-ion batteries in India is anticipated to grow to INR 400 billion ($4.85 billion), with a remarkable CAGR of 17.23 percent over the forecast period of 2022–2027.
Environmentally Sustainable Management of Living Natural Resources and Land Use:
Atmanirbhar Clean Plant Program: INR 22 billion ($267 million) will be allocated to boost the availability of disease-free, quality planting material for high-value horticultural crops.
PM-PRANAM: This programme will aim to incentivize States and Union Territories to promote alternative fertilizers and balanced use of chemical fertilizers.
GOBARDhan: Bio-Input Resource Centres will assist 10 million farmers to adopt natural farming over the next three years. For this, 10,000 Centres will be set up, creating a national micro-fertilizer and pesticide manufacturing network.
A Green Credit Program has been introduced under the Environmental Protection Act to inculcate green and sustainable practices at all levels, including local bodies and individuals.
Terrestrial and Aquatic Biodiversity:
MISHTI (Mangrove Initiative for Shoreline Habitats & Tangible Incomes) aims to conserve mangroves and preserve the landscapes in which they are located.
The Amrit Dharohar scheme will encourage the optimal usage of wetlands; enhance biodiversity, carbon stock, and eco-tourism opportunities; and help generate income for local communities.
Sustainable Water and Wastewater Management:
India can transition from man-made-holes to machine-made-holes by enabling all cities and towns to undertake 100% mechanical de-sludging of septic tanks and sewers.
ICMA Social Project Categories
Access to Essential Services: Health:
Joint public and private medical research will pursue innovation.
A new programme to promote research in pharmaceuticals will be launched.
157 new nursing colleges will be established in co-location with the existing 157 medical colleges established since 2014.
Access to Essential Services: Education:
The central government will recruit 38,800 teachers and support staff for the 740 Eklavya Model Residential Schools, serving 350,000 tribal students over the next three years. Thirty Skill India International centres will be set up across different States to train youth for international opportunities.
Pradhan Mantri Kaushal Vikas Yojana 4.0: This scheme aims to train hundreds of thousands of youth within the next three years in Industry 4.0 areas such as coding, AI, robotics, mechatronics, Internet of Things (IoT), 3D printing, drones, and soft skills. Three Centres of excellence for Artificial Intelligence will be set up in top educational institutions to realise the vision of 'Make AI in India and Make AI Work for India.'
Make India a global millet hub for sharing best practices, research, and technologies at the international level.
iGOT Karmayogi, an integrated online training platform, has been launched to provide continuous learning opportunities for hundreds of thousands of government employees and to upgrade skills and facilitate a people-centric approach.
Socioeconomic Advancement and Empowerment:
Deendayal Antyodaya Yojana National Rural Livelihood Mission has achieved remarkable success by mobilizing rural women into 8.1 million Self Help Groups.
Entity DigiLocker: This system will be set up for use by MSMEs (micro, small, and medium enterprises), large businesses, and charitable trusts to store and share documents online securely.
A revamped credit guarantee scheme for MSMEs will be achieved through an infusion of INR 90 billion ($1.09 billion) into priority sector lending. This scheme would enable additional collateral-free guaranteed credit of INR 2 trillion ($24.43 billion) and also reduce the cost of the credit by about 1%.
An Agriculture Accelerator Fund will be set up to encourage agri-startups by young entrepreneurs in rural areas.
63,000 Primary Agricultural Credit Societies (PACS) will be computerized with an investment of INR 25.16 billion ($307 million).
The Pradhan Mantri PVTG Development Mission Outlay of INR 150 billion ($1.8 billion) will be implemented over the next three years under the Development Action Plan for the Scheduled Tribes
The Unified Skill India Digital Platform will be launched to enable demand-based formal skill development; linking with employers, including MSMEs; and facilitating access to entrepreneurship schemes.
Vibrant Villages Programme: Tourism infrastructure and amenities will be facilitated in border villages.
Affordable Basic Infrastructure:
A capital outlay of INR 2.4 trillion ($29.3 billion) will be provided for railways (the highest-ever outlay on railways to date).
An Urban Infrastructure Development Fund will be established, using priority sector lending to create urban infrastructure in Tier 2 and Tier 3 cities.
100 critical transport infrastructure projects, for last- and first-mile connectivity for the ports, coal, steel, fertilizer, and food grains sectors, have been identified and will be given priority with an investment of INR 750 billion (9.16 billion), including INR 150 billion ($1.8 billion) from private sources.
INR 53 billion ($647 million) will be provided towards the Upper Bhadra Project to provide sustainable micro irrigation and surface tanks for drinking water.
A 50-year interest-free loan will be extended to state governments for one more year to spur investment in infrastructure. States and cities will be encouraged to undertake urban planning reforms and actions to transform Indian cities into 'sustainable cities of tomorrow.'
Employment Generation:
Direct Benefit Transfer, under a pan-India National Apprenticeship Promotion Scheme, will be rolled out with the objective of providing stipend support to 4.7 million youth in three years.
Affordable Housing:
PM Awas Yojana: The project intends to provide housing for all in urban areas through an outlay enhanced by 66% to over INR 790 billion ($9.6 billion).
Food Security and Sustainable Food Systems:
Agriculture credit of INR 20 trillion ($244 billion), with a focus on animal husbandry, dairy, and fisheries, will be provided.
PM Matsya Sampada Yojana, with investment of INR 60 billion ($730 million), will enable activities of fishermen, fish vendors, and micro and small enterprises; improve value chain efficiencies; and expand the market.
The Way Ahead
The International Energy Agency (IEA) estimates India needs $1.4 trillion in additional investment over the next two decades to align its energy system with global climate targets. The country's climate actions have been largely financed to date from domestic sources, including government budgetary support, fiscal instruments, policy interventions, and a mix of market mechanisms. The Reserve Bank of India has enabled Indian renewable energy companies and other firms to tap the External Commercial Borrowing (ECB) route for raising money, reflecting the growing attractiveness of this financing approach.
To significantly reduce the economy's carbon intensity, India introduced its first Sovereign Green Bond Framework in November 2022. The issuance took place in domestic and foreign markets through two auctions, totaling INR 160 billion ($2 billion), in January and February 2023. This paves the way for state governments to issue sub-sovereign bonds to support their green projects.
The Budget currently plans to fund over 30 initiatives and policies intended to have a social impact. Government priorities include affordable housing and infrastructure, access to essential services, food security, and socioeconomic advancement and empowerment. Like the Sovereign Green Bond Framework, a Sovereign Social Bond Framework could bolster government Saptarishi priorities of inclusive development, unleashing the potential and youth power. Such a Framework could encourage investments in social projects and set forth guidelines for companies to align with social targets.  Although frameworks for impact reporting on social categories are still being developed, European countries have successfully issued sovereign bonds to support their countries' social programs.
Corporate reporting also has a potential role to play in pursuing social and environmental goals. In May 2021, the Securities and Exchange Board of India introduced the Business Responsibility & Sustainability Reporting (BRSR) framework. This step made sustainability reporting mandatory for the top 1,000 listed companies in India (by market capitalization), as of Financial Year 2023 (April 2022–March 2023).
Further, just as the BRSR guidelines require an extensive degree of company reporting on sustainability, a Sovereign Social Bond Framework could help set a benchmark for the level of social impact improvement companies need to be achieve. For an emerging market like India, in the absence of a regional taxonomy, the responsibility for de-risking the market lies with the government. A budget that puts forth these quantifiable targets and backs them up with substantial allocations, coupled with incentives and duty exemptions, may help companies align their ESG strategies and targets and encourage robust reporting practices.
Companies have traditionally looked at the Social aspect of ESG predominantly through the lens of corporate social responsibility. With the BRSR guidelines requiring an exhaustive level of reporting on companies' part, the Social Bond could help set a benchmark for the level of impact improvement that needs to be achieved.
The past three budgets have clearly drawn the lines India plans to follow to achieve its sustainability goals. The current challenge for businesses is to align themselves to achieve these objectives.
For ESG investors, the Indian push to fund green projects (and perhaps social projects in the future) through bonds may offer an opportunity. Enhanced corporate reporting on sustainability may also be helpful to investors.
According to TheGlobalEconomy.com, the 2020 average for mutual fund assets in 71 countries was more than 182% of GDP. In India, average assets under management are equivalent to less than 15% of GDP, which shows the growth potential of the asset management industry over the next 10-20 years.
ESG funds may become the next popular investment option for investors because of increased accountability and reporting transparency fostered by the BRSR. With the budget transitioning to a newer tax regime that may result in a shift from long-term tax savings instruments, fundamentally strong companies backed by strong ESG data and foreseeable growth encouraged by the budget could help attract investors and mobilize domestic and foreign private capital.
Explore ISS ESG solutions mentioned in this report:
---
By: Regina Thomas, Associate, Research Solutions-Product
Medha Dalvi, Associate, Second Party Opinion (SPO)