The world has realized the value of togetherness in the time of COVID-19.
This year's International Day of Families is particularly poignant, given the impact of the COVID-19 pandemic on almost all aspects of life globally, not least on the economy of each country. Some parts of the world have already gotten back to their feet and are pushing for economies to re-open. A larger part of the global community is still struggling and fighting to survive during this challenging time.
The International Day of families recognizes the significant role families play as fundamental units of human society. This year's theme focuses on the impacts of new technologies on the well-being of families. It's hard to deny that today's technology can help to bridge and sustain connections where families are forced to be distanced from each other. Employees are also able to enjoy increased flexibility as a result of advances in work-from-home tools.
Enabling a better work-life balance is a challenge that all employees face, and families are particularly affected. The ability to combine work responsibilities, family commitments, and personal life is important for the overall well-being of all members in a household. Government and private sector policies play a critical role in ensuring that workers are able to achieve a healthy balance between work and home life under these new arrangements that have evolved during the time of COVID-19.
ISS ESG's Corporate Rating considers work-life balance when assessing a company's social responsibility and commitment to long-term sustainability. In particular, this indicator evaluates the availability of arrangements which allow employees a flexible working schedule. Such arrangements accommodate the need for employees to balance their daily workload and their everyday role as a family member. Examples include maternity and paternity provisions, early childhood care support, as well as specific supports needed by those with care responsibilities for children and the elderly. ISS ESG's Corporate Rating data (Figure 1 below) shows that companies in the Financials sector (i.e. Public and Regional Banks, Commercial Banks and Capital Markets, and Development Banks) perform best at ensuring the work-life balance of their employees. Other strong performers include the Industrials, Utilities, and Communication Services industries. It is important to note, however, that this data does not reflect the performance of all members of an industry – there are always leader and laggards.
Figure 1: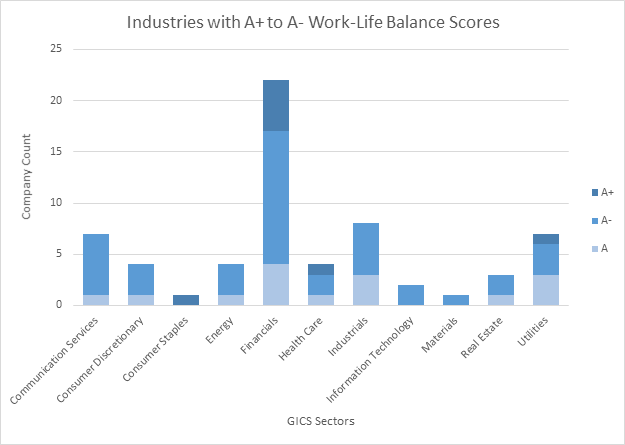 Employees' perspectives and expectations have changed towards their work. During trying times such as these, the availability of family-friendly policies can incentivize one's productivity. Given the amount of time required for childcare and domestic work, the stress levels of parents and their children have become alarmingly heightened. Companies have the capacity to influence such trends. For example, Swedish automaker Volvo Cars has committed to providing its global employees with 6 months of paid parental leave. The company expects positive practical outcomes from this, as well as a boost for Volvo Cars' image.
This double dividend can also be explored using ISS EVA's PRVit scores for the U.S. market. PRVit measures the overall attractiveness of a firm compared to its sector peers in terms of the operating profitability (P), risk (R), and key valuation (V) multiples. As shown in the graph below, companies with high work-life score (A and B) have better quality and profitability scores than C and D companies with low work-life scores.
Figure 2: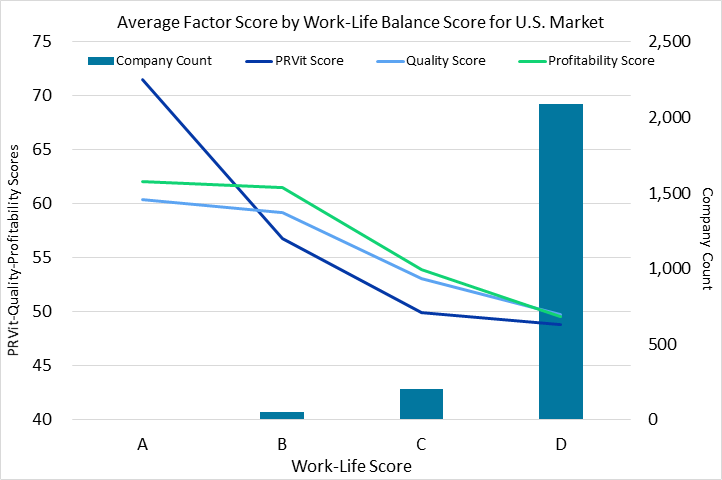 Helping employees achieve work-life balance is one way of ensuring that work is sustainable for everyone. This topic is also related to other important issues such as gender diversity and inclusion in the workplace. A persistent perception of women as primary carers can impede the progression of their careers, with many losing out on promotion opportunities due to taking time out from work or cutting back their hours to provide childcare.
This year's celebration of the International Day of Families shouldn't just be about promoting family values – it is also an opportunity to applaud the sacrifices of those family members working in the middle of today's COVID-19 chaos. This is also a perfect time for companies to reflect on the way they treat their employees and take practical steps to support the achievement of work-life balance in the evolving modern work environment. 
---
By:
Stephanie Oclarit, Research Analyst, ISS ESG
Casey Lea, Executive Director, ISS EVA