This week #FCMarketInsights looked at the net sales to bond fund sectors in 2021, with a particular interest in the newer fund sectors:
Earlier this year, the Investment Association has released a suite of new sectors to offer a higher level of granularity for bond funds. Euro and USD denominated global bond funds were spun out of the original IA Global Bonds sector and all three of these were broken down into corporate, government, high-yield, and mixed bond fund sectors. These new sectors were further supplemented by IA Global Inflation Linked, and a 3-way split of the Global Emerging Markets Bond fund sector, hard-currency, local-currency, and a blended sector.
Financial Clarity subscribers can now delve deeper into the transactional and AUM data for these fund sectors, which held over £63bn in August in FC. The most popular bond fund sector so far this year has been IA Sterling Corporate Bond, having brought in over £750m in net sales from January to August. Specialist Bond and Sterling High Yield both saw net flows drop to -£10m over the same period, making them the two bond sectors with the lowest net flows.
By grouping the bond fund sectors by type (corporate, government, etc.), we tracked the appeal of bond funds since the start of the year. Corporate bond funds were the most popular in the first eight months of 2021 as they brought in over £1.40bn in net sales. Despite seeing negative aggregate flows from May to August, government bond funds attracted the second-highest net flows. Over a third of £1billion left high-yield bond funds over the same period.
The new IA bond sectors provide Financial Clarity users with a clearer and more granular view of the market from a transaction and AUM perspective. In this month's FC release, subscribers are now able to track sales and AUM of the latest IA funds such as Infrastructure, Commodity/Natural Resources, Healthcare, and more. We look forward to seeing how these additions help FC's subscribers discover meaningful insights and reach investors.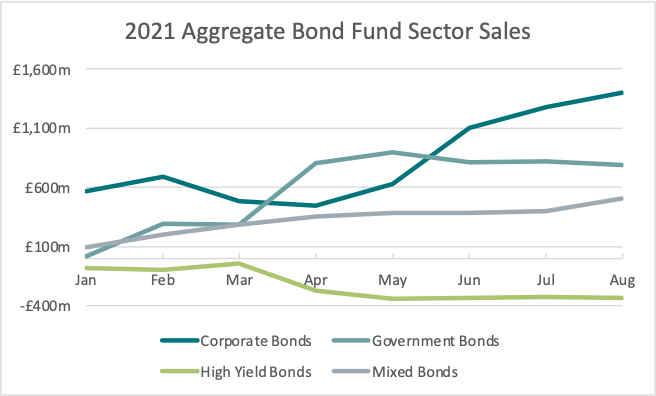 For More Information Contact: ISS MI Financial Clarity at sales@financial-clarity.com.
---
By ISS MI Financial Clarity Team