Corruption and bribery accusations against corporate executives are not limited to criminal cases but have also led to shareholders aggressively pursuing litigation against public companies over the last several years. There are dozens of these cases, including a handful of high-profile actions:
Petrobras – a $3 billion settlement resolved in July 2018
Walmart – a $160 million settlement resolved in April 2019
Chemical and Mining Company of Chile – a $62.5 million settlement resolved in April 2021
Cognizant – a $95 million settlement resolved in December 2021
FirstEnergy – an active case in the Southern District of Ohio
Telefonaktiebolaget LM Ericsson – an active case in the Eastern District of New York
Airbus – a recently announced $5 million tentative settlement
Allegations related to Airbus have been widespread with multiple occurrences. The D&O Diary reported details from the investor complaint filed on August 7, 2020 in the USDC New Jersey:
An August 2012 announcement by the U.K Serious Fraud Office that it had opened a criminal investigation into one of Airbus's subsidiaries, GPT Special Project Management Ltd. The investigation was reviewing a service contract GPT entered prior to the Airbus acquisition, relating to GPT activities in Saudi Arabia. (In July 2020, The Wall Street Journal reported that the SFO had charged GPT and three individuals with corruption in connection with this investigation).

The price of Airbus' ADR's fell 3.56% on the news
An August 2016 report by Reuters that the SFO had opened a criminal investigation into allegations that Airbus committed "fraud, bribery and corruption" in its civil aviation business.

The price of Airbus' ADR's fell 1.49% on the news
A March 2020 report by The Wall Street Journal that Airbus executives had previously raised red flags about fees paid to a number of middlemen working with its helicopter division, which at the time was led by Airbus's current CEO Guillaume Faury. Investors believe these fees "may have violated global bribery and corruption rules."

The price of Airbus' ADR's fell 15.71% on the news
The investor class action is separate from a $4 billion settlement Airbus agreed to in January 2020 with French, British, and U.S. regulators – resolving a pattern of corruption. "It was a pervasive and pernicious bribery scheme in various divisions of Airbus SE that went on for a number of years," U.S. District Judge Thomas Hogan said. Additionally, the company agreed to "compliance monitoring" over the next three years by France's anti-corruption agency.
In May 2021, investors asked a Federal judge in New Jersey to approve a $5 million negotiated settlement with Airbus. The payment will resolve allegations the company misled shareholders about the corruption probes. While the total amount is relatively nominal, plaintiffs noted "the settlement constitutes a very good result for the class." While it's sometimes difficult to compare class actions since shareholder losses can vary greatly, coincidentally, the $5 million amount matches a recent bribery-related settlement between investors and Fiat Chrysler Automobiles.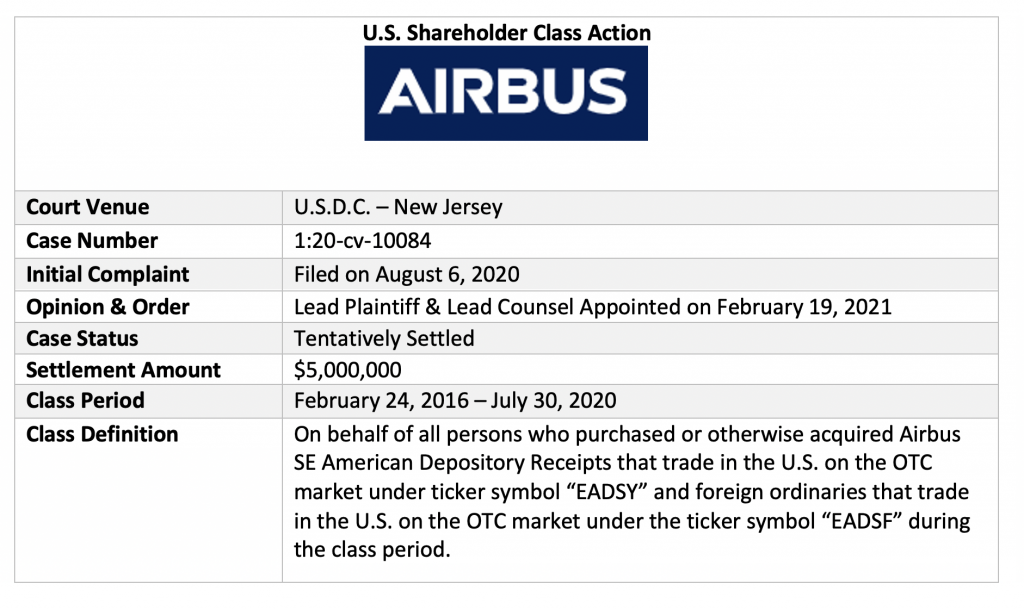 While the U.S. shareholder class action winds down, two current cases in the Netherlands against Airbus remain active, both with similar allegations as the U.S. action:
Scott + Scott (Law Firm) and Woodsford Group (Litigation Funder)

Class Period: January 1, 2008 – July 31, 2020
Potential Eligibility: Investors that purchased and / or held shares during the noted Class Period
Adverse Costs: The Funder will cover the risk of adverse costs in full
Confidentiality: Under the proposed structure, investors' involvement will not be a matter of public record – only Airbus and the Court would be made aware of which Investors are participating
Deadline to Participate: July 1, 2022
DRRT (Law Firm) and Therium Capital Management (Litigation Funder)

Class Period: April 24, 2015 – December 31, 2020

Potential Eligibility: Any institutional investor who purchased, sold, or held common stock of Airbus SE on the German, French, or Spanish markets during the noted Class Period

Adverse Costs: The Funder will pay/cover 100% of any adverse cost order

Confidentiality: In a Dutch foundation action, individual claimants would remain confidential, but notice to defendants will be given to stop the statute of limitations
Deadline to Participate: June 30, 2022
ISS Securities Class Action Services will continue to monitor these three cases against Airbus – the U.S. action for when the settlement is officially signed-off, and the two Dutch cases if they proceed toward a settlement, dismissal, or discontinuance.
---
By: Jeff Lubitz, Managing Director, ISS Securities Class Action Services