This week, #FCMarketInsights looked into the popularity of property funds among UK retail investors:
One of the sectors that has been struck on numerous occasions over the last six years is IA UK Direct Property. Starting in 2016, when the Brexit vote resulted in the suspension of a number of UK property funds, IA UK Direct Property continued experiencing unyielding negative net flows in the years that followed, peaking in 2019 with outflows of -£4.12bn. As if things for the sector weren't challenging enough, the pandemic outbreak prompted a second suspension of property funds in March 2020 amid valuation and liquidity concerns. The suspension meant that investors were unable to buy or sell any units of the fund and they couldn't redeem their money. As one would expect, Financial Clarity data indicates that net flows to IA UK Direct Property in 2020 flatlined for a period of approximately five consecutive months. While some funds managed to gradually lift their trading suspension over the course of that year, there were a few funds which ended in closure in 2021 and returned capital to investors.
IA UK Direct Property funds invest in physical UK property, such as commercial and residential buildings, industrial, or any other property asset. The funds' illiquid nature, which stems from their investment in physical assets, increases their risk as real estate can't be sold quickly. It's worth emphasising that gross retail sales in the sector haven't returned to pre-pandemic levels yet and net flows in 2021 fell to -£2.36bn, the lowest figure we've seen in years. March and May were two of the worst months for the sector, with outflows of -£619m and -£586m, respectively.
When we look at the overall activity in the property market, we can see that various trends are shaping the sector's future. On the one hand, there are rising concerns when it comes to the affordability of residential properties. On the other hand, the industrial market has seen great momentum, with the ever-increasing prospects of leasing warehouses and distribution centres, as more and more online stores try to expand their e-commerce presence. Meanwhile, the office market has perhaps faced the most challenges and may be nearing a turning point, with a large amount of vacant space that could be repurposed for alternative uses. To date, Covid-19 has had a noticeable impact on the real estate market, but there's still a great deal of uncertainty to make projections, with the hope that 2022 will clarify things up.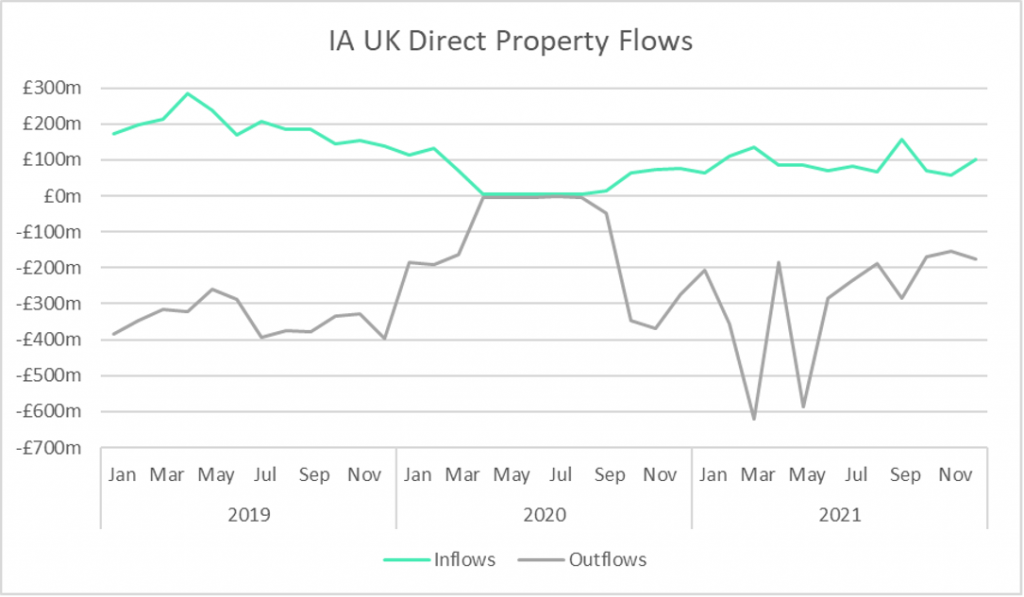 For More Information Contact: ISS MI Financial Clarity at sales@financial-clarity.com
---
By ISS MI Financial Clarity Team