McKesson Corp. has reached a tentative $141 million settlement resolving allegations it misled investors about profits from a price-fixing conspiracy amongst generic drug manufacturers. The settlement – to be paid by the company's insurers – was initially disclosed by the company in an SEC filing on November 2, 2022.
The drug price-fixing conspiracy – which became the focus of investigations by the Department of Justice, 49 state attorney generals, and Congress in 2014-2015 – has embroiled the generic pharmaceutical industry. It has led to multiple guilty pleas, an extensive multidistrict litigation, and investor-related lawsuits against generic drug manufacturers, including against Teva which settled for $420 million in June 2022.
Unlike its suppliers though, McKesson – a pharmaceutical wholesaler – is not a named defendant in the sprawling multidistrict suit in the Eastern District of Pennsylvania. And in the securities class action, lead plaintiff had not plausibly alleged McKesson participated in the conspiracy, per the Court's motion to dismiss ruling. The Court held, rather, that McKesson may be liable for allegedly knowing or disregarding that the price-fixing conspiracy increased generic drug prices and improved its bottom line. Instead of disclosing this to investors, McKesson falsely attributed the price increases to unrelated factors such as supply disruption, and asserted it was working to drive the prices down. The amended complaint – filed on December 29, 2021 – specifically alleges the following:
Beginning in October 2013, McKesson and its executives falsely attributed generic drug price increases to nonexistent supply disruptions, instead of anticompetitive conduct
As generic drug prices rose, so did McKesson's profits as a wholesaler in the form of higher discount payments and markups paid by manufacturers
McKesson told investors it was working to drive down prices for the customers' benefit when, in actuality, it facilitated or at the least, knowingly allowed the massive price increases
McKesson's top executives, including former Chief Executive Officer John Hammergren benefitted from the fraud, selling approximately $473 million worth of McKesson common stock at artificially inflated prices
As the government closed in on the price-fixing scheme, the collusive behavior was curtailed and McKesson reported weaker than expected pricing estimates in late 2015/early 2016, which caused significant declines in its stock price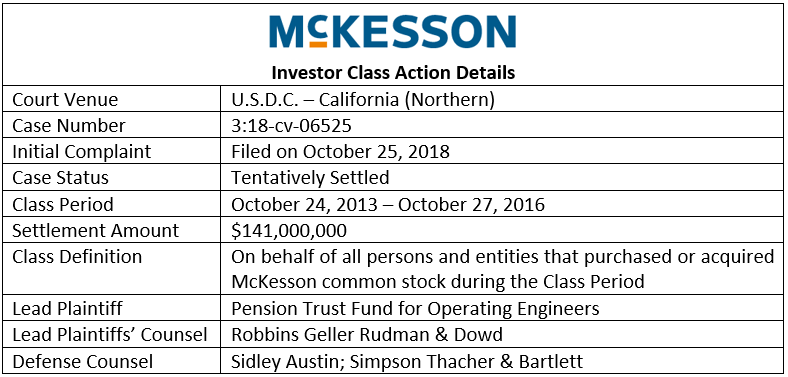 The $141 million settlement with McKesson comes more than five years since the initial complaint and a year since the Court granted defendants' motion for partial summary judgment. In that October 2021 decision, Judge Charles Breyer tossed a November 2016 disclosure because the market was already aware of the information, narrowing the suit to one disclosure on January 11, 2016. After summary judgment, lead plaintiff filed another amended complaint, which defendants moved to dismiss in its entirety, and an agreement-in-principle was reached thereafter, while the motions were set for hearings.
The Pension Trust Fund for Operating Engineers is representing shareholders as lead plaintiff. The Alameda, California-based union pension fund has successfully managed a number of investor settlements, including the 2017 Rayonier Inc. $73 million settlement and the 2013 Assisted Living Concepts Inc. $13 million settlement. This McKesson resolution will be, by far, its largest successful class action where it served as lead plaintiff.
ISS Securities Class Action Services will continue to closely monitor this action against McKesson – including the court's review of the proposed settlement – and communicate updates to its clients and the investment community, as developments occur.
---
By: Jarett Sena, Director of Litigation Analysis, ISS Securities Class Action Services