Below is an excerpt from ISS ESG's recently released paper "Minimum Safeguards, Maximum Impact? Assessing Alignment with Minimum Safeguards in the EU Taxonomy". The full paper is available for download from the Institutional Shareholder Services (ISS) online library.
KEY TAKEAWAYS
The Minimum Safeguards (MS) provision of the EU Taxonomy Regulation requires companies involved in environmentally sustainable activities to respect basic human rights and follow good business conduct rules. Practical implementation of the provision has proven challenging, however, due to the wide breadth of its underlying principles.
While providing clarity on the MS provision's scope, the PSF report also raises the bar for business alignment with the provision. The PSF therefore estimates a significant decrease in the share of companies in compliance with the MS provision.
The more detailed guidance may be particularly challenging for small companies with few resources or less-developed due diligence mechanisms
Using ISS ESG's EU Taxonomy Alignment Solution, this paper tests the PSF's hypothesis by comparing different MS compliance assessment approaches for selected company samples.
ISS ESG will continue enhancing its portfolio of products such as the EU Taxonomy Alignment Solution and Second Party Opinions to reflect the latest regulatory developments and provide investors with tools to assess MS provision alignment in a comprehensive manner.
MS Provision Assessment of Companies in the STOXX Europe 600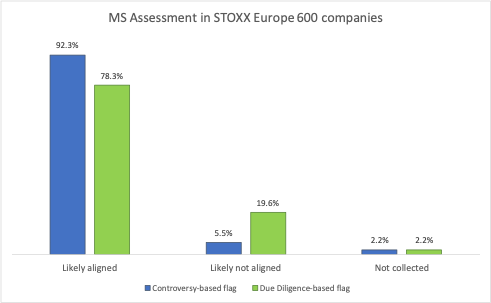 Source: ISS ESG Data
Explore ISS ESG solutions mentioned in this report:
---
By: Héctor Páez, ESG Methodology Specialist – Sustainable Debt, ISS ESG. Rafael Heim, ESG Consultant, ISS ESG. Ronja Wöstheinrich, ESG Methodology Lead – Regulatory Solutions & Fixed Income, ISS ESG. Giorgio Teresi, ESG Consultant, ISS ESG. Carman Mak, ESG Consultant, ISS ESG