In recent years, South Africa has seen some major high profile accounting scandals that have brought attention to issues of external auditor independence and effectiveness, as well as audit regulator integrity. Some notable audit failures include: South Africa-listed global retailer Steinhoff International Holdings NV inflating its profits and assets in 2016 by ZAR 250 billion, becoming the largest accounting scandal in the market to date; South Africa's largest sugar producer Tongaat Hulett Ltd overstating its 2018 equity by ZAR 3.5-4.5 billion; and the South Africa-based Gupta family, whose leaked conversations with several key state officials in 2017 led to allegations of state capture eventually ending Jacob Zuma's presidency in 2018. These events implicated some Big Four audit firms, such as Deloitte and KPMG, ultimately resulting in their investigation by the Independent Regulatory Board for Auditors (IRBA), the country's audit regulator.
These failures highlight the importance of the anticipated audit regulatory changes effective next year. In June 2017, the South African accounting watchdog, the Independent Regulatory Board for Auditors (IRBA), implemented a new mandatory audit firm rotation (MAFR) rule [see LINK for the rule, and LINK for the FAQ.] The MAFR rule essentially requires audit firm rotation every 10 years, effective for financial years commencing on or after 1 April 2023. Audit firms become eligible for reappointment after a cooling off period of five years.

The IRBA mandate follows a 2015 review identifying three key issues along with laying out objectives for their resolution. First is to improve auditor quality through increased independence as some auditors have had overly long relationships with their client companies – some lasting for over 100 years. Second is to address audit market concentration as the majority of the JSE-listed companies are audited by the Big Four. The third objective is to promote transformation in the profession as a majority of the audit reports are signed off by white registered auditors. Of these three objectives, the MAFR rule aims to strengthen auditor independence while IBRA also commits to addressing the other issues by complementary initiatives. Prior to recommending this mandate, IRBA considered four options: Mandatory Audit Firm Rotation, Mandatory Audit Tendering, Joint Audits, or a combination of these. Previously, the IRBA Code of Professional Conduct and the South Africa Companies Act had only required the rotation of audit partners, not firms, after seven and five years, respectively.
In comparison with South Africa, the European Union has already implemented mandatory audit firm rotation in 2016, with companies being required to change their external auditor every 10 years. The United Kingdom has chosen to exercise a modified version of this law, which only requires firm rotation every 20 years (subject to a new tender every 10 years). The United States, on the other hand, does not have mandatory firm rotation, with the rotation requirement applying only to the audit partner.
Business Live reported in May 2022 [LINK] that "Research by Irba has shown that 61% of JSE-listed companies are already in compliance with mandatory audit firm rotation, which becomes effective on April 1 2023. Those not already complying have indicated they are on track to comply."
According to ISS data, as of 2021, 48.3% of South African listed companies had an audit tenure of 10 or more years, with the average audit tenure in South Africa being 17 years – mainly pulled up by some auditors with tenure of over 50 years. The top 10 companies with the highest audit tenure are shown in the table below. These represent almost half of the top 21 JSE listed entities reported by IRBA in 2015 to have an audit tenure of over 50 years; the rest having already rotated their auditors since.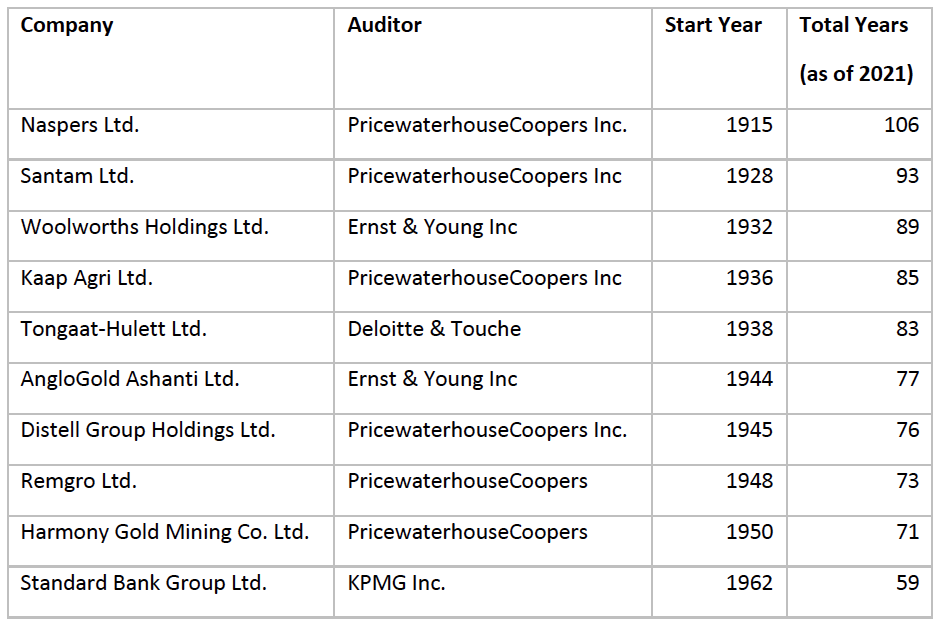 Some of these companies have, however, already disclosed their intention to appoint new auditors for FY2023. For example, Naspers Ltd has identified Deloitte for FY2023; Santam Ltd will appoint a new auditor pending a regulatory approval in 2022; and Woolworths Holdings Ltd has already appointed KPMG as auditor for FY2022.
As the IRBA mandate goes into effect on April 1, 2023 for FY2024, companies will show their level of compliance in mid-2023 as they identify and appoint auditors for the ensuing financial year. Considering that IRBA has provided companies six years to comply by the effective date as well as the accounting scandals that have occurred in the intervening years, many South African companies face increasing attention and scrutiny as they apply the mandate.
---
By: Raissa Palcis, South Africa Research, ISS Governance