The COVID-19 pandemic has highlighted the vulnerabilities of societies and economies to infectious diseases and has given new importance to planning and preparedness for future pandemics. Policymakers, business leaders, and investors can stay aware of potential future health crises through analysis of emerging trends.
One such trend is antimicrobial resistance (AMR). AMR was already an emerging public health threat before COVID, and the U.S. Centers for Disease Control and Prevention (CDC) have identified the COVID-19 pandemic as an incubator for AMR. Even high-income countries are facing the burden of alarming AMR levels, despite the availability of more expensive second-line antibiotics. While healthcare companies can play a key role in tackling this crisis, they are also facing major vulnerabilities of their own.
About Antimicrobial Resistance

AMR occurs when bacteria, viruses, fungi, and parasites evolve to become immune to medicines used to treat the illnesses they cause. The most important subset of AMR is antibiotic resistance that applies specifically to bacteria; bacteria that acquires such resistance can turn into almost untreatable, multi-drug-resistant 'superbugs.' AMR can occur because of drug misuse and/or overuse by both humans and animals, as well as pharmaceutical pollution during the production of antimicrobials.

Some examples of infections that have become increasingly resistant to standard treatment options are urinary tract infections, S. aureus infections (Methicillin-resistant Staphylococcus aureus or MRSA), and tuberculosis. AMR makes disease management complicated and requires second-line or reserve antibiotics, which often have more side effects.

The World Health Organization (WHO) sees AMR as among the top 10 global public health threats facing humanity. In 2019, 1.3 million deaths globally were a direct result of AMR, with a projected 10 million deaths per year by 2050.
Potentially Dire Economic Consequences for the Healthcare Sector
Medicine and healthcare systems today depend on effective treatment options for common bacterial infections. A hospital, pharmaceutical, or medical device company relies on effective antibiotics for invasive procedures or therapies delivered to patients with compromised immune systems.
Drug resistant-infections can result in excess mortality and change the risk-benefit profile of many medical interventions. This situation can compromise the profitability of healthcare businesses models. During the COVID-19 Delta variant surge in 2021, for example, German dialysis specialist Fresenius SE & Co. announced its plan to cut costs and lay off about 5,000 employees because of the high death toll among dialysis patients. Without effective countermeasures, AMR is thus likely to cause stranded assets in healthcare investments.
Insufficient Efforts to Prevent the Development and Spread of Resistant Pathogens
One dimension of fighting AMR is prevention. Healthcare companies can mitigate the spread of drug-resistance by promoting the use of antimicrobials only when they are strictly needed (a practice often termed "stewardship") and by preventing drug releases into the environment, e.g., through production wastewater.
ISS ESG Corporate Rating is looking at the pharmaceutical industry's environmental risk management strategies when it comes to drug pollution (Figure 1). From the analysis it was observed that:
Roughly only 10% of companies (including generic medicine manufacturers such as Viatris and Siegfried Holding and contract manufacturing company Catalent) report robust measures to reduce active pharmaceutical ingredients (APIs), including antimicrobials, in wastewater at their production sites.
Less than 2% of companies (including AstraZeneca, Bristol-Myers Squibb, Roche, and Orion) report on the effluent management of APIs from their outsourced or third-party suppliers.
Overall, the awareness level about drug pollution through production wastewater is still modest.
Figure 1: Pharmaceutical Companies' Response to Active Pharmaceutical Ingredients (APIs) from Production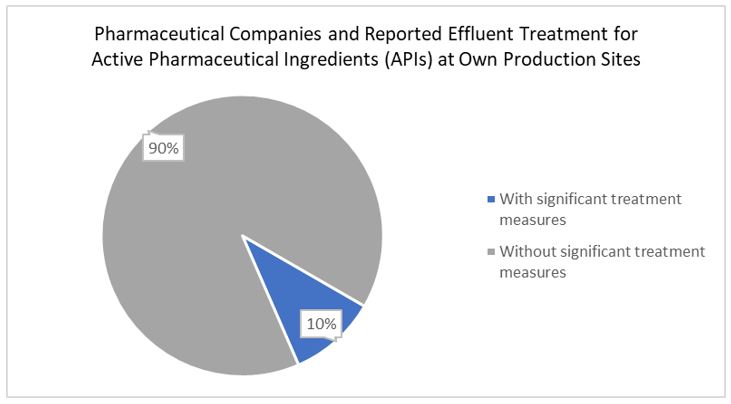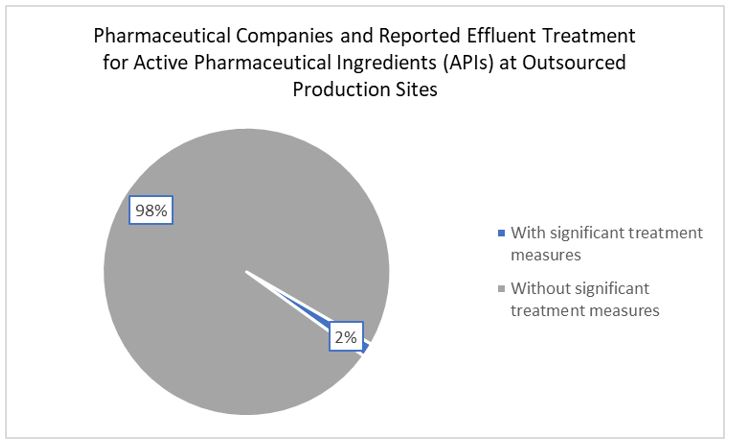 Source: ISS ESG (Q1 2023)
Another important source of environmental releases is agriculture and aquaculture. On a global level, specialized pharmaceutical manufacturers in the animal health sub-industry dominate the downstream supply for large volumes of antimicrobials used in animal production. These companies are contributing to AMR through the large-scale use of their antimicrobial products.
ISS ESG monitors the share of net sales of antibiotics dedicated to intensive animal farming. Decreasing sales have been observed over the last four years for companies such as Elanco Animal Health and Zoetis, as they focus on disease prevention and move away from the use of antibiotics. The estimated share of net sales of livestock antibiotics decreased by more than 5% for Zoetis and by more than 10% for Elanco. The Health for Animals association estimates that since 2013, vaccines and parasiticides have grown from 56.7% to 62.6% of animal health companies' portfolios, while antimicrobials fell from 20.9% to 15.2%. The need for antibiotics is still very present, however, and there remains a global market for veterinary antimicrobials. The animal antimicrobials market is predicted to grow, also driven by increased demand for food-producing animals.
ISS ESG also considers AMR when looking at the quality of healthcare services delivered to patients in clinic and hospital environments. A review on AMR identified measures to counter the problem: enhance hygiene management and reduce infections in healthcare settings (e.g., MRSA, an antibiotic-resistant infection commonly acquired in hospitals) and restrict antibiotic use to infections where antibiotics are necessary. Yet the Healthcare Facilities and Services industry currently performs modestly in reducing MRSA and promoting responsible antibiotics use (Figure 2). Companies with solid measures include South African private hospital providers Mediclinic International and Netcare.
Figure 2: Healthcare Facilities and Services Companies' Performance on MRSA Prevention and Responsible Antibiotics Use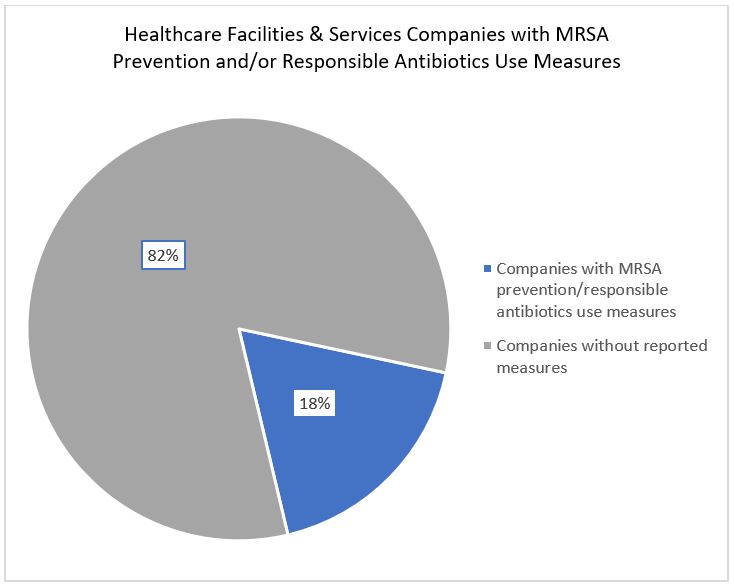 Source: ISS ESG (Q1 2023)
Research Efforts to Develop New Antimicrobials Are Not Meeting the Challenge
Humanity is in an arms race with pathogens that are increasingly outsmarting our current stock of weapons. As global performance on the prevention side is modest, the need to develop new drugs becomes even more urgent. Many pharmaceutical companies demonstrate an awareness of the urgent need for innovation and the industry is increasing its efforts to provide funding for R&D into novel antibiotics, e.g., through the AMR Action Fund. However, only a few companies are actively engaged in such development work through in-house R&D programs.
ISS ESG is monitoring the development of medicines for several neglected diseases, including the high-need areas of bacterial and fungal treatments and vaccines. While more than 470 pharmaceutical companies in the ISS ESG Corporate Rating universe are developing innovative therapeutics targeting a variety of conditions, only 18 (4%) of them have at least one antibiotic or antifungal candidate in their R&D pipeline (Figure 3). GSK has the highest number of antimicrobial medicines in its R&D pipeline, most of which target critical pathogens named by the WHO and the U.S. CDC.
Figure 3: Pharmaceutical Companies' Performance on R&D for Antibiotic or Antifungal Medicines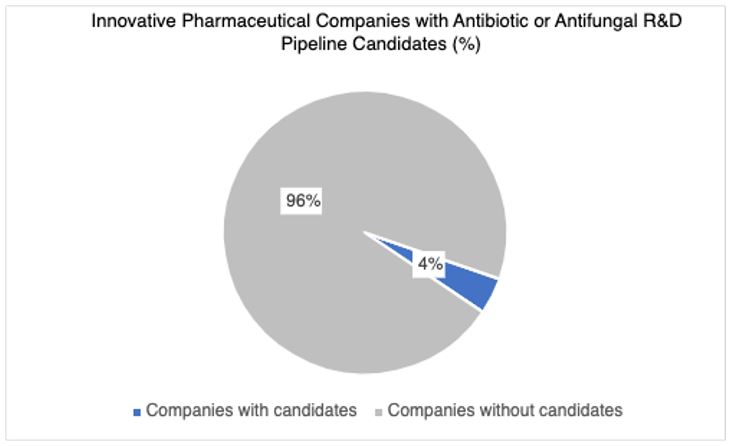 Source: ISS ESG (Q1 2023)
Overall, current research efforts are unlikely to provide enough new treatment options to compensate for the loss of effective antimicrobials. Research and development on antimicrobial resistance and multidrug resistance receives less attention than historically neglected diseases of the Global South: e.g., Malaria (Figure 4).
Figure 4: Pharmaceutical Companies' Performance on Disease Treatments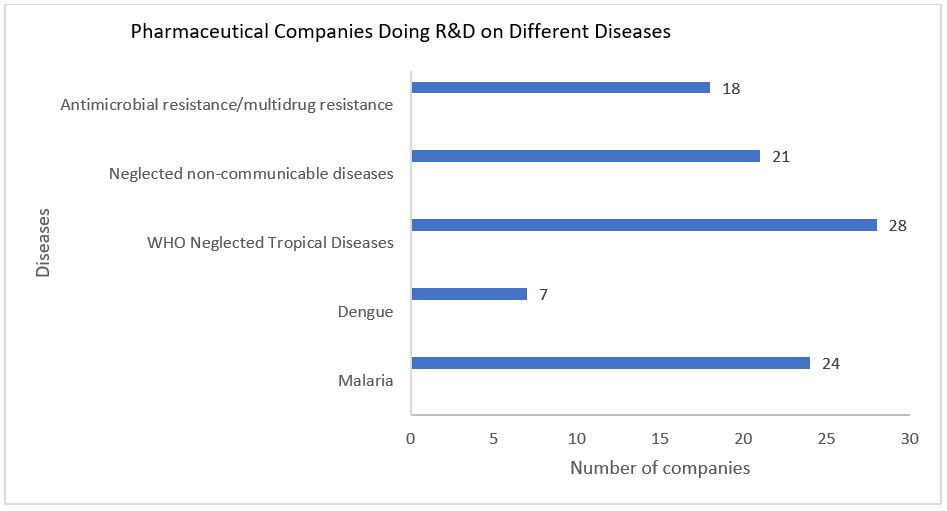 Notes: This figure considers several companies that conduct research and development on multiple diseases
at a time; thus, it should be assumed that there is some overlap in companies per disease.
Source: ISS ESG (Q1 2023)
This difficult funding environment has persisted for decades because bringing a new drug to market involves considerable investment and development time, but profitability is expected to be low once the new antimicrobial reaches the market. As a result, several large pharmaceutical companies have abandoned their research into new antimicrobials.
Several non-profit initiatives have been launched to fill the gap or incentivize research. These include the Access to Medicine Foundations' AMR Benchmark as well as CARB-X (Combating Antibiotic-Resistant Bacteria Biopharmaceutical Accelerator), which funds early stage product development.
Conclusion
AMR could develop into a much larger global health crisis that compromises the profitability of diverse healthcare business lines. Thus, investors may wish to thoroughly consider AMR risks and opportunities for the healthcare industry.
While many healthcare companies demonstrate an awareness of the urgent need to mitigate the spread of resistance and to develop novel effective antimicrobials, relatively few companies are actively engaged in acting on the issue. Development of innovative antimicrobials requires long term-financing guarantees that cover all development stages.
The ISS ESG Corporate Rating can serve as a tool for investors to monitor the progress of pharmaceutical companies on research and development into antimicrobials, as well as measures taken to prevent the impacts of antimicrobial production on the environment. The corporate rating is continuously enhanced and updated to integrate key issues and trends in the pharmaceutical industry, such as AMR. Companies contributing significantly to the struggle against AMR receive particular attention.

Explore ISS ESG solutions mentioned in this report:
---
By: Daniela Knodt, Sector Lead, Healthcare, ISS ESG
Pauline Roque, Associate, Healthcare, ISS ESG