Nearly a decade after New Zealand announced a target of achieving a smoke-free generation by 2025, the country's government has announced its most ambitious and far-reaching plan yet to achieve the target. On December 9, the New Zealand Ministry of Health announced the Smokefree 2025 Action Plan, or the Auhi Kore Aotearoa Mahere Rautaki 2025, that will impose a lifetime ban on people aged 14 and under ever (legally) purchasing combustible tobacco products. To achieve this, the Action Plan will prohibit individuals under the age of 14 from purchasing combustible tobacco products and increase the legal smoking age every year. With no similar model to be found in other countries, the New Zealand Action Plan is currently breaking new regulatory ground as the nation aims to become the world's first smoke-free country.
The aim of the Smokefree 2025 Action Plan is to create a generation of New Zealanders with a less than 5% smoking prevalence rate. According to Prime Minister Jacinda Ardern, the rolling prohibition aims to prevent youths from taking up smoking in the first place. For older people that fall outside of the scope of the lifetime ban, the government announced measures to adjust the legal amount of nicotine in tobacco products to very low levels and reduce the number of shops permitted to sell cigarettes.
The Action Plan contains six focus areas:
Percentage of New Zealander Adults who were Current Smokers, 2011/12-2020/21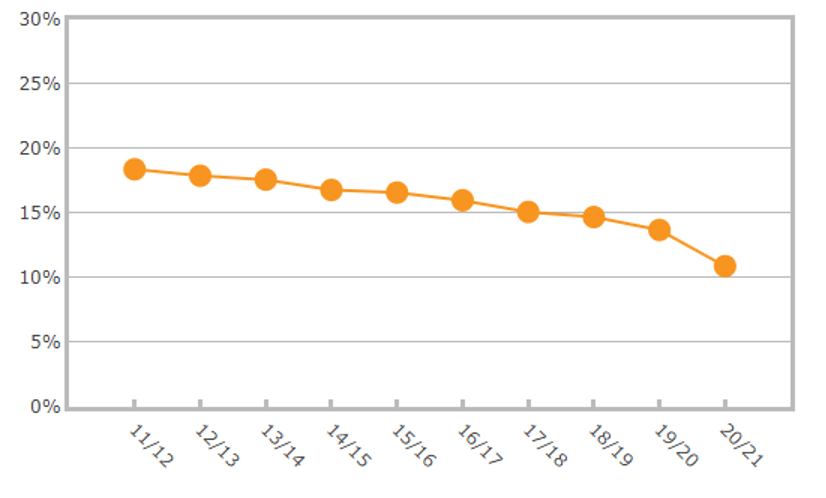 Source: New Zealand Ministry of Health Survey 2020/2021
There is an argument to be made that the plan in its current form does not go far enough, as its scope does not include new generation tobacco products such as electronic cigarettes, heated tobacco products (also known as heat-not-burn devices) and smokeless tobacco products (such as oral nicotine pouches). The government plans to introduce an amendment bill that compels general retailers selling vaping products to advise the Director-General of Health prior to commencing retail operations as part of the plans for Focus Area 5, however.
A bill containing the Action Plan is widely expected to pass the government-controlled Parliament in mid-2022. The plan is not without its critics, however. In particular, the planned reduction in nicotine levels in tobacco products has been criticized as potentially having disproportionate impacts on low-income populations who will have to purchase more cigarettes to access the same level of nicotine.
Given the high likelihood of the Action Plan being approved by the New Zealand Parliament next year, responsible investors should take note of the increasing restrictions placed on tobacco retailers and distributors in New Zealand, as well as the expected decrease in sales of combustible tobacco products in that country. If, as tends to be the case, other regulators around the world start exploring similar actions, then this could constitute a significant headwind for the tobacco industry's future prospects.
Explore ISS ESG solutions mentioned in this report:
Use ISS ESG Sector-Based Screening to assess companies' involvement in a wide range of products and services such as alcohol, animal welfare, cannabis, for-profit correctional facilities, gambling, pornography, tobacco and more.
---
By Jayshendra Karunakaren, Analyst, ISS ESG