Now that the dust has settled after Brexit and Europe is dealing with the new cross border arrangements, we can begin to get an idea of the new post-Brexit market structure by comparing market characteristics for the month before Brexit in December with those in January and analyse what has changed over this period.
The main questions will be around the trading on the new EU MTF venues. Have EU participants migrated fully to the new Venues for European stocks? If so, are any differences observed in trading characteristics across UK and Europe.
Our "first look" findings are that while spreads have not changed, there has been a significant decline in the amount of liquidity available for certain stocks. We examine the leading European trading indices as proxies for the various national markets.
Have spreads been affected?
Post-Brexit, all of the major MTF's have spun off separate European entities with the exception of BATS, which has remained UK only. This might have led to an easy inference that spreads would remain constant in the UK as all venues are still in place. However, comparing average spreads on all the Venues for FTSE 100 stocks, it is apparent that spreads on BATS which formerly tracked very closely to Turquoise, now has a clear divergence, from under 2-basis points at the beginning of January to over 4-basis points at the end of the month, which suggests some of the liquidity came from European participants. All the other Venues are tracking similar spreads to those in December.
Figure 1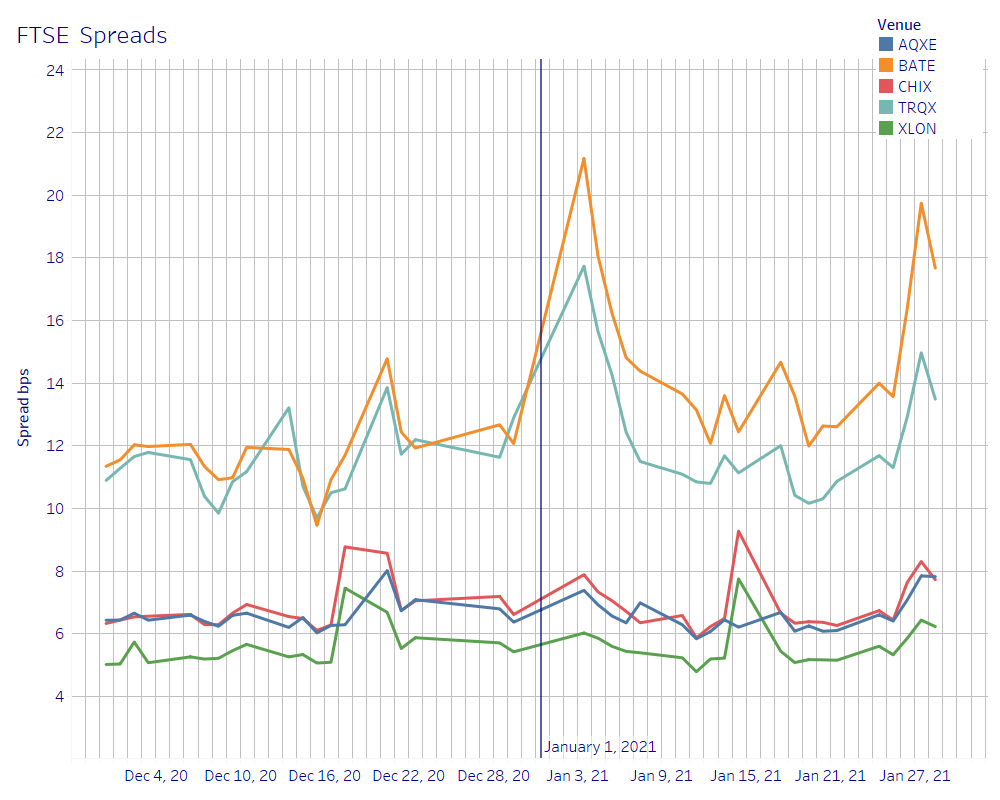 Click here to continue reading.
---
By Mark Ford, General Manager ISS LiquidMetrix