Investors appear one step closer to recovering losses from an alleged massive fraudulent scheme that led to the collapse of a near $2 billion mutual fund managed by Infinity Q Capital Management. The tentative settlement of $39.75 million, which can increase up to $48 million based on certain contingencies, was jointly reached by plaintiffs and defendants in a New York state and federal action on September 7, 2022. It follows months of turmoil for the beleaguered investment adviser, including criminal charges against its founder, James Velissaris, and a civil settlement by its chief risk officer, Scott Lindell.
The investor-related cases stem from allegations that Infinity Q – financially backed by private equity billionaire and TPG co-founder David Bonderman – inflated assets of a hedge fund and mutual fund by over $1 billion while pocketing tens of millions of dollars in fees from 2017 to 2021. The United States Securities and Exchange Commission alleges that Infinity Q's founder Mr. Velissaris executed the overvaluation scheme to thwart redemptions by investors who likely would have requested a return of their money had they known the funds' actual performance, particularly in the wake of volatile markets during the COVID-19 pandemic. The two class action complaints further accuse Infinity Q of the following actions:
Concealing that third-party pricing models used to value the funds' derivatives had been intentionally manipulated;
Misleading investors about the valuation methodologies and internal controls policies and procedures in place to ensure accurate pricing of the funds' assets; and
Materially overstating the funds' net asset value (NAV) by over $1 billion, collectively
As a result of the alleged fraud, the funds lost over 40% of their respective values following a forced liquidation by the SEC, in what plaintiffs describe as one of the "most egregious" fund collapses in history. The mutual fund began the liquidation and distribution process in February 2021 with the goal of returning $500 million back to investors while holding back $750 million as a special reserve for liabilities.
The settlement just reached resolves claims against the company, its administrator U.S. Bancorp, its auditor EisnerAmper LLP, its underwriter Quasar Distributors, the Bonderman Family Trust, as well as Velissaris and other officers. The settlement fund does not include any portion of the $750 million in special reserves. Court approval is required before the joint settlement becomes binding.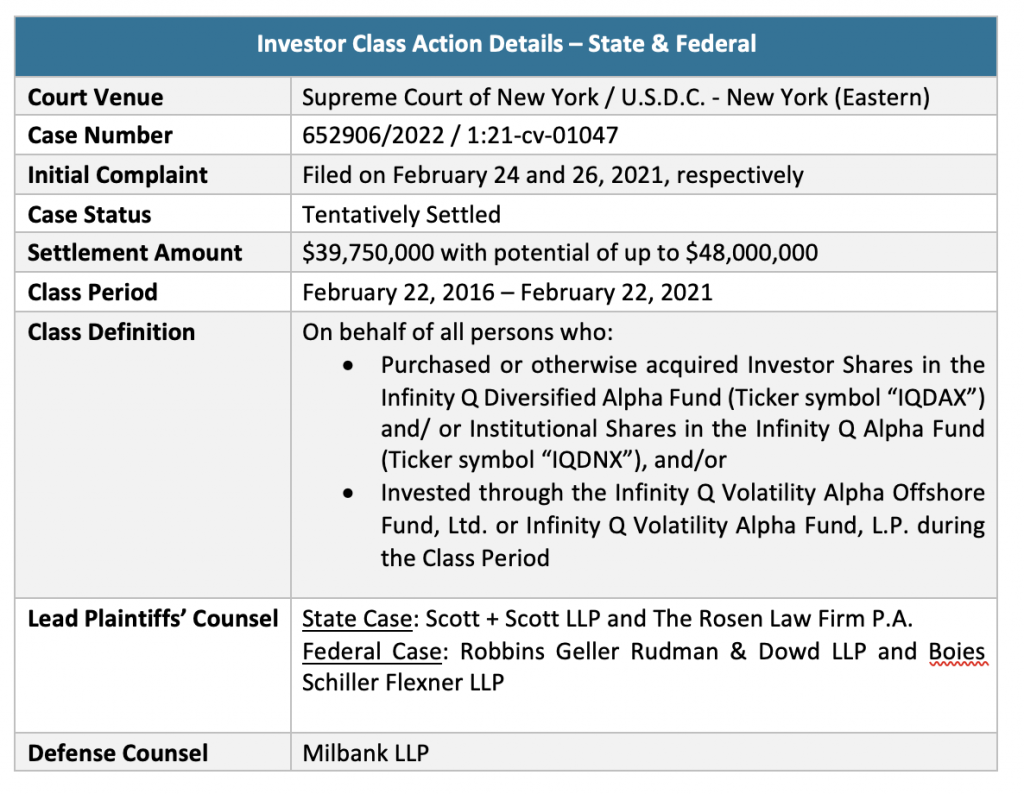 Important Note for Investors:
Shareholder class actions involving similar allegations of misconduct were also filed in the state of Wisconsin as well as derivatively in the Delaware Court of Chancery. At least one direct action has also been filed against Infinity Q in the Eastern District of New York.
ISS Securities Class Action Services will continue to closely monitor the Infinity Q class actions and direct actions – and share updates to its clients and the investment community, as developments occur.
---
By: Jarett Sena, Director of Litigation Analysis, ISS Securities Class Action Services