Most of those reading this paper will already be aware of the EU Taxonomy and its good intentions: the provision of a sustainability-focused classification system based upon robust and science-based principles. The Taxonomy outlines a list of environmentally sustainable economic activities and establishes a common language to assist companies and investors in achieving the EU's environmental goals, including the Paris Agreement. The initiative attracted significant attention once again on the last day of 2021, when the European Commission announced their proposal introducing certain nuclear and gas related activities into its 'Green' framework through a complementary delegated act.
Exploring the debate
The justification for this controversial inclusion is that permitting electricity generation from these sources will accelerate the phase-out of more harmful ones such as coal, hastening us towards a greener energy mix. Unsurprisingly, the idea has attracted mixed reviews. Some pundits argue that to have any chance of moving away from traditional fossil fuels, nuclear and gas are a vital lever to pull, particularly given the current energy crisis sweeping across Europe. There has been widespread criticism from climate experts and activists alike, however, many of whom believe that if this delegated act is passed, it will significantly harm if not totally end any hopes of achieving the vital goal of Net Zero by 2050.
The announcement foreshadows electricity generation from fossil gas being declared "green by law", so long as it replaces a "facility that uses solid or liquid fossil fuels" with no more than a 15% capacity increase and it has annual GHG emissions that "do not exceed an average of 550kg CO2e/kW of the output energy of the facility's capacity over 20 years". According to some estimates, this could result in up to 1.4 billion tonnes of CO2e emissions being released into the atmosphere, exceeding the emissions of France over the last three years, or the combined most recent annual emissions total of France, Poland, Czech Republic, Romania, Greece, Hungary, Bulgaria, Finland and Sweden put together. A leaked version of the draft states that nuclear power would be considered a sustainable economic activity as long as power stations can safely dispose of toxic waste and meet the "do no significant harm" criteria relating to the Taxonomy's remaining environmental objectives. The proposal would allow the construction of new nuclear plants to be recognized as green under the Taxonomy until 2045, a suggestion that has met vehement criticism, including a threat by the Austrian government to sue the European Union should it go ahead.
ISS Research and Analysis on Nuclear and Gas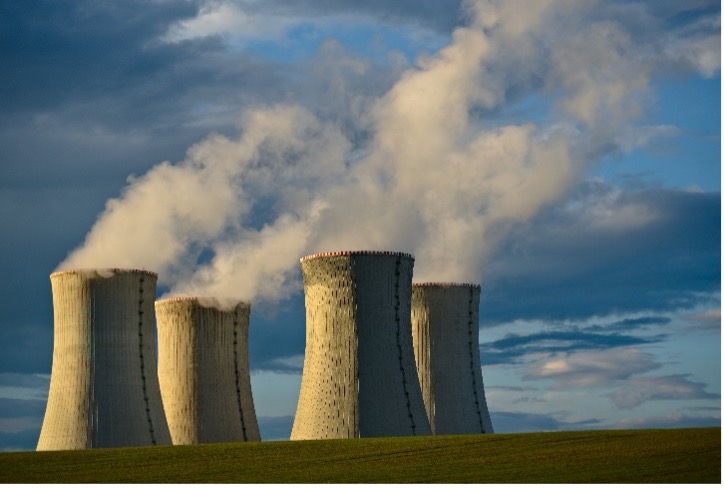 ISS ESG has over 30 years of experience in providing investors with assessments on ESG matters, including the sustainability impact of various forms of energy generation. Looking at ISS ESG's SDG Solutions Assessment, which assesses the positive or negative impact companies' product and service portfolios have towards achieving the UN SDGs, none of the newly proposed activities are considered to have a net positive impact. Energy generation based on natural gas is assessed as having no net impact. This reflects an understanding that the sector has a role to play in the transition to a low carbon economy as it is less emission-intensive than other fossil fuels (though this notion has been challenged lately with an increased number of reports on larger than expected methane emissions along the value chain), but it cannot be considered a sustainable energy source in the long term. Regarding nuclear power, ISS ESG's SDG Solutions Assessment acknowledges the relative climate benefits of nuclear energy generation compared to other energy sources, but also highlights the risks stemming from the possibility of nuclear accidents as well as the still unsolved problem of final storage and disposal of nuclear waste, which disqualify nuclear power as a long-term sustainable energy source.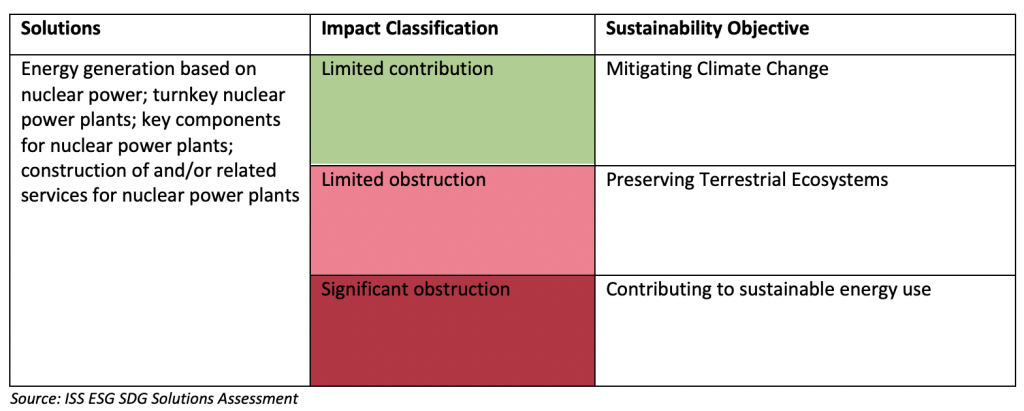 Beyond the obvious questions around the environmental impacts of gas and nuclear energy generation, the Commission's proposal also raises questions around consistency within the taxonomy framework. It suggests that these activities be classified as 'transitional' – a category which is applied to:
"activities for which there are no technologically and economically feasible low-carbon alternatives, but that support the transition to a climate-neutral economy in a manner that is consistent with a pathway to limit the temperature increase to 1.5 degrees Celsius above pre-industrial levels, for example by phasing out greenhouse gas emissions."
While this reasonably applies to activities such as 'manufacture of cement', there arguably are 'technologically and economically feasible low-carbon alternatives' in the energy sector. It could thus be argued that the extension of the taxonomy will divert investments from feasible and truly low-carbon technologies.
What's next?
Expert consultation is currently being gathered with a (very tight) deadline of 12 January to provide contributions. The intention is that the complementary delegated act will be formally adopted in the same month, before being passed to the decision-making authorities who will have a final four months to accept or reject the proposal. While there is still the potential for this proposal to not be enacted, from recent experience the likelihood of it being vetoed at this point is slim, despite the fact that the German government has recently announced that it will reject the proposal. At least 20 Member States representing a minimum of 65% of the EU population will need to object to the Delegated Act, and in the European Parliament a majority of at least 353 Members of European Parliament in Plenary.
ISS ESG will continue to follow the 'letter of the law' as closely as possible within its Regulatory Solutions, drawing upon cross functional teams as well as internal and external legal experts to assist with the interpretation of the requirements and subsequent translation into market leading products. Given that some market participants have already announced they do not wish to classify nuclear and gas related activities as green, we will attempt to provide as much flexibility and optionality to our clients as possible. This will also be in line with the recommended transparency set out by the European Commission, to allow investors to identify whether gas and nuclear related activities are included in their reporting and to what extent.
Explore ISS ESG solutions mentioned in this report:
---
By Thomas Harding, Associate Vice President – Regulatory Solutions Product Development, ISS ESG. Ronja Wöstheinrich, ESG Methodology Lead, Regulatory Solutions and Fixed Income. ISS ESG.