The alternative investment marketplace has been an area of interest and growth for asset and wealth management marketplaces. Industry improvements in access, choice, investment tools, and fees are part of an effort to democratize alternative investments and allow them to play a role in more client portfolios. But just because you build it doesn't mean advisors will come. Expanding solutions and access alone won't drive advisor adoption, especially with their average and smaller size clients, and will require a push strategy of training and support.
The current economic and market volatility bodes well for using alternatives in a client's portfolio and has been a bright spot for mutual fund managers. As of the end of Q3 2022, alternatives were the only mutual fund asset class with positive YTD net flows of $32 billion and net rate flow rate of 14.7%. While advisors are investing more dollars in alternatives, market opportunity and outlook still face challenges.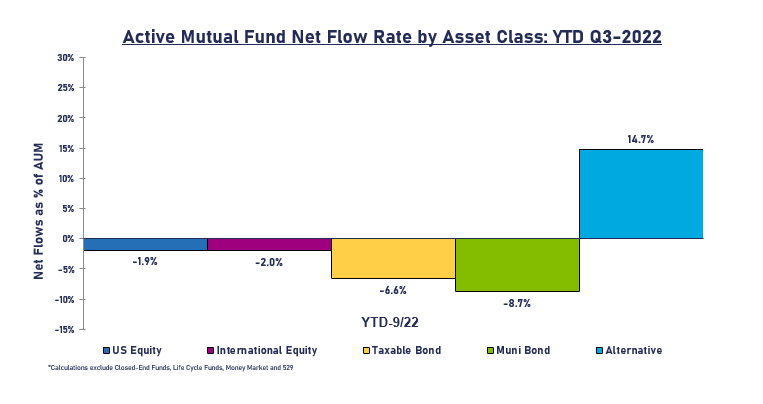 Source: ISS MI Simfund
A recently completed ISS Market Intelligence advisor survey of 810 financial advisors finds they are interested but cautious in using alternatives, increasing slightly from 39 percent in December of 2021 to 42 percent in June of 2022. Usage is higher among Wirehouse advisors at 62%, driven by a greater focus on affluent clients and strong home office/field investment support, compared to RIAs at 43% and independent broker-dealers, regional, and banks at 34%, and is expected to continue to increase.

Source: AM22 WRIB+RIA Pulse 5
Non-traded REITs, private equity, hedge funds, and private credit top the strategies among advisors currently using alternatives, but infrastructure and natural resources take a slight lead as strategies advisors are likely to increase investment in.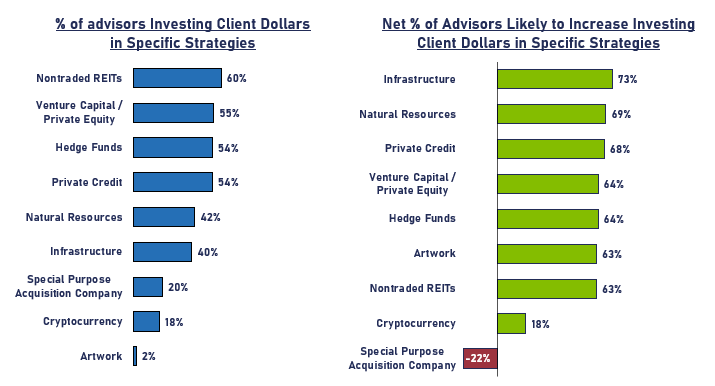 Source: AM22 WRIB+RIA Pulse 5
Diversification and volatility management are top drivers for using alternatives in client portfolios, but the increasing adoption is primarily driven by broader choice and access. Product choice is the top driver for usage among 53% of advisors currently using alternatives, followed by improved access and analytical tools, ranked 2nd and 3rd, respectively. Consumer demand ranks 4th overall but was a top choice among 61% of advisors, underscoring increased awareness, access, and demand, especially with younger investors. Better support ranks a distant 5th place and underestimates and will be essential in driving adoption among current alternative investment users and non-users.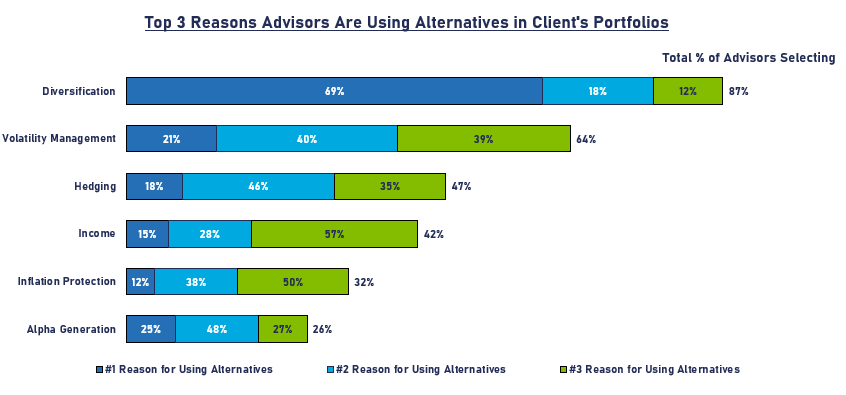 Source: AM22 WRIB+RIA Pulse 5
Despite improvements in choice and access, alternatives are still targeted toward traditional clients, including HNW clients, followed by experienced and sophisticated clients and long-term investors with low liquidity needs. However, the likelihood of recommending alternatives across a larger portion of an advisor's client base is low to moderate, with 37% of advisors likely or extremely likely to recommend alternatives to their moderate investor clients and 26% for all clients.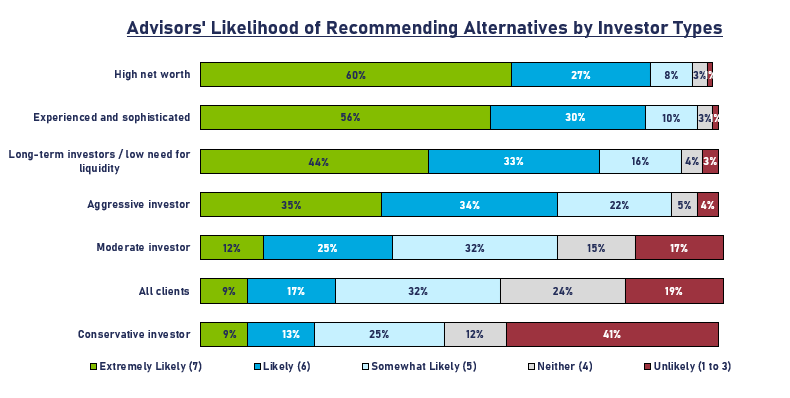 Source: AM22 WRIB+RIA Pulse 5
Liquidity, paperwork and compliance, fees, home office restrictions, and product understanding continue to impact adoption. While broader product choice has been a driver for adoption, it can also be an impediment, as advisors need a better understanding of these expanded options.
For advisors currently using alternatives, attitudes and perspectives on alternatives are favorable but somewhat mixed. One-third strongly agree they are confident in discussing alternatives with clients, and advisors not currently using alternatives have less conviction around these issues. Only 26% of advisors who use alternatives strongly agree they feel confident selecting and managing alternatives in their client's portfolios, and only 13% for non-users.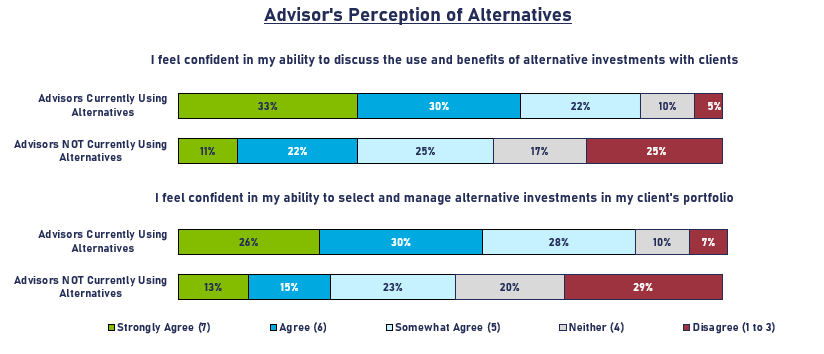 Source: AM22 WRIB+RIA Pulse 5
The opportunity and market outlook for alternative investments is positive, but expectations need to be tempered. Broader adoption will require:
More training and support
Deployment of specialists to assist advisors with managing alternatives
Understanding which alternative investment strategies and vehicles to use and for whom
How they should be applied and managed in a client's portfolio
Where to access them
How to scale the use of alternatives across their client base
---
By: Dennis Gallant, Associate Director, ISS Market Intelligence