It is not news to say that the global health crisis has rocked financial markets. But when we go beyond the daily swings in price movements, what information can help traders better adapt to current market conditions? LiquidMetrix will offer a series of insights derived from our data and analytics.
F. Scott Fitzgerald famously said that "the rich are different from you and me". Is it also true that those stocks that are "liquidity rich", that is the most heavily traded, are different in their trading behavior from all the rest? This week we return to looking at where different industry sectors source liquidity among the different types of trading venues. We are now, however, going to take this down to a more granular level and examine differences in trading behavior for stocks depending on their amount of liquidity.
This will be examined using two metrics: (i) Looking at the amount of traded value across different types of trading venues; and (ii) by inspecting differences in buy and sell pressure from trade imbalances in different groups of stocks.
We look at the period from February 24 through May 14th to see whether there have been any changes in where trade value has been sourced. The period covers the onset of volatility associated with the global health crisis to the relative normality of the past few weeks and so is a particularly good dataset to look at how market stress impacts different groups of stocks.
The headline bullet points are:
Trading characteristics are significantly different for Consumer Cyclical stocks compared to the Financial Services and Consumer Defensive sectors as to where trade value was sourced.
The most liquid stocks in all sectors trade more heavily in dark pools.
Less liquid stocks in the Consumer Cyclical sector switched to trading Off Book and in Dark Pools during the height of the period's volatility perhaps to protect anonymity and minimize risk.
Trade Imbalances which are an indicator or pressure to buy or sell were much greater for consumer cyclicals than the other sectors. Moreover, there was a much higher variance of outcomes.
We are going to look at three industry sectors[i] in the EMEA region: (a) Financial Services as it is the largest and most liquid industry sector; (b) Consumer Cyclicals because it comprises firms that sell goods which are discretionary (Travel, Luxury Items) which have been hardest hit from the economic slowdown; and (c) Consumer Defensive stocks which represent non-discretionary spending (e.g. food). For each sector, we will examine two groups of stocks using the total amount of value traded during the period as a proxy for liquidity. The first group will be the top 10 stocks by traded value in that sector and the second group will be medium ranked stocked in terms of traded value within that sector. Note, there are all highly liquid stocks. The question we are asking is whether stocks with the greatest liquidity behave differently than "normal" very liquid names. The securities are listed in an appendix at the end of this research note. We want to see if there are any differences in how these different groups of stocks have traded in the period.
First let's look at the overall trading in different types of venues over the entire time period. In Figure 1 (below) we see that the stock with the most traded value tend to be more actively traded in dark venues compared to less traded securities in the same sector. Although continuous lit markets are always the largest pools of executed value, the relative difference from the most heavily to the less heavily traded stocks is most pronounced in Consumer Cyclicals. This may be related to the unique economic pressure on this sector during the crisis. It would be of interest to look back before the onset of the global health crisis to see if this was true in the past.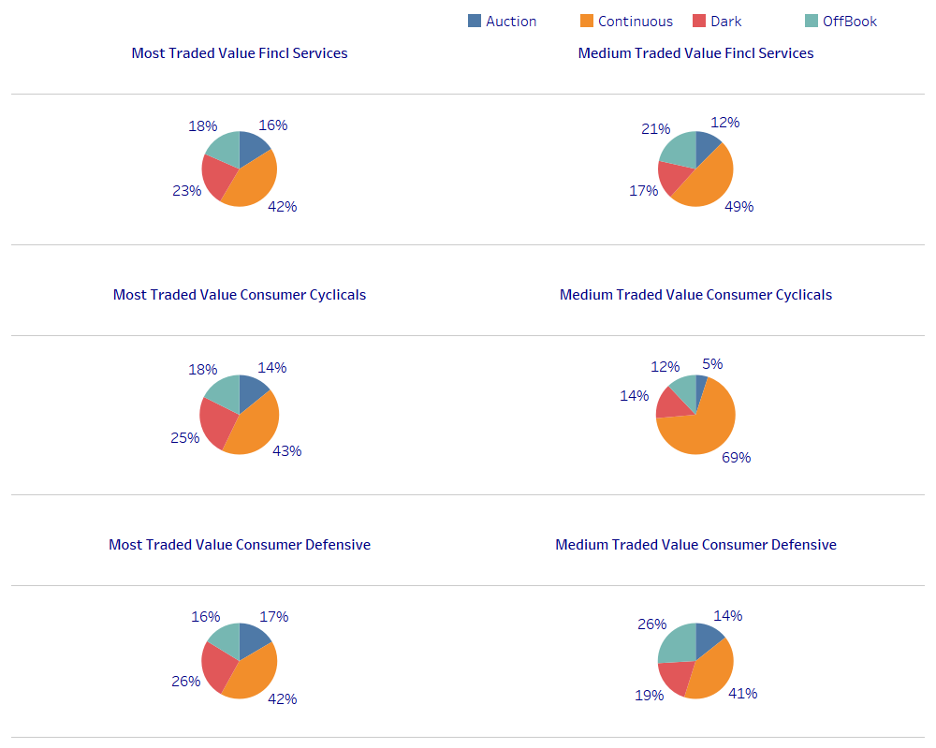 ---
By Henry Yegerman, ISS LiquidMetrix