Previously, we focused on the impact of stock price volatility resulting from Covid-19 and how it affected the spread captured by different types of trading strategies. Here we are going to look at how the choice of strategies traders chose evolved as volatility increased and then declined to lower (albeit still historically high) levels.
Last week's highlights:
During the peak volatility spike in March 2020, Dark Aggregators were the most used strategies in EMEA for the stocks with the highest volatility. At the same time the largest amount of value was traded with Cash Desks and using a VWAP strategy.
Although it was not among the most used alternatives, Liquidity Seeking strategies performed best in the period of highest volatility.
In Figure 1 (below), the top chart shows the average amount of volatility per order for the most commonly used trading strategies. At the peak of price volatility in March, traders went to Dark strategies for their most volatile names. The second choice was to use a Cash desk. The bottom chart displays the amount of traded value per week for each of these strategies since the beginning of 2020. During the period of highest volatility, the largest amount of value was traded using cash desks and VWAP strategies.
Figure 1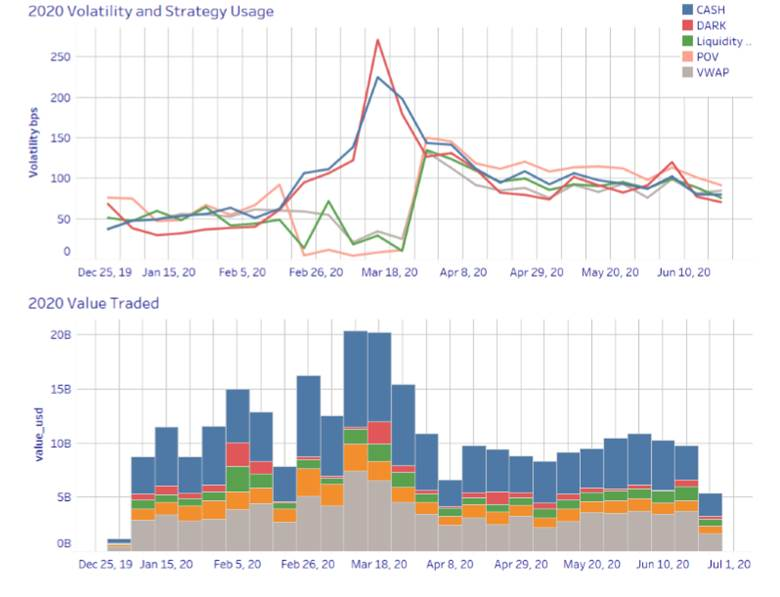 ---
By Henry Yegerman, ISS LiquidMetrix