Nature is in dire straits. Its degradation has been widely documented and corroborated by numerous studies. At the same time, the loss of species and ecosystems and the accompanying disruption of ecological functions and services lay bare humanity's dependence on the natural world. There is now ample evidence of the devastating consequences of ecological collapse for the global economy and human health. Nature provides us with a raft of multi-faceted benefits, generally grouped according to the UN-backed Millennium Ecosystem Assessment into four main categories:
Figure 1: Ecosystem services provided by nature
| | |
| --- | --- |
| Regulating services | Purification of water and air, pollination, climate regulation, carbon sequestration, waste decomposition, erosion and flood control, etc. |
| Provisioning services | Supply of food, crops, drinking water, raw materials, medicinal resources, energy, etc. |
| Cultural services | Recreational experiences, spiritual and educational value, etc. |
| Supporting services | Primary production, photosynthesis, nutrient cycling, soil formation, etc. |
If biodiversity, which underpins many of these ecosystem services, continues to decline unabated, nature's ability to supply essential resources, attenuate environmental pollution, and absorb external shocks will be severely impaired. This will in turn have sweeping repercussions for global supply chains, business continuity, and corporate bottom lines, and ultimately for the achievement of many of the Sustainable Development Goals.
Global Efforts to Curb Biodiversity Loss
Previous government efforts to protect nature have failed to forestall environmental degradation, with none of the 20 biodiversity targets set by the global community for the 2011-2020 period having been fully met.
Many conservationists and sustainability leaders are therefore pinning their hopes on the second leg of the fifteenth meeting of the Parties to the Convention on Biological Diversity (COP 15) in Kunming, China, later this year. The overarching goal of the conference is to flesh out a new global framework for the protection of the world's flora and fauna and to galvanize a transformation in society's relationship with nature.
In a first draft of the post-2020 global biodiversity framework, 21 targets and 10 milestones have been proposed to put biodiversity on a path to recovery by 2030, en route to the vision of 'living in harmony with nature' by 2050. Among the most attention-grabbing and widely publicized proposals are plans to protect 30% of the global land and sea area. Further measures include efforts to rein in pesticide use and pollution, climate change mitigation, ecosystem restoration, the elimination of harmful subsidies, the fight against invasive species, and more sustainable production and consumption.
Still, the road to a Paris-style agreement with meaningful, actionable, and realistic targets is fraught with challenges, as many of the critical sticking points are yet to be thrashed out. Experts have picked numerous holes in the draft and criticized its lack of ambition and clarity in terms of concrete actions and the absence of legally binding commitments. It has also been argued that its focus on environmental protection and restoration will be insufficient to bring about the systemic change that is urgently required.
Among other things, concerted action is needed to radically change human production and consumption patterns. The circular economy appears particularly conducive to many of the proposed actions in the draft global biodiversity framework and can, concurrently, help address the root causes of biodiversity loss. However, circular design principles do not feature strongly in the current draft. This was also highlighted by Business For Nature, a global coalition of businesses and conservation organizations, which advocates for a stronger emphasis on circularity.
The Role of the Circular Economy in Promoting Biodiversity Conservation
The fundamental principles of the circular economy were recently illustrated in another ISS ESG publication. By tackling the elimination of waste and pollution, extending the use of products and materials, and regenerating natural systems, the circular economy can make significant contributions to biodiversity conservation. It can aid in reducing environmental pressures caused by resource extraction, production, consumption, and waste generation, all of which will ultimately benefit nature.
Figure 2: Circular economy benefits for biodiversity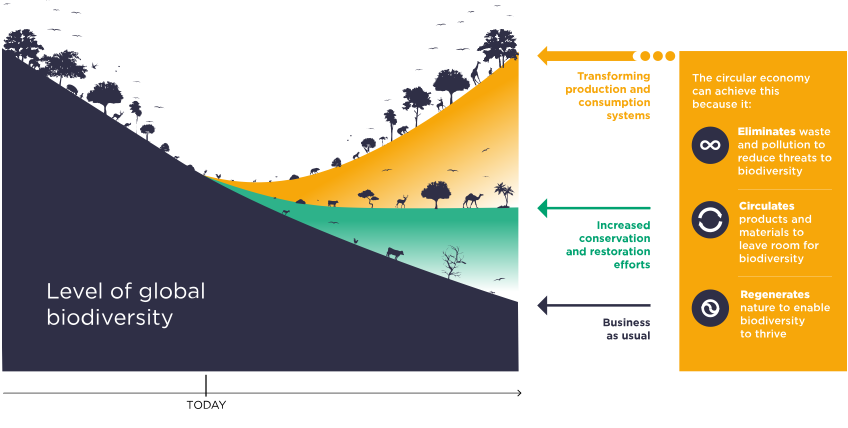 Source: Ellen MacArthur Foundation
The circular economy is underpinned by progressive design thinking that circulates products and materials in two cycles: the technical cycle (shared product use, product and component reuse, repair, maintenance, remanufacturing, recycling); and/or the biological cycle (return of nutrients to nature, regeneration, use of renewable natural resources). In that regard, it addresses the fundamental ills of unsustainable production and consumption.
The global economy is largely linear in structure, and it has been reported that only 8.6% of all materials extracted from nature are cycled back into the economy. At the same time, an estimated 90% of biodiversity loss and water stress has been attributed to resource extraction and processing. Circular design aims to decouple economic activity from excessive resource extraction and consumption, thereby helping tackle the main stressors that harm biodiversity.
Figure 3: How the circular economy counters biodiversity loss
Drivers of biodiversity loss
Benefits of the circular economy
Land and sea use change
Lower land requirements due to reduced resource extraction and long-term use of products and materials
Overexploitation of natural resources
Long-term and sustainable management of renewable natural resources such as fish stocks and forests
Climate change
Lower greenhouse gas emissions due to reduced need for virgin resources and long-term use of products and materials
Pollution of soil, water, and air
Elimination of harmful substances (hazardous chemicals, GHG emissions, single-use items) throughout product life cycles
Invasive alien species
Reduced introductions via the:
– elimination of waste on which invasive alien species can be transported to new ecosystems; and
– transformation to a more service-oriented trade system and local circular solutions
Source: Adapted from the Ellen MacArthur Foundation
All industries can harness the potential of the circular economy to mitigate pressures on the environment and enhance positive effects. This holds particularly true for high-impact sectors such as food and agriculture, buildings and construction, fashion, extractives, and packaging.
Clean Energy Technologies Making the Case for Circular Design
As the energy transition gathers pace around the globe, clean energy technologies are becoming the fastest-growing segment of demand for critical minerals. This essentially concerns electricity and heat generation, energy storage, mobility, and power grids. Solar panels, wind turbines, and electric vehicles commonly contain more minerals and rare earth elements than their fossil fuel-based counterparts
Figure 4: Mineral requirements of energy generation technologies (in kg/MW capacity)

Source: International Energy Agency
In addition to the above, typical electric vehicles require six times the mineral inputs of conventional cars. Power grids, which are a key facilitator of the energy transition, rely on copious amounts of copper and aluminium. And electrolyzers, which are deployed in ever greater numbers for the generation of hydrogen, need nickel and zirconium, while fuels cells are particularly dependent on platinum-group metals.
Large-scale mining activities will put considerable strain on natural habitats via land use changes (or sea use changes in the case of deep-sea mining), infrastructure development, and environmental contamination. The production of many metals and minerals is particularly water- and pollutant-intensive. In this context, the application of circular design principles can help to ease environmental pressures.
The International Energy Agency (IEA) calls for stronger efforts to improve recycling of energy transition metals such as lithium, nickel, cobalt, and rare earth elements. Waste streams from wind turbines, solar panels, and batteries, are expected to increase significantly in the next few years and decades. But recycling, which is commonly seen as the least favored option of the circular economy's technical cycle due to inherent losses in value, can only be part of a more comprehensive bundle of measures.
More innovative product designs are required that allow for the effective separation of constituent components and materials. Wind turbines are a case in point in that regard. While most turbine components can be reused or recycled, the majority of rotor blades are landfilled or burned as the use of highly durable composite materials makes it an arduous task to break them down to their constituent parts. As many wind turbines erected in the early 2000s reach the end of their operational lives, huge numbers of blades will need to be dealt with in the coming years.
Some utility companies such as Ørsted and Vattenfall have recently committed to avoid landfilling in the future. Some pilot projects and small-scale approaches to material extraction or blade reuse are also underway. Overall, product design needs to ensure a more efficient use of materials and enable maintenance, substitution, reuse, repurposing, and/or recovery. All these measures are at the heart of the circular economy and have the potential to reduce primary mineral extraction and environmental pollution.
Circular Design Thinking in the ISS ESG Corporate Rating
The circular economy draws its inspiration from nature, and essentially rests on a novel vision of how products are manufactured and used throughout their life cycle. Both the pertinence and prevalence of circular design principles can vary significantly from one industry to another. The following table provides a snapshot of relevant ISS ESG Corporate Rating indicators for a select group of industries:
Figure 5: Circular design indicators in the ISS ESG Corporate Rating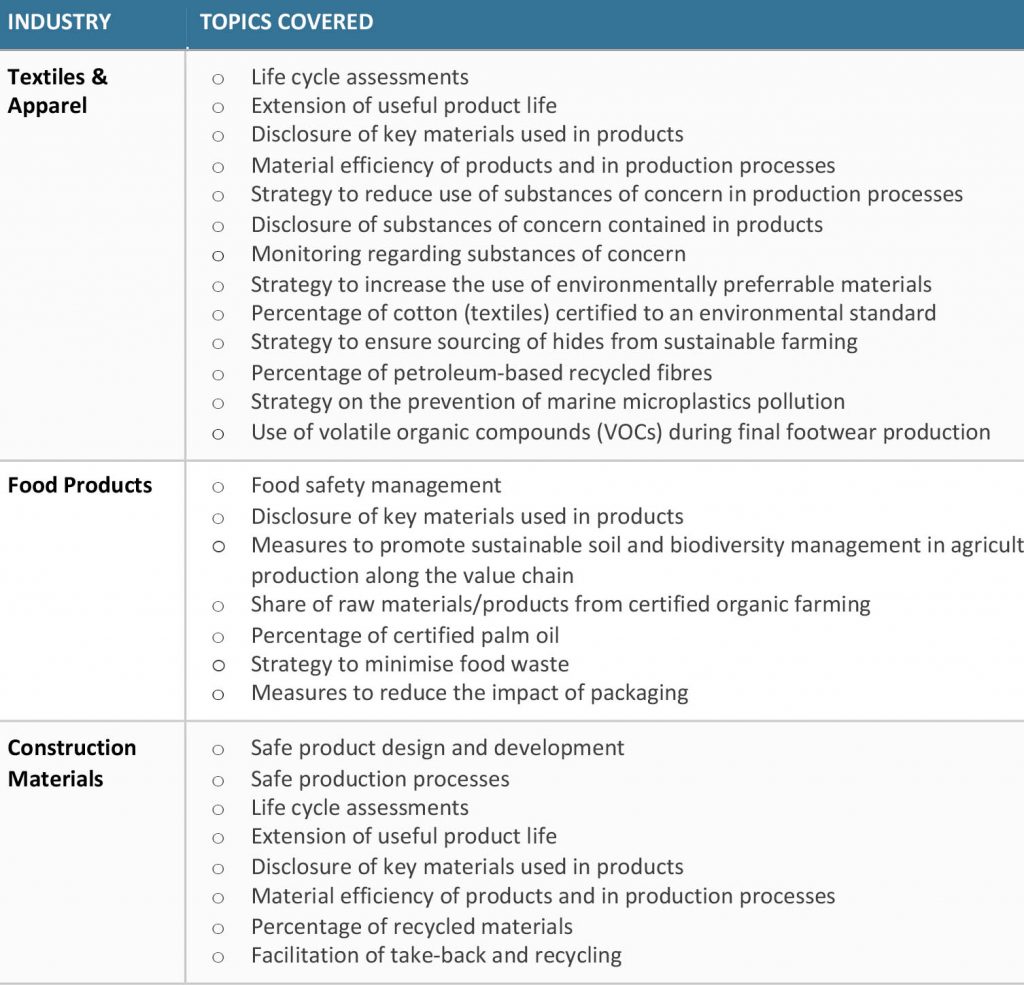 Source: ISS ESG
Note: List is not exhaustive; applicability of indicators depends on business models
Circular design principles touch on all the different phases of a product's life cycle, ranging from material procurement to processing and production/construction, the use phase, decommissioning, and disposal. Importantly, biodiversity benefits can thus accrue at all stages.
An analysis of circularity efforts in high-impact industries reveals significant room for improvement, however, and substantiates the aforementioned finding that the preponderance of the global economy still follows linear principles. The graph below illustrates companies' aggregated performance in terms of circular design-related, sector-specific indicators as used in the ISS ESG Corporate Rating (grading scale ranging from 1 (poor performance) to 4 (excellent performance)):
Figure 6: Average circularity score for selected high-impact industries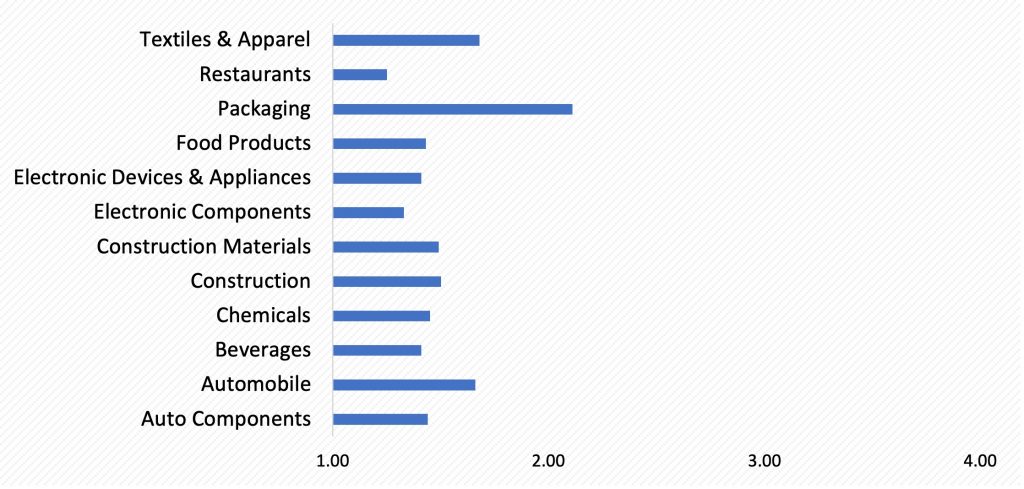 Source: ISS ESG as of February 17, 2022
Note: This an internal assessment and is not part of the standard ISS ESG product suite. The score is calculated based on sector-specific, circular economy-linked indicators (see Figure 5 as example) and associated weights.
Overall, out of nearly 1,300 companies under review, only 67 businesses achieve a circularity score above 2.5 and a mere 13 companies above grade 3. Such subpar performance across product life cycles in virtually all high-impact industries goes hand in hand with significant pressures on the environment in terms of recurring resource extraction, excessive consumption, large-scale waste generation, and pollution.
Challenges and Outlook
The circular economy has been credited with a range of positive environmental impacts that can ultimately also benefit biodiversity. They include a reduction of primary resource and land requirements, lower emission and pollution levels, and improved land productivity and soil health. While the circular economy will not be able to stave off the biodiversity crisis on its own, it can certainly help move the needle on preserving nature in conjunction with other measures outlined in the COP15 draft framework.
However, several challenges remain. For the circular economy to truly harness its potential, collaborative, system-level, and value chain-wide approaches will be required by all actors. Also, if not applied judiciously, the circular economy may entail unintended trade-offs for biodiversity. Many natural resources such as forests or fish stocks are already stretched to the limit by overexploitation. The shift from non-renewable to renewable sources, as espoused by the circular economy, could send strained ecosystems into a tailspin and further compromise their regenerative capacities. For example, the large-scale use of bioplastics for packaging or timber for construction could exacerbate land use pressures. Rebound effects may also nullify some of the initial resource and consumption savings.
Lastly, it has been argued that there is still a frequent misalignment of circular economy and biodiversity conservation policies and action plans. This applies, for instance, to the EU Circular Economy Action Plan, the EU 2030 Biodiversity Strategy, and the previously highlighted COP15 draft framework. It remains to be seen whether the upcoming COP15 conference will award a more central role to the circular economy and make sustainable production and consumption a key pillar of the post-2020 biodiversity framework.
Explore ISS ESG solutions mentioned in this report:
---
By Alexander Hellwig, Senior Associate, ESG Ratings, ISS ESG